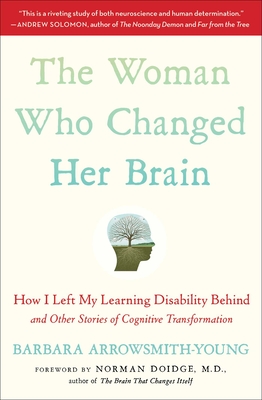 The Woman Who Changed Her Brain
How I Left My Learning Disability Behind and Other Stories of Cognitive Transformation
Paperback

* Individual store prices may vary.
Other Editions of This Title:
Hardcover (5/1/2012)
Description
A bestseller in Canada and Australia, this is the incredible story of a woman who struggled with severe learning disabilities, built herself a better brain, and started a program that has helped thousands of others do the same.

Barbara Arrowsmith-Young was born with severe learning disabilities. As a child, she read and wrote everything backward, struggled to comprehend language, and was continually getting lost. But by relying on her formidable memory, she made her way to graduate school, where she chanced upon research that inspired her to invent cognitive exercises to "fix" her own brain. The Woman Who Changed Her Brain interweaves her personal tale with riveting case histories from more than thirty years of her work with both children and adults.

People with learning disorders have long been told that such difficulties are a lifelong condition. In clear and lucid writing, The Woman Who Changed Her Brain refutes that message, demonstrating with fascinating anecdotes that anyone with a learning disability can be radically trans­formed: Arrowsmith-Young is a living example. She founded the Arrowsmith School in Toronto in 1980 and then the Arrowsmith Program to train teachers to implement this effective methodology in schools all over North America.

This remarkable book by a brilliant pioneer deepens our understanding of how the brain works. Our brain shapes us, and this book offers clear and hopeful evidence of the corollary: that we can shape our brains.
Praise For The Woman Who Changed Her Brain: How I Left My Learning Disability Behind and Other Stories of Cognitive Transformation…
"Remarkable"
— Daily Mail

"Enthralling"
— The Guardian (UK)

"Arrowsmith-Young's poignant and uplifting book about her transformation from a child born with severe learning disabilities to a dynamic pioneer in cognitive education offers hope to anyone who has ever struggled with a learning disorder, brain trauma, ADD or stroke... an important book."
— Mira Bartók, New York Times bestselling author of The Memory Palace

"This is a poignant book about two people who connected across continents and generations—a Canadian woman Moving, insightful and empowering!"
— Elkhonon Goldberg, Ph.D., the author of The Wisdom Paradox and The New Executive Brain

"If you have a son, a daughter, a parent, a spouse, or a brain, this is a must-read book. It will open your mind to new possibilities on how to deal with 'traffic jams in the brain.'"
— Alvaro Fernandez, CEO & Co-Founder, SharpBrains.com

"Hers was a struggle between despair and determination. Determination won."
— Michael Schulder
Simon & Schuster, 9781451607949, 288pp.
Publication Date: September 17, 2013
About the Author
Barbara Arrowsmith-Young is the director of the Arrowsmith School and Arrowsmith Program. She holds a BA Sc. in child studies from the University of Guelph and a master's degree in school psychology from the University of Toronto (Ontario Institute for Studies in Education).