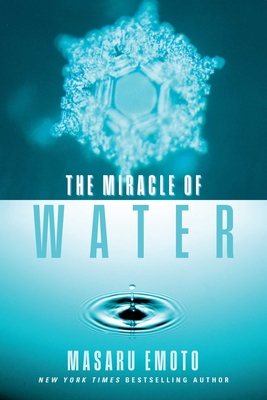 The Miracle of Water (Paperback)
Atria Books, 9781451608052, 160pp.
Publication Date: February 15, 2011
Other Editions of This Title:
Hardcover (3/20/2007)
* Individual store prices may vary.
Description
Masaru Emoto has photographed thousands of water crystals throughout his years of research, yet few have been as beautiful and life affirming as those formed from the words "love and gratitude." In The Miracle of Water, Dr. Emoto demonstrates how water's unique role in transporting the natural vibration of these words can help you welcome change and live a more positive and happy life.

This thoughtful book includes new and extraordinary water-crystal photographs that provide convincing reasons for all of us to choose positive words and strive for perfect resonance for a more healthy, peaceful, and happy life.
About the Author
Masaru Emoto is an internationally renowned Japanese researcher who has gained worldwide acclaim. Emoto is a graduate of the Yokohama Municipal University's department of humanities and sciences with a focus on International Relations, and he receive certification as a Doctor of Alternative Medicine from the Open International University.

Emoto's research has visually captured the structure of water at the moment of freezing, and through high-speed photography he has shown the direct consequences of destructive thoughts and the thoughts of love and appreciation of the formation of water crystals. The revelation that our thoughts can influence water has profound implications for our health and the well-being of the planet.

Masaru Emoto has written many books, including the New York Times bestselling The Hidden Messages in Water, and his books have been published in twenty-four languages.
Praise For The Miracle of Water…
"Dr. Masaru Emoto's contribution to research in spiritual consciousness is positively masterful." —Caroline M. Myss, author of Sacred Contracts and Anatomy of the Spirit

"Masaru Emoto's work is elegant and astonishing and jaw-dropping in its implications." —Neale Donald Walsch, author of Conversations with God
or
Not Currently Available for Direct Purchase