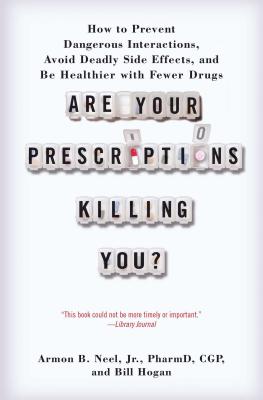 Are Your Prescriptions Killing You?
How to Prevent Dangerous Interactions, Avoid Deadly Side Effects, and Be Healthier with Fewer Drugs
Paperback

* Individual store prices may vary.
Description
Rich with real-life case studies, this groundbreaking book offers patients—and those who care for them—a road map to healthy use of prescription medications.

In an epidemic of overmedication, where can you turn for help?

We've all read the headlines: prescription drugs can kill you. If that's the case, why are so many Americans, particularly those sixty and older, given so many pills with no regard to how they interact with one another?

Fifth-generation pharmacist Armon B. Neel, Jr., is on a mission to help you and your loved ones understand what you need to know about the risks, dangers, and benefits of prescription drugs. He explains what facts need to be taken into account when prescribing medication to older patients and the catastrophic results that occur when they're not. Armon gives you the information you need to be certain that you're getting the right dosage of the right medicine, and he arms you with the most effective questions to ask doctors.

Rich with real-life case studies, this groundbreaking book offers older people, who are most at risk—and the boomers who often care for them—a road map to better health. This gripping narrative provides essential information for anyone who depends on prescription medications, and reading it may save a loved one's life—or your own.
Praise For Are Your Prescriptions Killing You?: How to Prevent Dangerous Interactions, Avoid Deadly Side Effects, and Be Healthier with Fewer Drugs…
"If anything can make you hoist yourself out of that beach chair and go find a pen, this is the book that will do it." —New York Times




"[This book] could not be more timely or important." –Library Journal
"An eye opener, both for caregivers, and for baby boomers approaching older age." —Boston.com
"In our pursuit of healing, doctors sometimes overlook the fundamental rule to 'first do no harm.' Armon Neel's book is an important reminder - for doctors and patients alike - that medications can be a double edged sword. We may be swinging at the disease but we can accidentally slash the patient along the way." –Lisa Sanders, M.D., author of Every Patient Tells a Story
"It's becoming increasingly clear that medical historians will judge the last 50 years as the 'dark age of drug therapy.' Though there are many advances in modern pharmacy, the truth is that many drugs produce a desired effect only to create many more that are unwanted. Armon Neel's book provides concrete evidence that the problems with many prescription medications are known today. Fortunately, he also provides some practical guidance to help navigate the land mines of drug therapy." —Michael T. Murray, N.D., author of What the Drug Companies Won't Tell You and Your Doctor Doesn't Know
"[Armon Neel's] expertise in the pharmaceutical management of patients is unparalleled." –James Gore, MD, and George Capo, DO
"Armon Neel literally saved my life. I was bedridden because I was being overprescribed medications by my doctor. But in a few short weeks on Dr. Neel's 'new' regimen, I was back to my old self." –Carla Moore
"My family and I appreciate your help for our mother. I took down everything you told me concerning her medications and typed it up for the doctor. He followed everything you advised and my mother came out of renal failure." –Marilyn Lipper
"In my 32 years as a practicing geriatrician, I have not met a healthcare professional who better understands the pathophysiological principles behind the use of medications for the elderly." —Zaheer Khan, MD, MRCP, founder and president of the Center for Aging, Huntsville, AL
"Armon Neel is a pioneer in the field of geriatric drug therapy and has a wealth of experience." —Thomas R. Clark, RPh, MHS, CGP, Executive Director of the Commission for Certification in Geriatric Pharmacy, Alexandria, VA
"After seeing many doctors over the years, I had hit rock bottom. Then I found Armon Neel, and within six months, I was a new person." —Diane Marsh, Williamson, GA



"The book provides needed information to be certain you're getting the right dosage of the right medication as well as questions to ask prescribing physicians."
Atria Books, 9781451608403, 304pp.
Publication Date: June 11, 2013
About the Author
Armon B. Neel, Jr., whose work has been featured in the AARP Bulletin, Prevention magazine, and Reader's Digest, is a board-certified pharmacist whose medial career spans four decades. He lives in Georgia.

Bill Hogan is an award-winning investigative journalist in Washington, D.C. He has worked as a writer and consulting editor for the AARP Bulletin and as a consultant to CBS News.