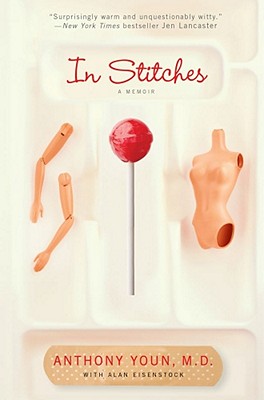 In Stitches (Hardcover)
Gallery Books, 9781451608441, 288pp.
Publication Date: April 26, 2011
Other Editions of This Title:
Paperback (2/14/2012)
* Individual store prices may vary.
Description
Tony Youn grew up up one of two Asian-American kids in a small town of near wall-to-wall whiteness. Too tall and too thin, he wore thick Coke-bottle glasses, braces, Hannibal Lecter headgear, and had a protruding jaw that one day began to grow, expanding Pinocchio-like, protruding to an unthinkable, monstrous size. After high school graduation, while other seniors partied at the shore or explored
Europe
, Youn lay strapped in an oral surgeon's chair as he broke his jaw, then reset it and wired it shut for six weeks.
Ironically, it was this brutal makeover that led him to his life's calling -- and the four years of angst, flubs, triumphs, non-stop studying and intermittant heavy drinking that eventually earned him an M.D. Thanks to a small circle of close friends and an obsessive drive to overachieve
,
Youn transformed from a shy, skinny, awkward nerd with no confidence and no clue into a renowned and successful plastic surgeon.
In Stitches
is a heartfelt, candid, and laugh-out-loud memoir of one man's bumpy road to becoming a doctor and learning to be confortable in his own skin.
Praise For In Stitches…
"Dr. Youn is a frequent guest on my show, and I can say without a doubt that he's a cut above the rest."—Rachael Ray

"Surprisingly warm and unquestionably witty, In Stitches is a riveting look at the sacrifice it takes to become a premiere plastic surgeon. In a world where physicians can be almost god-like, Dr. Tony's not afraid to show us his heart, his humor, and his humanity. I adored In Stitches and even though I'm not ready to book Dr. Tony for a face-lift, I'd sure like to call him for lunch." —New York Times bestselling author Jen Lancaster

"Part 'Grey's Anatomy,' part 'Nip-Tuck,' In Stitches takes you under the knife to expose the layers of one doctor's journey to become not only a plastic surgeon but also his own man. A humorous, heartfelt, honest memoir about med school and MCATs, fathers and sons, and finding your place in the world, In Stitches will tickle your funny bone, touch your heart and make you think differently about your doctor." —critically-acclaimed author Wade Rouse

"In Stitches is a brilliant and bouncy read. Humorous and energetic, the author takes us along with him in medical school on his way to becoming a surgeon. He makes you feel as if you are along on the ride. Rich with dialogue, I found my self routing for him in all sorts of circumstances from his first surgery to hitting on co-eds." —Dr. Drew Ordon, host of The Doctors

"Tony Youn traces his success to a stern Korean father and his own fanatical work ethic -- but the real secret is his fabulous sense of humor. If you're contemplating medical school, you'll need three things: resilience, caffeine, and In Stitches -- a raucously funny and genuinely affecting account of what becoming a doctor is really like." —Audrey Young, M.D., author of What Patients Taught Me: A Medical Student's Journey.

"In Stitches is well written, very readable and appropriately witty. I had the pleasure and opportunity of meeting and working with Dr Youn. I find him not only to be extremely capable and a great surgeon, but also a kind and generous man. In this book, I actually see a lot of myself in him. At times I was in tears and at others was laughing out loud. I highly recommend it!"— Dr. Robert Rey of Dr. 90210

"In 1980, I read The House of God, the sardonic story of residency training at Harvard's Beth Israel Hospital. Now, some 30 years later, readers are brought into the dorm room, the anatomy lab, the classroom, and the operating room with Dr. Youn as he describes his medical school training. The reader sweats the stresses and enjoys the laughs med students experience. I was touched by the honesty and frankness of the experiences he describes—most people understand the life of a doctor, but few understand the sacrifices that young men and women make while in medical school. Fasten your seatbelts and get ready for a fun ride. This memoir will certainly keep you In Stitches." —Arthur W. Perry, MD, FACS, author of The Real Life of a Surgeon

"Tony Youn's book is wonderful! Written from the heart, in a style that makes you want to read more, it is a touching, sensitive account of his journey. It should be read by everyone who's ever wanted to be a doctor, as well as anyone who's ever wanted to know what his doctor was thinking. A great read!" -- Robert Marion, M.D., author of Intern Blues

"Laugh out loud"— USA Today

"Youn's description of his journey from high-school outcast to rock star plastic surgeon is full of fascinating stories and laced with self-deprecating humor in the midst of dark desperation, providing a refreshing insight into medicine." —Publisher's Weekly

"In Stitches is a sometimes funny, sometimes painful, sometimes heartwarming recount of Dr. Youn's experiences on the road to becoming a doctor . . . a Scrubs meets David Sedaris story-line."—Huffington Post

"Rarely has the chaotic, exhausting, Kafkaesque world of the med student been so faithfully, and hilariously, portrayed." —Bookreporter

"In Stitches is a fast-paced, mesmerizing autobiography that's laced with dark humor and memorable scenes." —Lansing State Journal
Coverage from NPR
or
Not Currently Available for Direct Purchase