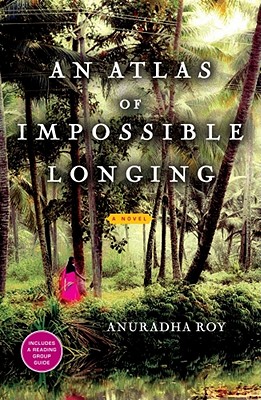 An Atlas of Impossible Longing (Paperback)
A Novel
Free Press, 9781451608625, 336pp.
Publication Date: April 5, 2011
* Individual store prices may vary.
Description
"This is why we read fiction at all" raves the Washington Post: Family life meets historical romance in this critically acclaimed, "gorgeous, sweeping novel" (Ms Magazine) about two people who find each other when abandoned by everyone else, marking the signal American debut of an award-winning writer who richly deserves her international acclaim.

On the outskirts of a small town in Bengal, a family lives in solitude in their vast new house. Here, lives intertwine and unravel. A widower struggles with his love for an unmarried cousin. Bakul, a motherless daughter, runs wild with Mukunda, an orphan of unknown caste adopted by the family. Confined in a room at the top of the house, a matriarch goes slowly mad; her husband searches for its cause as he shapes and reshapes his garden. As Mukunda and Bakul grow, their intense closeness matures into something else, and Mukunda is banished to Calcutta. He prospers in the turbulent years after Partition, but his thoughts stay with his home, with Bakul, with all that he has lost—and he knows that he must return.
About the Author
Anuradha Roy is the award-winning author of The Folded Earth and An Atlas of Impossible Longing, which has been published in sixteen countries and named by World Literature Today as one of the sixty most essential books on modern India. She lives in India.
Praise For An Atlas of Impossible Longing: A Novel…
Praise for An Atlas of Impossible Longing:

"Every once in a great while, a novel comes along to remind you why you rummage through shelves in the first place. . . . [A]s you slip into the book's pages, you sense you are entering a singular creation. . . . And then, suddenly, you are swept away. . . . This, you think, is the feeling you had as you read Great Expectations or Sophie's Choice or The Kite Runner. This is why you read fiction at all." —The Washington Post

"Roy's prose does not hit a single wrong note: its restrained beauty sings off the page." —Neel Mukherjee, Time Magazine

"Refreshing. . . . [Roy] defines her characters quickly and skillfully, she has a keen eye for landscape, and she knows how private lives can suggest the larger shape of the public world." —The New York Times

"Set in mid-twentieth-century India, this debut novel spans generations and political upheavals, [chronicling] both the strength of domestic bonds and the wounds that parents and children, and husbands and wives, inflict on each other." —The New Yorker

"Epic. . . . [a] gorgeous, sweeping novel." —Ms Magazine

"Impressive. . . . With her rich imagination, vivid descriptions, and skillful handling of events. . . . Roy weaves a tapestry of family life in India. . . . the story and characters stay with the reader for a long time. Roy is a writer to watch." —The SeattleTimes

"Roy's prose soars with a lyricism that can take your breath away. . . . From her whirlwind opening sentences, readers know they're in for a ride." —Star Tribune (Minneapolis)

"A novel to convince us that boldly drawn sagas with larger-than-life characters are still possible in a relentlessly postmodern world. . . . A sprawling epic of love, class and ambition." —Denver Post

"An incandescently evocative debut novel filled with wrenching tragedy as well as abiding passion." —Booklist

"[Roy] is a fabulous storyteller with a true gift for transporting the reader right into the heat, smells, and sights of India. . . . a poetic novel easily read again and again. A complete success and an excellent choice for a discussion group." —Library Journal

"Roy's impressive American debut. . . the sounds, smells, and feel of Bengal come vividly to life. Cultures may differ, but longing and love are universal." —Publishers Weekly

"In An Atlas of Impossible Longing, Anuradha Roy bravely explores love, the caste system, and familial lines in a vivid portrait of war-stricken twentieth-century India. This absorbing story defies prediction. Roy's grace and mesmerizing language stayed with me long after I closed the book." —Katie Crouch, author of Girls in Trucks

"A novel of beauty, poignancy, and gut-churning suspense. . . . A lyrical love letter to India's past—an India of innocent child brides and jasmine-scented summer evenings. . . . Poetic and evocative, Roy's writing is a joy." —Financial Times

"Deftly and sensitively narrated."—The Independent

"A story to lose yourself in.. . . Anuradha Roy is a wonderful writer. . . . this tale of three generations of an Indian family, set over the span of the 20th century, is brilliantly told [and] intensely moving." —Sunday Express

"Roy's novel is engaging from start to finish and difficult to put down."—The Sunday Sun

"Recalls classics from Great Expectations to The Cherry Orchard. . . . Roy's prose is luscious yet economical. Capturing the rhythms of life in rural backwater and big city alike, she strings together jewel-like episodes. . . . giving her story the quality of something remembered." —The National Newspaper

"Now here is a perfect monsoon read: an exquisitely-written first novel that flows limpid and elegiac. . . . you might find yourself unbearably moved by her delicate probing of the fragility of love and longing."—India Today

International Praise for The Folded Earth by Anuradha Roy:

"[Roy's] narrative is poised andher language precise and poetic, without being flamboyant . . . a story about love and hate, continuity and change, loss and grief in a convincing and memorable setting."—The Independent

"Anuradha's ability to seamlessly place the private lives of her characters within a larger socio-political setting is what she carries into her second book [as well] . . . at the end of The Folded Earth you feel a firm belief in the redemptive qualities of life and love." —Elle

"A gently perceptive story, half comic and half poignant, of a woman's struggle to forget her sorrows in new surroundings." —The Sunday Times

"Tight with life. . . .Roy's attention to individual words pays off as she conveys the full texture of experiences. . . . Even minor characters are evoked with inventive idiosyncrasy."—Daily Mail

"The Folded Earth is pure pleasure, that old fashioned sort of novel in which one can immerse oneself; an absolute treat." —Business World

"Eminently readable, a literary novel that feels timeless and authentic." —DNA

"Roy has an admirably restrained style and her novel offers a vivid evocation of North India. She conjures up striking images with the lightest of touches." —The Tatler

"A jewel of a story." —The Deccan Herald

"[A] deeply unsettling but beautiful novel . . . utterly enrapturing. . . . As always, Roy's writing remains gently poignant and metaphoric throughout, every vignette and scenario she constructs feels multilayered and deeply meaningful." —For Books' Sake

"A perfect treat . . . Roy brings her characters vividly and amusingly to life." —Country and Town House Magazine

"There is a gentle perfection to the way Roy writes. . . . A beautiful love story. . . . about people who love and long—impossibly?—and love again." —The Hindu

"Anuradha Roy's second novel demands that the reader pause, slow down, savour this work. . . . I hear echoes of Anita Brookner and Edna O'Brien and other writers like them as Roy brings Maya and her travails to life." —Biblio

"A book you will hold close to your heart long after the last page is turned." —First City Magazine