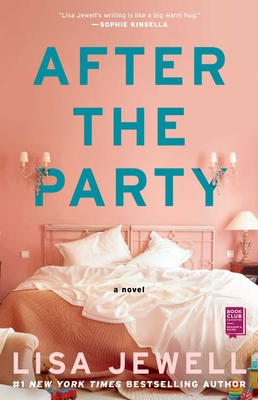 After the Party (Paperback)
A Novel
Atria Books, 9781451609103, 464pp.
Publication Date: August 16, 2011
Other Editions of This Title:
Paperback (4/1/2011)
Paperback (4/1/2011)
* Individual store prices may vary.
Description
"Lisa Jewell's writing is like a big warm hug. After the Party is a touching, insightful, and gripping story which I simply couldn't put down." —Sophie Kinsella

From the New York Times bestselling author of Then She Was Gone comes an irresistible novel about the power of starting over.

Eleven years ago, Jem Catterick and Ralph McLeary fell deeply in love. They thought it would be forever, that they'd found their happy ending. As everyone agreed, they were the perfect couple. Then two became four, and an apartment became a house. Romantic nights out became sleepless nights in. And they soon found that life wasn't quite so simple anymore. But through it all, Jem and Ralph still loved each other. Of course they did.

Now Jem is back at work part-time as a talent agent. Ralph, a successful painter, is struggling to come up with new, hopefully groundbreaking, work for his upcoming show. But the unimaginable has happened. Two people who were so right together are starting to drift apart. And in the chaos of family life, Jem feels like she's losing herself, while Ralph, stuck on the sidelines, feels like he's lost his muse altogether. Something has to change. As they try to find a way back to each other, back to what they once had, they both become momentarily distracted—but maybe it's not too late to recapture happily ever after…
About the Author
Lisa Jewell is the internationally bestselling author of eighteen novels, including the New York Times bestseller Then She Was Gone, as well as I Found You, The Girls in the Garden, and The House We Grew Up In. In total, her novels have sold more than two million copies across the English-speaking world and her work has also been translated into sixteen languages so far. Lisa lives in London with her husband and their two daughters. Connect with her on Twitter @LisaJewellUK and on Facebook @LisaJewellOfficial.
Praise For After the Party: A Novel…
Praise for After the Party:

"Lisa Jewell's writing is like a big warm hug, and this book is a touching, insightful, and gripping story which I simply couldn't put down."
— Sophie Kinsella

"Jewell writes, as ever, with wit and verve."

"A gripping examination of all the difficulties a modern couple can face."

"Jewell stands out, providing insightful character studies... and she is so readable—you can fall into After the Party as you would a particularly soft settee."

"Jewell's style is light and engaging."

"Lisa Jewell writes with such warmth—this is just lovely."

"Flipping between their perspectives and illuminating their desires, fears, and sometimes clumsy actions, [After the Party] entertainingly marches its characters along the path to finally growing up."

"Jewell's easy prose and storytelling ability make for a pleasant trip. Engaging."

Praise for The Girls in the Garden:

"Lisa Jewell's characters are so real that I finish every book half-expecting to bump into one of them. Modern, complex, intuitive, she just goes from strength to strength."
— Jojo Moyes, author of After You

"Jewell expertly builds suspense by piling up domestic misunderstandings and more plot twists than an SVU episode. It's a page-turner for readers who like beach reads on the dark side."

"Full of suspense yet emotionally grounded…Fans of Liane Moriarty, Paula Hawkins, and Carla Buckley will adore this peek inside a gated community that truly takes care of its own, no matter the consequences."

"Rich characterization and intricate plot development are combined with mid-chapter cliffhangers that cut from one character's point of view to the next, resulting in a riveting pace. Vivid descriptions of the bucolic park contrast with the evil lurking around the themes of teenage sexuality, perversion, peer pressure, and the desire for a complete family. Jewell adeptly creates a pervasive atmosphere of unease in this well-spun narrative."

One of New York Post's "Buzziest Books to Bring to the Beach"

"An intoxicating, spellbinding read that will make readers entranced with Lisa Jewell's wicked and gorgeous prose…raw, intense, gritty, dark and suspenseful. If you are looking for a looking for a psychological thriller that will unfold secrets and truths in a shocking manner, this book is for you."

"Faithful to the thriller genre, Jewell makes liberal use of red herrings and plot twists… The answer to the whodunit is a sly – and satisfying – surprise."
or
Not Currently Available for Direct Purchase