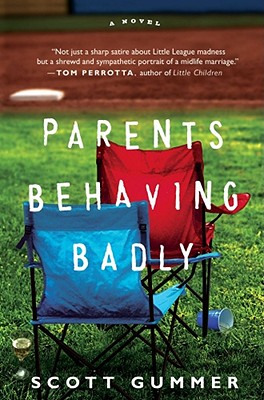 Parents Behaving Badly (Hardcover)
Touchstone, 9781451609172, 224pp.
Publication Date: April 12, 2011
* Individual store prices may vary.
or
Not Currently Available for Direct Purchase
Description
An uproarious, surprising, and poignant satire of American suburbia and youth sports gone wild When Ben and Jili Holden must move from Manhattan with their three children back to their small hometown of Palace Valley, California, they are forced to reconcile the parents they've become with the dreams they had, the choices they've made, and a sex life much more down-to-earth than the epic Ferris wheel tryst of their youth. After reluctantly stepping up to lead his son's Little League team, Ben is challenged to finally come to terms with the long shadow of his father, a legendary high school baseball coach and mentor who is beloved by generations of players, yet largely a stranger to Ben. At the heart of the story are the universal experiences and themes of family and community, as Ben and Jili struggle to connect with their technology-addicted children and grapple with issues of marital fidelity--both at home and in the hotbed of sexual tension that is the Little League park. Among an unforgettable cast are Del, an autocratic coach who issues his own Ten Commandments; Liza, Ben's unrequited high school crush; Logan, a smart-aleck ringer whose preteen talents are eclipsed only by his ego; and Cyn, the sultry thong-wearing team mom with the serpent tattoo. Every mother and father of every boy and girl who have ever participated in youth sports can relate, and in Parents Behaving Badly Scott Gummer brilliantly skewers overzealous parents and lunatic coaches, giving the grown-ups who seek vicarious glory the send-up they so richly deserve.
Praise For Parents Behaving Badly…
"Parents Behaving Badly isn't just a sharp satire about Little League madness; it's also a shrewd and sympathetic portrait of a mid-life marriage. Scott Gummer writes with equal insight about wayward spouses and conniving coaches."—Tom Perrotta



"Parents Behaving Badly is the perfect melding of the modern American bloodsports of Little League and wedlock: harrowing and warm-hearted."—Larry Doyle, author of I Love You, Beth Cooper and Go Mutants



"Scott Gummer does a great job of reminding us why kids play sports, why parents coach and, with tongue in cheek, what happens when parents forget that sports are supposed to be fun. With a great deal of humor he never loses sight of the life lessons baseball teaches kids and parents alike. Parents Behaving Badly is a thoroughly entertaining story of a youth baseball season that should be a must read."
—Cal Ripken, Jr., member, National Baseball Hall of Fame, Chairman and CEO Ripken Baseball



"Parents Behaving Badly is a devastatingly accurate—and laugh out loud funny—look at the culture of contemporary youth sports, the boys and girls who just want to have fun, and the parents who do more harm than good despite their best intentions."
—Hannah Storm, ESPN Anchor & Journalist
Advertisement