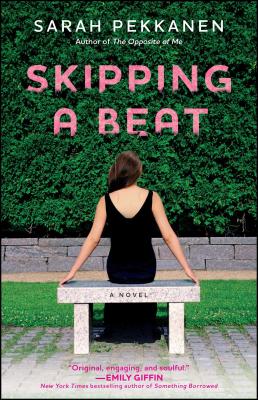 Skipping a Beat
A Novel
Paperback

* Individual store prices may vary.
Other Editions of This Title:
Digital Audiobook (12/16/2013)
Description
From the author of the acclaimed The Opposite of Me, a poignant, witty novel about marriage, forgiveness, and the choices that give shape—and limits—to our lives.

What would you do if your husband suddenly wanted to rewrite all of the rules of your relationship? This is the question at the heart of Skipping a Beat, Pekkanen's thought-provoking second book.

From the outside, Julia and Michael seem to have it all. Both products of difficult childhoods in rural West Virginia – where they were simply Julie and Mike – they become high school sweethearts and fall in love. Shortly after graduation, they flee their small town to start afresh. Now thirty-somethings, they are living a rarified life in their multi-million-dollar, Washington D.C. home. Julia is a highly sought-after party planner, while Michael has just sold his wildly successful flavored water company for $70 million.

But one day, Michael collapses in his office. Four minutes and eight seconds after his cardiac arrest, a portable defibrillator jump-starts his heart. But in those lost minutes he becomes a different man. Money is meaningless to him - and he wants to give it all away. Julia, who sees bits of her life reflected in scenes from the world's great operas, is now facing with a choice she never anticipated. Should she should walk away from the man she once adored – but who truthfully became a stranger to her long before this pronouncement - or give in to her husband's pleas for a second chance and a promise of a poorer but happier life?

As wry and engaging as her debut, but with quiet depth and newfound maturity, Skipping a Beat is an unforgettable portrait of a marriage whose glamorous surface belies the complications and betrayals beneath.


Praise For Skipping a Beat: A Novel…
"The impossible choice between true love and the trappings of success is explored in Skipping a Beat. Sarah Pekkanen proves masterful at creating nuanced, complex characters deadlocked with emotional conflict, and the story culminates in an ending that will leave readers breathless. Evocative and compelling, it couldn't be more satisfying." —Jen Lancaster, author of Bitter is the New Black

"A provocative, poignant look at marriage, money and the things that matter most." —Beth Kendrick, author of The Pre-Nup

"Original, engaging, and soulful, Skipping a Beat explores the complexity of marriage and what it really means to share a life. I fell in love with Julia, a funny, flawed and utterly real heroine—and felt the weight of her dilemma with every page, all the way through to the surprising, satisfying finish." —Emily Giffin, New York Times bestselling author of Something Borrowed and Heart of the Matter

"Tender and funny in turn, Sarah Pekkanen has made modern marriage exciting in this imaginative and heartfelt tale of love and healing." —Emma McLaughlin and Nicola Kraus, #1 New York Times bestselling authors of The Nanny Diaries

"In her second novel, Pekkanen (The Opposite of Me) offers a wonderfully compelling, compassionate, and complicated portrait of the marriage of Julie and Michael Dunhill. Meeting in high school, the two were both determined to leave their hometown behind and make something of their lives, contrary to how they were raised. With Michael's colossal and unpredicted financial success, these once loving sweethearts drift apart and find different foci for their passionate energies—Michael is completely absorbed in his DrinkUp company and Julie in her party-planning business. When Michael collapses on his office floor and dies for four minutes and eight seconds, their whole world changes, and both are left to reevaluate what they thought was important in life. For Julie though, this is a struggle to overcome the disappointment, sense of abandonment, and misunderstandings she's harbored against her husband for years. VERDICT: In this compelling and satisfying read, Pekkanen offers relatable characters that move you and an ending that surprises and pleases. Highly recommended." —Library Journal, starred review

"A two-hanky weepy… A tragic turn of events redirects what could have been a predictable romance into a drama on the fragility of love and marriage." —Kirkus

"An insightful examination of a marriage. The moving story and bittersweet ending will draw in readers" —Booklist

"This portrait of a couple forced to take responsibility for the breakdown of their relationship is at once heartbreaking and familiar." —People

"Intelligent and entertaining." —The Washington Post
Washington Square Press, 9781451609820, 352pp.
Publication Date: February 22, 2011
About the Author
Sarah Pekkanen is the bestselling author of The Ever After, The Opposite of Me, Skipping a Beat, These Girls, The Best of Us, Catching Air, Things You Won't Say, and The Perfect Neighbors. Her work has been published in People, The Washington Post, and USA TODAY, among other publications. She lives with her family in Chevy Chase, Maryland.
When you first encounter Lindsey Rose, what is your reaction to her workaholic attitude? Do you see it as justifiable in her profession?
Lindsey's nemesis in the office is Cheryl, and Lindsey is upset by how Cheryl uses her sexuality to advance her job. What do you think of Cheryl's tactics? Is Lindsey right to be so opposed to them?
What is your opinion of Alex, Lindsey's sister? Lindsey views her life as flawless — do you agree with that characterization? Are there any clues you noticed that showed her life may be less than wonderful?
How would you describe the dynamic between Alex and Lindsey? How do being twins affect their relationship as adults, especially since Alex received so much attention growing up?
What did you think of the sisters' parents? Do you see their bumbling, funny personalities as having a balancing effect for their daughters?
When Lindsey hides in the bathroom and overhears how much Cynthia Givens' employees dislike their boss, why does it have such a big effect on her?
After Lindsey's shopping spree, how did her personality change? Was this just a superficial adjustment for her, or did it have a deeper effect? And why did she hide it from her parents and Alex?
Why do you think Lindsey didn't want to be with Bradley when they were younger? Did something else come into play besides the fact that Lindsey wasn't ready for a "real" relationship?
Describe the relationship between May and Lindsey. In what ways were their previous lives— Lindsey as an executive, May as a political wife—similar? In what ways did May rub off on Lindsey, and vice versa?
How does Alex's condition affect the relationship between the sisters? Was such a major event the only way they could start over, or do you think they would have eventually formed a better relationship anyway?
Do you think it's common for people to be assigned certain roles in their family – like the "pretty" sister or the "smart" one – and do you think those labels are fair? Were they fair to Lindsey and Alex? Do you feel like you have a certain label in your own family? Do you think it fits you?
How did Alex's flirtation with Bradley affect Lindsey's feelings for him? Do you believe Lindsey would've fallen for Bradley if he and Alex hadn't connected first? Do you think Lindsey would have been happy with Bradley if they'd ended up together?
How do you feel about the relationship that suddenly develops between Matt and Lindsey? Do you think it will last? Do you see Lindsey being happy staying in Maryland? Or do you think she will return to New York City?
Lindsey's mantra throughout later part of the story was to 'jump.' How did she eventually learn to do this? How has she changed since the story began?