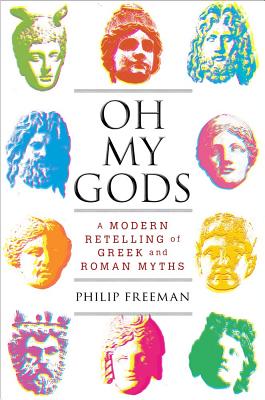 Oh My Gods: A Modern Retelling of Greek and Roman Myths (Hardcover)
A Modern Retelling of Greek and Roman Myths
Simon & Schuster, 9781451609974, 368pp.
Publication Date: January 3, 2012
* Individual store prices may vary.
or
Not Currently Available for Direct Purchase
Description
From acclaimed writer and scholar Philip Freeman, a contemporary retelling of classic Greek and Roman mythology. The myths of Greece and Rome have never died out; in fact they are as popular today as ever. For thousands of years, these myths have been the basis for plays, operas, paintings, and movies. Freeman's version of the myths will appeal to the many people who are unsure about some mythological references, and to everyone who enjoys reading stories about errant gods, fantastic creatures, and human heroes. Whether it is Zeus's wandering eye, Theseus's battle with the half-human, half-bull Minotaur, or the tribulations of lovers, such as Pyramus and Thisbe or Hero and Leander, these tales never fail to entertain. They are by turns sublimely beautiful and deeply disturbing; they provide valuable insights into the Greek and Roman imagination. They speak to fundamental aspects of human nature--our hopes, fears, desires--that have not changed. Freeman's version is contemporary and accessible. It reflects no school of critical interpretation, just a wish to share these stories in a version that is faithful to the originals. (Sometimes variations in the myths have been combined; sometimes one version has been chosen in preference to the others.)
Praise For Oh My Gods: A Modern Retelling of Greek and Roman Myths…
"Electrifying. . . . Freeman brings the contentious, devious, shape-shifting, revengeful gods and goddesses, from Zeus and Hera on down, to towering life, recounting their violent exploits with verve and clarity."
—Booklist




"A thoroughly delightful book."
—Jules Wagman, The St. Louis Post-Dispatch




"Each story is written eloquently and with sincere enthusiasm for the narration of these myths. . . . Highly accessible."
—Library Journal



"Philip Freeman must be thanked for his contribution to the process of keeping the Classics alive in the modern world. . . . Oh My Gods is another contribution to the enlivening of antiquity and like his other works this collection is a thoughtful and essentially well-written work."
Advertisement