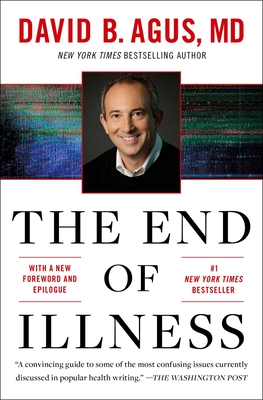 The End of Illness
Paperback

* Individual store prices may vary.
Other Editions of This Title:
Digital Audiobook (1/16/2012)
Hardcover (1/17/2012)
Description
The #1 New York Times bestselling work that overturns conventional conceptions of health and illness to offer new methods for increasing vital longevity.

CAN WE LIVE ROBUSTLY UNTIL OUR LAST BREATH? Do we have to suffer from debilitating conditions and sickness? Is it possible to add more vibrant years to our lives? In the #1 New York Times bestselling The End of Illness, Dr. David Agus tackles these fundamental questions and dismantles misperceptions about what "health" really means. Presenting an eye-opening picture of the human body and all the ways it works—and fails—Dr. Agus shows us how a new perspective on our individual health will allow us to achieve a long, vigorous life.

Offering insights and access to powerful new technologies that promise to transform medicine, Dr. Agus emphasizes his belief that there is no "right" answer, no master guide that is "one size fits all." Each one of us must get to know our bodies in uniquely personal ways, and he shows us exactly how to do that. A bold call for all of us to become our own personal health advocates, The End of Illness is a moving departure from orthodox thinking.
Praise For The End of Illness…
"In this brilliant book, David Agus introduces a whole new way of looking at illness and health. Taking a cue from physics, he views the body as a complex system and helps us see how everything from cancer to nutrition fits into one whole picture. The result is both a useful guide on how to stay healthy and a fascinating analysis of the latest in medical science." —Walter Isaacson, author of Steve Jobs

"Dr. David Agus has given us a remarkable peek into our health--and the impact will be profound. I've made it my mission in life to live strong and help others do the same. The End of Illness is one more empowering piece to the puzzle of knowing how to do just that. This book will prevent illness, revolutionize treatments, and lengthen people's lives. A tour de force in its delivery and message." —Lance Armstrong, 7-time Tour de France winner and Founder and Chairman, LIVESTRONG

"David Agus is one of America's great doctors and medical researchers, a man dedicated to improving the health of as many people as he can. Written in a style and format that will truly engage readers, The End of Illness presents a dramatic, new way of thinking about our own health—a way that could lead to greatly improving the quality of life for millions, starting right now." —Al Gore, 45th Vice President of the United States, Nobel Laureate in Peace, 2007

"As physician, research scientist, and friendly guide, Dr. Agus takes his readers on a fascinating tour of ideas and facts about health and illness. They will find many of those ideas to be unconventional and thought-provoking and many of the facts to be both striking and surprising. Read this book and you will very likely change at least some of your views on health and illness." —Murray Gell-Mann, PhD, Nobel Laureate in Physics, 1969, and Distinguished Fellow and Cofounder of The Santa Fe Institute

"David Agus's The End of Illness is a brilliant blend of enlightening manifesto and practical how-to in the realm of our most important ingredient to a long and happy life: health. Filled with unorthodox ideas backed with hard science, it simplifies for the reader the complexity of vital developments happening in medicine today and teaches us how to make the most of what's available, as well as what's soon to come." —Michael Dell, Founder, Chairman, and Chief Executive Officer of Dell, Inc.

"Dr. David Agus is surfing the crest of two great waves of innovation -- in information technology and the life sciences. His End of Illness uses Big Data to decode the personal and molecular basis of disease. And, more important, advance a new model for health where prevention is key." —John Doerr, partner Kleiner Perkins Caufield Byers

"David Agus, one of the nation's most innovative cancer doctors, shatters the myths about health and wellness and provides us with a handbook for living a long, healthy life." —Steve Case, Chairman of Revolution and The Case Foundation, cofounder America Online

"In this seminal book, Dr. David Agus presents a brilliant new model of health based on the body as a complex system with an emphasis on prevention. The End of Illness may reframe everything you thought you knew about health. It is both provocative and inspiring. Highly recommended." —Dean Ornish, MD, founder and president of the Preventive Medicine Research Institute, Clinical Professor of Medicine at the University of California, San Francisco

"Dr. David Agus has been disrupting medicine as we know it for his entire career. Now, he brings his ideas out of the lab and exam room and into the lives of everyone—showing us how to live long, healthy, disease-free lives. Reading this book is the best thing you can do for yourself and your loved ones. A monumental work that will change your life." —Marc Benioff, Chairman and CEO, salesforce.com

"David Agus is one of the great medical thinkers of our age. "The End of Illness" reframes the entire discussion of sickness and health. Instead of thinking about disease Agus thinks about the system that is the human body, and what we need to do to guide it toward health. Before you take your next vitamin, read this book." —Danny Hillis, PhD, cofounder, Applied Minds and Thinking Machines
Free Press, 9781451610192, 384pp.
Publication Date: October 16, 2012
About the Author
David B. Agus, MD, is the author of the international sensations The End of Illness, A Short Guide to a Long Life, and The Lucky Years. A professor of medicine and engineering at the University of Southern California, he is the founding Director and CEO of the Ellison Institute for Transformative Medicine and a contributor to CBS News. He lives in Santa Monica, California.