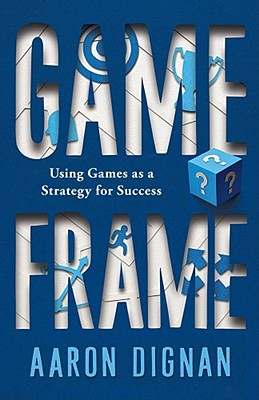 Game Frame
Using Games as a Strategy for Success
Hardcover

* Individual store prices may vary.
Other Editions of This Title:
Paperback (4/19/2014)
Description
Ever wonder why teens can spend entire weekends playing video games but struggle with just one hour of homework? Why we're addicted to certain websites and steal glances at our smartphones under the dinner table? Or why some people are able to find joy in difficult or repetitive jobs while others burn out? It's not the experiences themselves but the way they're structured that matters.

All our lives we've been told that games are distractions—playful pastimes, but unrelated to success. In Game Frame, Aaron Dignan shows us that the opposite is true: games produce peak learning conditions and accelerated achievement. Here, the crucial connection between the games we love to play and the everyday tasks, goals, and dreams we have trouble realizing is illuminated.

Aaron Dignan is the thirty-something founder of a successful digital strategy firm that studies the transformative power of technology in culture. He and his peers were raised on a steady diet of games and gadgets, ultimately priming them to challenge the status quo of the modern workplace. What they learned from games goes deeper than hand-eye coordination; instead, this generation intrinsically understands the value of adding the elements of games into everyday life.

Game Frame is the first prescriptive explanation of what games mean to us, the human psychology behind their magnetic pull, and how we can use the lessons they teach as a framework to achieve our potential in business and beyond.

Games are a powerful way to influence and change behavior in any setting. Here, Dignan outlines why games and play are such important trends in culture today, and how our technology, from our iPhones to our hybrid cars, primes us to be instinctive players. Game Frame tackles the challenging task of defining games and the mechanics that make games work from several perspectives, then explores these ideas through the lens of neuroscience. Finally, Dignan provides practical tips for using basic game mechanics in a variety of settings, such as motivating employees at work or encouraging children at home, giving readers the tools to develop their own games to solve problems in their everyday lives.

Illuminated throughout with a series of real-world examples and hypothetical scenarios, Game Frame promises a crash course in game design and behavioral psychology that will leave the reader—and, by extension, the world itself—more productive. Revolutionary, visionary, practical, and time-tested, Game Frame will change the way you approach life.
Praise For Game Frame: Using Games as a Strategy for Success…
"Thoughtful insight for individual gamers and their managers." —Booklist

"Essential reading for anybody tasked with reaching or inspiring today's 'continuous partial attention' generation."
—Ricky Van Veen, co-founder, CollegeHumor

"Leave it to Aaron Dignan to make the unique and compelling case for how digital gaming strategies can be applied to corporate performance. Aaron is at his best when he simplifies complexity and makes it actionable, which is what he's done in Game Frame, making the strategies of gaming immensely approachable—if not mandatory—to growing a business. Game Frame is a must-read for marketers and enthusiasts of behavioral science."
—Beth Comstock, CMO, GE

"Aaron is always insightful, challenging and fun. This book distills all these qualities perfectly. It's Aaron in a bottle. I loved it."
—MT Carney, President of Marketing, Walt Disney Studios

"It seems like everybody's talking about applying game mechanics to the real world. But most of those applications are trivial, doing justice to neither game nor world. In Game Frame, Aaron Dignan goes beyond pointsification, offering a new design theory for using games in places you'd least expect."
—Ian Bogost, Ph.D., author of Persuasive Games and co-author of Newsgames

"Up Up, Down Down, Left, Right, Left, Right, B, A, Read, Win."
—Josh Spear, publisher, JoshSpear.com

"As videogames expand beyond the bedrooms of 14 year old boys to become a legitimized form of mass-market entertainment, this book brilliantly explores what to expect, and why this is a good thing, for everybody. A great insight into the future of engagement."
—Brad Jakeman, EVP/CMO, Activision Publishing

"Aaron has done a great job of showing how game mechanics can help us win in other areas, especially negotiation and deal making."
—Rob Segal, CEO, Virgin Gaming

"Game Frame is an excellent crash course on how to add game mechanics to improve nearly any experience."
—Jesse Schell, author of The Art of Game Design
Free Press, 9781451611052, 224pp.
Publication Date: March 8, 2011