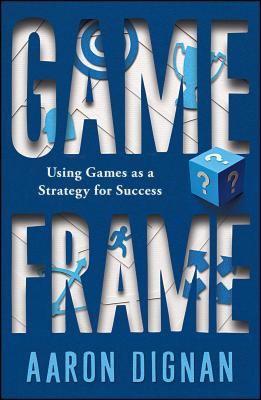 Game Frame
Using Games as a Strategy for Success
Paperback

* Individual store prices may vary.
Other Editions of This Title:
Hardcover (3/8/2011)
Description
Now in paperback, Game Frame explains how to use the tools of games to remain competitive and successful in today's digital world. We've always been told that games are a distraction--fun perhaps, but unrelated to success. In Game Frame, Aaron Dignan shows the opposite is true: games produce peak learning conditions and accelerated achievement. Life really is a game and it turns out better for those who know how to play it. Game Frame outlines why games are such important trends in culture today, why everything from our iPhones to our Priuses actually prime us to be instinctive players, and how the brain skills learned in gaming can make anyone more competitive at whatever they do. The result is the first prescriptive explanation of what gaming is, how the psychology behind it works, and how the behaviors learned can sharpen our skills in everything from business to parenting. Illuminated throughout with a series of real world examples, Dignan delivers a crash course in game design and behavioral psychology that will excite readers of every generation. "Thoughtful insight for individual gamers and their managers." --Booklist "An excellent crash course on how to add game mechanics to improve nearly any experience."
--Jesse Schell, author of The Art of Game Design
Free Press, 9781451611069, 224pp.
Publication Date: April 19, 2014
About the Author
Aaron Dignan is a founding partner of the digital strategy firm Undercurrent, based in New York, where he advises top executives at global brands like General Electric, PepsiCo, Ford Motor Company, and HBO, helping them define their future in an increasingly technophilic world. His work has been featured in The New York Times, The Wall Street Journal, Forbes, Vanity Fair, Slate.com, and AdAge.