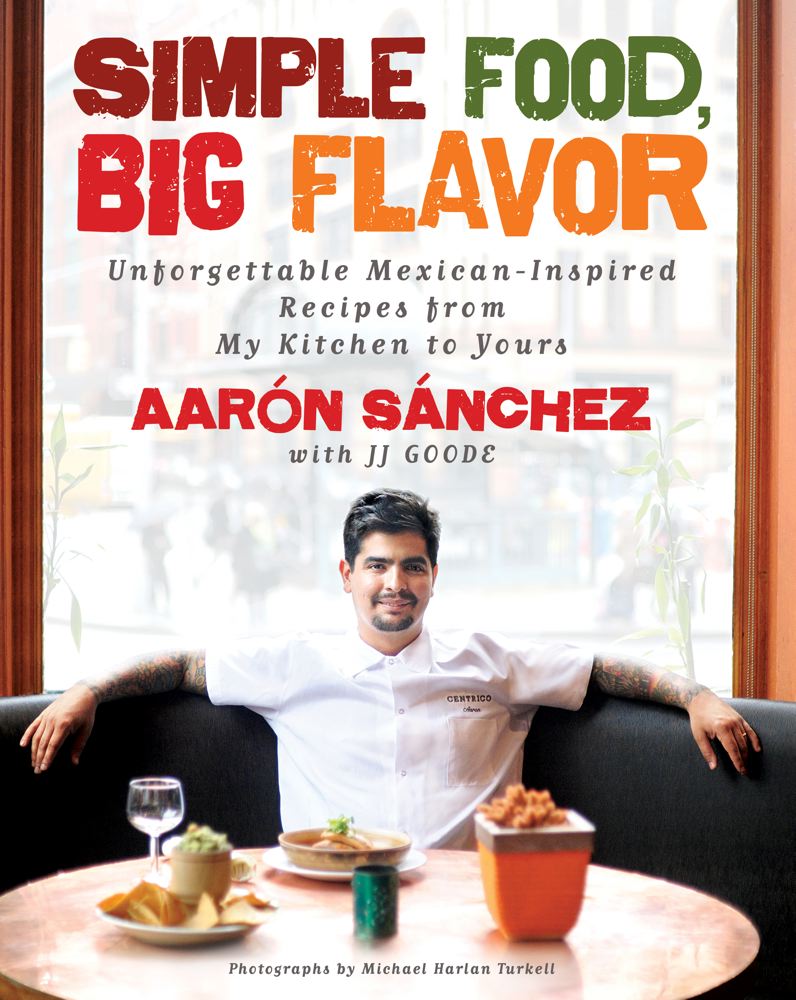 Simple Food, Big Flavor
Unforgettable Mexican-Inspired Recipes from My Kitchen to Yours
Hardcover

* Individual store prices may vary.
Other Editions of This Title:
Paperback (2/9/2016)
Description
From restaurateur (Centrico) and Food Network star (Chefs vs. City, Chopped, and Heat Seekers) Aarón Sanchez comes his fabulous new cookbook themed around 15 unforgettable Mexican flavor bases.

You've seen him on the Food Network's Chopped, Chefs vs. City, and Heat Seekers. You've savored his lovingly prepared dishes at Centrico in New York City. Now, with Simple Food, Big Flavor, award-winning restaurateur Aarón Sánchez brings the amazing tastes and aromas found in his kitchen to yours.

Aarón Sánchez's passion for food has placed him among the country's leading contemporary Latin chefs. He has earned a premiere spot in the world of culinaria, introducing an enthusiastic national audience to his technique and creativity with modern interpretations of classic Latin cuisine. In Simple Food, Big Flavor, rather than over-whelming readers with complex, intimidating dishes, he starts small, showing how one simple but fabulous "base" recipe can become many fantastic dishes. Take Garlic-Chipotle Love, a blend of roasted garlic, canned chipotles in adobo, cilantro, and lime zest that keeps in the fridge for weeks or in the freezer for months. Once you make it, you're just a few steps away from delicious dishes like Chipotle-Garlic Mashed Potatoes, Bean and Butternut Squash Picadillo, and Mussels with Beer and Garlic-Chipotle Love.

And that's just the beginning. Sánchez features fifteen of these flavor base recipes, including Roasted Tomato Salsa, Cilantro-Cotija Pesto, and homemade Dulce de Leche. He even shares his plan of attack for making the perfect mole and how to team it up with roasted Cornish game hens, turkey enchiladas, and the ultimate crowd pleaser, braised beef short ribs. He then provides detailed yet easy tips for applying each sauce to everyday meals, whether you spread it on hamburgers, turn it into a marinade for easy grilled chicken, or stir in a little oil and lime for salad dressing with a kick.

With his warm and engaging style, Sánchez equips home cooks with the skills and knowledge they need to come up with their own simple, flavorful meals every night of the week. Your kitchen will be en fuego! As Sánchez says, your food will go from inspiring smiles and polite nods to igniting ridiculous grins and bear hugs. Enjoy!
Praise For Simple Food, Big Flavor: Unforgettable Mexican-Inspired Recipes from My Kitchen to Yours…
"Aarón Sánchez is one of America's best Latin chefs. His knowledge and passion for authentic Mexican dishes and traditions shines through in this beautiful book. Perfect for the home cook!" —Marcus Samuelsson, author of New American Table, chef-owner of Red Rooster Harlem, and founder of FoodRepublic.com

"Aarón welcomes you into his kitchen and shares his rich Mexican traditions and dishes with home cooks around the world. Informative, inspiring, and user-friendly. The flavor foundations in each chapter that allow you to create hundreds of recipes are pure culinary gold." —John Besh, author of My Family Table, host of John Besh's New Orleans, and chef-owner of Besh Restaurant Group

"Aarón Sánchez's flair for living lives in his food. The recipes in Simple Food, Big Flavor are filled with passion, humility, unbridled love, and respect for his culture and family." —Roger Mooking, coauthor of Everyday Exotic: The Recipes and cohost of Heat Seekers

"Aarón brings his effortless, sexy style into your kitchen with these quick, easy and mindblowingly delicious recipes. His how-to tips come in real handy, too, making this book an absolute must-have for your culinary library. My only complaint was my uncontrollable craving for a frozen margarita while I tried the recipes...I may have to head over to Centrico for one of those!" —Daisy Martinez, author of Daisy: Morning, Noon, and Night

"Sánchez presents 15 'magical' culturally inspired Mexican sauces, pastes, toppings and salsas. To each, the author adds an explanation of how they are best incorporated into dishes, alongside suggestions for alternate uses that leave home chefs a lot of room to mix, match and substantially shake up the dinner table...For Sánchez fans and those unafraid to fire up their taste buds like a pro." —Kirkus Reviews

"An inspiring and concise take on Mexican cuisine." —Publisher's Weekly


"Though there are only 15 sauce/puree/paste recipes, the ideas for using them and the tips he offers in his witty voice are what make the book especially valuable...you'll be on your way to what Sanchez calls a 'whoa' moment." —Chicago Tribune

Atria Books, 9781451611502, 208pp.
Publication Date: October 4, 2011
About the Author
Aarón Sánchez is chef/partner of Johnny Sánchez, with locations in Baltimore and New Orleans. He is the co-star of Food Network's hit series, Chopped, and the host of Cooking Channel's Emmy-nominated Taco Trip. He is also the host of two Spanish-language TV series on FOX Life: 3 Minutos con Aarón and MOTOCHEFS. The son of celebrated Mexican cooking authority Zarela Martinez, Aarón's passion, commitment and skills have placed him among the country's leading contemporary Latin chefs. He lives in Manhattan with his wife, singer/songwriter Ife Sanchez Mora, and two children.

JJ Goode has written about food and travel for The New York Times, The Wall Street Journal,Gourmet, Saveur, Bon Appétit, Food & Wine, Men's Vogue, Details, and Every Day with Rachael Ray. He has co-authored several cookbooks, including Pok Pok: Food and Stories from the Streets, Homes, and Roadside Restaurants of Thailand with Andy Ricker, A Girl and Her Pig with April Bloomfield, Truly Mexican and Tacos, Tortas, and Tamales with Roberto Santibanez, and Morimoto: The New Art of Japanese Cooking with Masaharu Morimoto. He and his wife live in Brooklyn.

Michael Harlan Turkell is a once-aspiring chef and now freelance photographer. Based in Brooklyn, he is the former photo editor of Edible Brooklyn and Edible Manhattan, and documents the working lives of chefs with his award-winning "Back of the House" project. Michael's work has garnered industry awards and has been published in an array of magazines and books. He also hosts a show on HeritageRadioNetwork.com called "The Food Seen," which touches on the intersections of food and art.
or
Not Currently Available for Direct Purchase