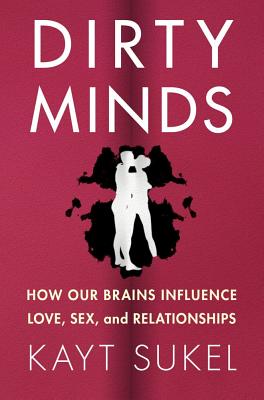 Dirty Minds (Hardcover)
How Our Brains Influence Love, Sex, and Relationships
Free Press, 9781451611557, 288pp.
Publication Date: January 3, 2012
* Individual store prices may vary.
Description
Why does love make us so crazy? This is a lively and funny examination of the big questions about love and sex from the perspective of the latest brain science.

Philosophers, theologians, artists, and boy bands have waxed poetic about the nature of love for centuries. But what does the brain have to say about the way we carry our hearts? As technology advances to allow us more focused examination of the intricate dance our brains do with our environment, we can use science to shed new light on humanity's oldest question, "What is this thing called love?"

In each chapter of this lively, edgy adventure through the romantic brain, Kayt Sukel dives into the latest neuroscientific research concerning love and sex (even getting her brain scanned while having an orgasm) and what it really means for the way we approach our relationships. Dirty Minds asks age-old questions such as: What parts of the brain are involved with love? Is there really a "seven-year itch"? Why do good girls like bad boys? Is monogamy practical? How thin is that line between love and hate? Do mothers have a stronger bond with children than their fathers do? How do our childhood experiences affect our emotional control and who is at risk for love addiction? Yet this book offers an entirely fresh approach, explaining all the ways the brain can make or break us in love.
About the Author
Kayt Sukel's work has appeared in myriad publications, including Atlantic Monthly, USA TODAY, The Washington Post, National Geographic Traveler, Continental, American Baby, and Cerebrum. She is a partner in the renowned family travel website, TravelSavvyMom.com, blogs about where neuroscience intersects with life at BigThink, and is also a frequent contributor to the Dana Foundation's many science publications.
Praise For Dirty Minds: How Our Brains Influence Love, Sex, and Relationships…
"A serious, informative and highly entertaining survey of the neurobiology of sexual attraction."



"A fun and insightful read [that] manages to evoke the feel of both a wine-laden conversation with an old friend and a great neuroscience lecture from your favorite college professor."



"It was the cotton-top tamarin monkeys that did it for me...Sukel's book fairly bristles with such causes to reflect on our erotic complexity."



"With humor and flair, Sukel takes us through the whole human drama -- loving, hating, cheating, losing, orgasming, parenting, punishment, and reward -- and at the end we realize something truly startling: it's all in our minds."

-Jena Pincott, author of Do Chocolate Lovers Have Sweeter Babies?: The Surprising Science of Pregnancy


"Kayt Sukel's [Dirty Minds] merges the bracing realities of science with the mysterious thrill of love and attraction. Provocative, well-researched, and compulsively readable, this book opens the mind (dirty or otherwise) and stirs the soul."

-Lily Burana, author of Strip City, Try, and I Love a Man in Uniform


"Love and sex are two of the eternal mysteries of the human experience--but in her compelling new book . . . Kayt Sukel lifts the curtain to give us a fresh and fascinating look at our intimate lives. Sukel shows us how neuroscientists are venturing into the realm once reserved for poets and songwriters, and returning with bold new knowledge about the brain in love and in the throes of pleasure. After reading this seductively interesting book, you'll never think about a date or a kiss or a breakup the same way again."

-Annie Murphy Paul, author of Origins: How the Nine Months Before Birth Shape the Rest of Our Lives
or
Not Currently Available for Direct Purchase