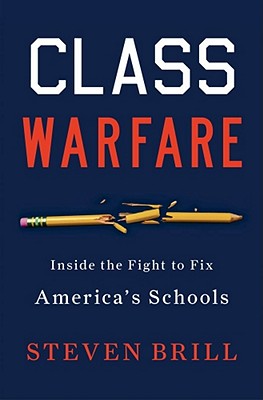 Class Warfare
Inside the Fight to Fix America's Schools
Hardcover

* Individual store prices may vary.
Other Editions of This Title:
MP3 CD (8/14/2012)
MP3 CD (6/9/2015)
MP3 CD (8/14/2012)
Compact Disc (8/14/2012)
Compact Disc (8/14/2012)
Paperback (8/14/2012)
Description
In a reporting tour de force, award-winning journalist Steven Brill takes an uncompromising look at the adults who are fighting over America's failure to educate its children—and points the way to reversing that failure.

IN a reporting tour de force, award-winning journalist Steven Brill takes an uncompromising look at the adults who are fighting over America's failure to educate its children—and points the way to reversing that failure.

Brill's vivid narrative—filled with unexpected twists and turns—takes us from the Oval Office, where President Obama signs off on an unprecedented plan that will infuriate the teachers' unions because it offers billions to states that win an education reform "contest"; to boisterous assemblies, where parents join the fight over their children's schools; to a Fifth Avenue apartment, where billionaires plan a secret fund to promote school reform; to a Colorado high school, where students who seemed destined to fail are instead propelled to college; to state capitols across the country, where school reformers hoping to win Obama's "contest" push bills that would have been unimaginable a few years ago.

It's the story of an unlikely army—fed-up public school parents, Ivy League idealists, hedge-funders, civil rights activists, conservative Republicans, insurgent Democrats—squaring off against unions that the reformers claim are protecting a system that works for the adults but victimizes the children.

Class Warfare is filled with extraordinary people taking extraordinary paths: a young woman who goes into teaching almost by accident, then becomes so talented and driven that fighting burnout becomes her biggest challenge; an antitrust lawyer who almost brought down Bill Gates's Microsoft and now forms a partnership with Bill and Melinda Gates to overhaul New York's schools; a naïve Princeton student who launches an army of school reformers with her senior thesis; a California teachers' union lobbyist who becomes the mayor of Los Angeles and then the union's prime antagonist; a stubborn young teacher who, as a child growing up on Park Avenue, had been assumed to be learning disabled but ends up co-founding the nation's most successful charter schools; and an anguished national union leader who walks a tightrope between compromising enough to save her union and giving in so much that her members will throw her out.

Brill not only takes us inside their roller-coaster battles, he also concludes with a surprising prescription for what it will take from both sides to put the American dream back in America's schools.
Praise For Class Warfare: Inside the Fight to Fix America's Schools…
"Steve Brill has combined extraordinary reporting with smart passion to create one of the most important historical narratives of our era. This inside story of the school reform crusade is an inspiring saga filled with genuine heroes. This is investigative journalism and powerful writing at its best."
--Walter Isaacson, CEO, Aspen Institute; Board Chair, Teach For America; author of Einstein and Benjamin Franklin

"Education in America is THE national imperative of the 21st century and Steven Brill has done a brilliant job of taking us through the complexities, trials and triumphs, failures and food fights that define the struggle to get it right. We all have a stake in the outcome and owe it to succeeding generations to get involved. Class Warfare is the road map to what that means."
--Tom Brokaw, journalist and author of The Greatest Generation

"Steven Brill's Class Warfare is hard-hitting, illuminating, and inspiring. It's also as fast-paced and gripping as a thriller. His vivid accounts of great teachers at work—and his play-by-play of the battle to remove the obstacles put in front of them by their own union—opened my eyes and changed my outlook about the possibilities for American education. A must-read call to action for all thinking Americans, especially parents."
--Amy Chua, Yale Law Professor and author of Battle Hymn of the Tiger Mother and Day of Empire: How Hyperpowers Rise to Global Dominance—and Why They Fall



"Class Warfare inspires! This is a unique and critically important story about true heroes in America who against great odds are making a real difference. More than this, Brill's work sheds important light on the savage educational disparities faced by low-income communities across the country and through his work he trumpets what should be a call to action by all of us. Brill is brilliant in his writing and his work will inspire and fortify all those struggling with the challenges of education in America."
--Cory A. Booker, Mayor of Newark, NJ

"An extraordinarily well researched and compelling account of the tectonic shifts in school politics over the past several years. This is a masterpiece, both as history and as a catalyst for continued change. Far from the usual one-sided account the subject typically engenders, Brill's work is balanced, sophisticated—and, amazingly, a real page-turner."
--Chris Christie, Governor of New Jersey
Simon & Schuster, 9781451611991, 496pp.
Publication Date: August 16, 2011
About the Author
Steven Brill is the founder of Journalism Online, a company designed to create a new, viable business model for journalism to flourish online. He is a feature writer for The New Yorker, The New York Times Magazine, and TIME. Brill founded the Yale Journalism Initiative, which recruits and trains journalists. He founded and ran Court TV, The American Lawyer Magazine, and Brill's Content Magazine. He is the author of After: How America Confronted the September 12th Era and The Teamsters.
or
Not Currently Available for Direct Purchase