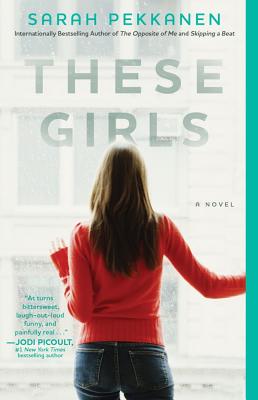 These Girls
A Novel
Paperback

* Individual store prices may vary.
Other Editions of This Title:
Digital Audiobook (12/22/2014)
Description
Internationally bestselling author Sarah Pekkanen examines the lives of three women working and living together in New York City and shows that family secrets may shape us all, but it's the rich, complicated layers of friendship that can save us.

Family secrets may shape us all, but it's the rich, complicated layers of friendship that can save us.

Cate, Renee, and Abby have come to New York for very different reasons, and in a bustling city of millions, they are linked together through circumstance and chance.

Cate has just been named the features editor of Gloss, a high-end lifestyle magazine. It's a professional coup, but her new job comes with more complications than Cate ever anticipated.

Her roommate Renee will do anything to nab the plum job of beauty editor at Gloss. But snide comments about Renee's weight send her into an emotional tailspin. Soon she is taking black market diet pills—despite the racing heartbeat and trembling hands that signal she's heading for real danger.

Then there's Abby, whom they take in as a third roommate. Once a joyful graduate student working as a nanny part time, she abruptly fled a seemingly happy life in the D.C. suburbs. No one knows what shattered Abby—or why she left everything she once loved behind.

Pekkanen's most compelling, true-to-life novel yet tells the story of three very different women as they navigate the complications of careers and love—and find the lifeline they need in each other.
Praise For These Girls: A Novel…
"Sarah Pekkanen's latest celebrates the healing power of female friendship for three very different young women sharing a New York City apartment. At turns bittersweet, laugh-out-loud funny, and painfully real, you'll wish you could move in with these girls." —Jodi Picoult, New York Times bestselling author of Lone Wolf and Sing You Home

"The honesty and complexity that Sarah Pekkanen brings to her three main characters in These Girls is impressive and rare. You can't help but root for each one of them as they struggle to strike that elusive balance between professional success and personal happiness. The bonds among Pekkamen's female heroines will have you reaching for the phone to hold your own best girlfriends a little closer." –Nicolle Wallace, New York Times bestselling author of Eighteen Acres

"In These Girls, Sarah Pekkanen again proves her innate understanding of women's relationships. With a style that's both wry and heartfelt, readers will absolutely recognize themselves and their friendships on the pages. These Girls is lively and engaging and ultimately satisfying, so get comfortable because you won't be able to put it down!" –Jen Lancaster, author of Bitter Is the New Black

"A fun and engaging romp...Pekkanen's authorial voice is sweetly snappy, the plot is character-driven, and the book ends satisfactorily without tying up every loose end. Fans of Sophie Kinsella and Jennifer Close will enjoy this refreshingly introspective, sharply realistic, and tenderly humorous novel." —Booklist

"Pekkanen's characters are sympathetic and familiar, and readers are likely to identify with aspects of each protagonist. Fans of Jennifer Weiner, Sarah Dessen, Liza Palmer, and Emily Giffin will strongly appreciate this smart novel by a rising star in women's fiction." —Library Journal

"Good fun....an entertaining take on modern love and life in the Big Apple." —Kirkus

"Chick lit with grit." —Ladies Home Journal

"The power of friends and family carries this fast-paced novel through to a satisfying, although somewhat surprising conclusion. If you like chick lit with substance, Pekkanen delivers another winner." —Philly Examiner

"Sarah Pekkanen deftly weaves together the lives of roommates and friends…each battling demons, professional and otherwise, and within a few pages you'll find yourself emotionally invested in all of them. The surprisingly good news is that this author knows that 'happily ever after' doesn't necessarily involve a cute guy." —Entertainment Weekly

"A pleasure." —People

"Pekkanen offers a conversational writing style and a knack for making readers care about her characters… a refreshing look at the importance of female friendship." —Washington Post


"I loved Sarah Pekkanen's These Girls. Just when you think the single-girls-trying-to-make-it-in-media-in-NYC trope was totally played out, along comes a fresh, charming, moving take on what it's like to be in your twenties, desperate for the guy to like you, for your secrets to stay secret, for this diet to be the one that works." —Jennifer Weiner, EW.com

Washington Square Press, 9781451612547, 336pp.
Publication Date: April 10, 2012
About the Author
Sarah Pekkanen is the bestselling author of The Ever After, The Opposite of Me, Skipping a Beat, These Girls, The Best of Us, Catching Air, Things You Won't Say, and The Perfect Neighbors. Her work has been published in People, The Washington Post, and USA TODAY, among other publications. She lives with her family in Chevy Chase, Maryland.