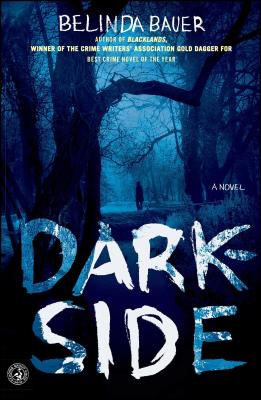 Darkside (Paperback)
A Novel
Simon & Schuster, 9781451612752, 304pp.
Publication Date: May 3, 2011
Other Editions of This Title:
Paperback (9/1/2011)
Hardcover, Large Print, Large Print (8/1/2011)
* Individual store prices may vary.
Description
In bleak midwinter, the people of Shipcott are shocked by the murder of an elderly woman in her bed. As snow cuts off the village, local policeman Jonas Holly is torn between catching a brutal killer and protecting his vulnerable wife, Lucy.

When the inquiry is commandeered by an abrasive senior detective, Jonas finds himself derided by his colleagues and ashamed to admit to Lucy that he's been sidelined. It seems his first murder investigation may be over before it's begun. But when he receives a series of increasingly sinister anonymous notes, Jonas is thrust back into the center of the case. Someone in the village is taunting him, blaming him for the tragedy. Someone thinks he's not doing his job; someone seems to know every move he makes. And soon Jonas has to ask: Who's hunting who?

About the Author
Belinda Bauer grew up in England and South Africa. She has worked as a journalist and screenwriter, and her script The Locker Room earned her the Carl Foreman/Bafta Award for Young British Screenwriters, an award that was presented to her by Sidney Poitier. She was a runner-up in the Rhys Davies Short Story Competition for "Mysterious Ways," about a girl stranded on a desert island with 30,000 Bibles. Belinda now lives in Wales. Her latest novel, Snap, was longlisted for the Man Booker Prize.
Praise For Darkside: A Novel…
"Given the shallow pool of prospective victims and suspects, it takes real skill to write a plausible whodunit about an undetected serial killer running amok in an English village. . . . Set against a landscape that would tax anyone's sanity, Bauer's grim tale deploys a morbid wit that's positively wicked."—The New York Times Book Review

"Bauer joins such contemporary masters of psychological suspense as Ruth Rendell and Minette Walters with her twisted and tricky second novel . . . The shattering conclusion pulls no punches and will leave many readers stunned, even as they realize how everything fits together."—Publishers Weekly (starred review)

"Another riveting psychological thriller. . . . suffused with pitch-black atmosphere, Bauer's novel keeps readers guessing until the deliciously unsettling conclusion. No sophomore slump here—fans of Ruth Rendell and Minette Walters would do well to make room on their shelves for Bauer."—Library Journal (starred review)

"Like Minette Walters, Bauer excels at depicting the psychology behind the crimes, and she's not afraid to take some bold risks with her plotline. Melding the classic horror setting of a small, rural town with an atmosphere of creeping dread, this is sure to appeal to both crime-fiction and horror fans."— Booklist



"Genteel and suspenseful . . . a most promising career."—Kirkus Reviews

"Probably the most shocking ending you'll read this year. Belinda Bauer is the most disturbing new talent around."—Val McDermid

"In her murky tale, Bauer plunges into the realm of the psyche, a brilliant twist . . . adding the final flourish to a nightmarish story where a young woman forfeits a bright future to the ravages of a particularly cruel disease, a murderer bides his time, and the angry diatribes of an investigator are met with shuttered windows and locked doors."—CurledUp.com

"Belinda Bauer won the CWA Gold Dagger for her first crime novel, Blacklands, and she's produced a barnstorming follow-up with Darkside . . . Bold, mordant compassionate, Darkside confirms Bauer's reputation as a significant new talent."—The Sunday Times (UK)

"Tense and imaginative."—Guardian (UK)

"Happily the dark horse is not a one-trick pony . . . [Darkside] is even more accomplished [than Blacklands]. . . . depicted with a wit and warmth that make the macabre bits seem all the more horrible."—The Daily Telegraph (London)

"Belinda Bauer's Blacklands caused the hearts of hardened reviewers to flip a beat . . . Happily for the genre, Darkside shows she can do it again . . . Tension mounts with extraordinary yet credible narrative twists. As in her previous book, Bauer takes astonishing risks but – like a brilliant ski-jumper – arcs down to the perfect landing."—Independent (UK)

"She's a thriller queen . . . hailed as the woman most likely to lead the fightback against the Scandinavian crime-wave . . . It's an extraordinary piece of writing . . . with a stunning denouement . . . The result is one of the most gripping whodunnits you'll read in 2011."—Sunday Times Culture Magazine (UK)

"Outstandingly good . . . An unusually gripping tale, with places and people vividly evoked and an unguessable . . . conclusion."—Literary Review (UK)

"Second novel syndrome may be a recognised condition but it is not something that affects Belinda Bauer. I would press [Darkside] one on anyone who loves Kate Atkinson, Bauer really is that good . . . Another cracking crime novel."—Alice O'Keefe, The Bookseller (UK)

"[Darkside] will appeal to everyone who loves the classic British mystery . . . . An enthralling read."—The Times (South Africa)

"A riveting psychological thriller which will have you guessing to the very end."—The Mercury (South Africa)

"Bauer perfectly captures the charm and potential creepiness of the rolling moors and deathly fogs and bogs."—Argus Weekend (South Africa)