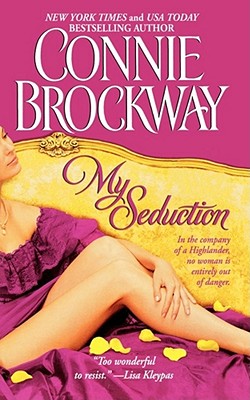 My Seduction
The Rose Hunters Trilogy
Paperback

* Individual store prices may vary.
Description
Connie Brockway sweeps readers back to the rough beauty of Regency-era Scotland and into the scintillating, passionate, and surprising love story of a mysterious Highlander and the woman he is pledged to protect. Desperate to keep her two sisters and herself from the poorhouse, Kate Nash Blackburn embarks upon a journey to northern Scotland, where she hopes to gain the gratitude and patronage of a wealthy marquis. When fate maroons her at a tavern full of ruffians, a brawny Highland soldier comes to her rescue. It's Kit MacNeill, the man whose pledge to her family has haunted her for years. When he offers to escort Kate through the treacherous Highlands to Castle Parnell, she accepts even though her instincts warn her against trusting this rough and dangerous man. But soon Kate is startled by the Highlander's cultured speech and courtly manners. Who is this man of contradictions, shaped by a shadowy past, who fiercely wards off an attempt on her life, whose broad shoulders beckon her touch, and in whose arms she comes fully alive?
Pocket Books, 9781451612882, 384pp.
Publication Date: July 13, 2010