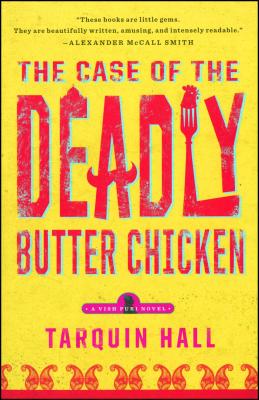 The Case of the Deadly Butter Chicken
A Vish Puri Mystery
Paperback

* Individual store prices may vary.
Other Editions of This Title:
Digital Audiobook (7/9/2012)
Compact Disc (7/1/2012)
Compact Disc (10/16/2012)
Hardcover (7/10/2012)
Description
Now featuring mouthwatering recipes from the Vish Puri family kitchen, this installment in Tarquin Hall's mystery series offers a taste of India alongside the thrill of a rich and fulfilling whodunit mystery.

Dubbed "a wonderfully engaging P.I." (The Times, London), Tarquin Hall's irresistible protagonist Vish Puri has become an international favorite through a series that "splendidly evokes the color and bustle of Delhi and the tang of contemporary India" (Seattle Times). Now the gormandizing, spectacularly mustachioed sleuth finds himself facing down his greatest fears in an explosive case involving the Indian and Pakistani mafias.

When the elderly father of a top Pakistani cricketer playing in a new multimillion-dollar cricket league dies frothing at the mouth during a post-match dinner, it's not a simple case of Delhi Belly. His butter chicken has been poisoned. To solve the case, Puri must penetrate the region's organized crime, following a trail that leads deep into Pakistan—the country in which many members of the P.I.'s family were massacred during the 1947 partition of India. The last piece of the puzzle, however, turns up closer to home when Puri learns of the one person who can identify the killer. Unfortunately it is the one person in the world with whom he has sworn never to work: his Mummy-ji.

With riotously entertaining prose, a boisterous cast of characters, and a pitch-perfect sense of place, Tarquin Hall has crafted a gripping whodunit that takes us deep into Indian history and society. He brings a hugely appealing culture to life with all its sights, sounds, smells, foods, and complexity. As the title implies, The Case of the Deadly Butter Chicken is a succulent read by a writer at the top of his game.
Praise For The Case of the Deadly Butter Chicken: A Vish Puri Mystery…
"These books are little gems. They are beautifully written, amusing, and intensely readable."
— Alexander McCall Smith

"India, captured in all its pungent, vivid glory, fascinates almost as much as the crime itself."
— Entertainment Weekly

"Hall writes amusing mysteries. . . . [His] affectionate humor is embedded with barbs."
— Marilyn Stasio

"Splendid . . . Entertaining . . . Vish Puri is large, constantly hungry, a perpetual victim of Delhi's traffic congestion, and a wonderfully engaging P.I. . . . . A joy to read."
— The Times (London)

"It's only a matter of time before Hollywood turns this into a movie or a TV show. . . . The three books develop nicely with each central mystery a little more complicated and dangerous than the one before. . . . It's quite possible that what has begun as fun series will become a genuinely great one."
— The Huffington Post

"A wry whodunit, with recipes"
— People

"Outstanding third mystery . . . Well drawn, colorful characters bolster a whodunit sure to appeal to those who enjoy a dash of humor with their crime."
— Publishers Weekly (starred review)

"A thoroughly engaging series… Hall has a gift for conveying the rich stew of competing cultures in contemporary India with a wonderful economy of image… Hall presents a complex hero in a complex country with a great deal of history, humor, and panache."
— Booklist (starred review)

"Vish's third outing continues the tradition of Hall's lively franchise."
— Kirkus Reviews
Simon & Schuster, 9781451613179, 352pp.
Publication Date: June 4, 2013
About the Author
Tarquin Hall is a British author and journalist who has lived and worked throughout South Asia, the Middle East, and Africa. He is the author of The Case of the Missing Servant, The Case of the Man Who Died Laughing, and The Case of the Deadly Butter Chicken, along with dozens of articles and three works of nonfiction, including the highly acclaimed Salaam Brick Lane, an account of a year spent living above a Bangladeshi sweatshop in London's notorious East End. He lives in Delhi with his wife, Indian-born journalist Anu Anand, and their son.