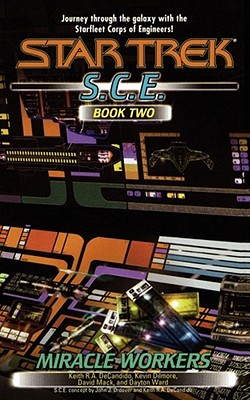 Miracle Workers, S.C.E. Book Two (Star Trek (Paperback)
Starfleet Corps of Engineers)
Pocket Books/Star Trek, 9781451613483, 464pp.
Publication Date: July 13, 2010
* Individual store prices may vary.
Description
STARFLEET CORPS OF ENGINEERS

Their motto: Have tech, will travel

Need to build a subspace accelerator while under attack by a deadly local predator? Need to rescue a starship from interphase without getting trapped there yourself? Call in the Starfleet Corps of Engineers team, specifically the crack team from the U.S.S. da Vinci. Under the guidance of Captain David Gold and his first officer, former Starship Enterprise™ engineer Commander Sonya Gomez, the crew of the da Vinci can construct six impossible things before breakfast.

Overseen by Captain Montgomery Scott from his office at Starfleet Headquarters, the S.C.E. crew put their lives on the line to rescue a space station from catastrophe, and face off against a deadly alien race of technology thieves with the aid of Lieutenant Nog from Space Station Deep Space 9 ™.
About the Author
Keith R.A. DeCandido was born and raised in New York City to a family of librarians. He has written over two dozen novels, as well as short stories, nonfiction, eBooks, and comic books, most of them in various media universes, among them Star Trek, World of Warcraft, Starcraft, Marvel Comics, Buffy the Vampire Slayer, Serenity, Resident Evil, Gene Roddenberry's Andromeda, Farscape, Xena, and Doctor Who. His original novel Dragon Precinct was published in 2004, and he's also edited several anthologies, among them the award-nominated Imaginings and two Star Trek anthologies. Keith is also a musician, having played percussion for the bands the Don't Quit Your Day Job Players, the Boogie Knights, and the Randy Bandits, as well as several solo acts. In what he laughingly calls his spare time, Keith follows the New York Yankees and practices kenshikai karate. He still lives in New York City with his girlfriend and two insane cats.

Kevin Dilmore has teamed with author Dayton Ward for fifteen years on novels, shorter fiction, and other writings within and outside the Star Trek universe. His short stories have appeared in anthologies including Native Lands by Crazy 8 Press. By day, Kevin works as a senior writer for Hallmark Cards in Kansas City, Missouri. In 2014, a short film written by Kevin, "Outside of Town," was selected for screening in the Short Film Corner of the Cannes Film Festival. A graduate of the University of Kansas, Kevin lives in Overland Park, Kansas.

David Mack is the award-winning and New York Times bestselling author of more than thirty novels of science fiction, fantasy, and adventure, including the Star Trek Destiny and Cold Equations trilogies. His writing credits span several media, including television (for episodes of Star Trek: Deep Space Nine), film, short fiction, and comic books. He resides in New York City.

Dayton Ward is the New York Times bestselling author or co-author of nearly forty novels and novellas, often working with his best friend, Kevin Dilmore. His short fiction has appeared in more than twenty anthologies, and he's written for magazines such as NCO Journal, Kansas City Voices, Famous Monsters of Filmland, Star Trek, and Star Trek Communicator, as well as the websites Tor.com, StarTrek.com, and Syfy.com. A native of Tampa, Florida, he currently lives in Kansas City, Missouri with his wife and two daughters. Visit him on the web at DaytonWard.com.