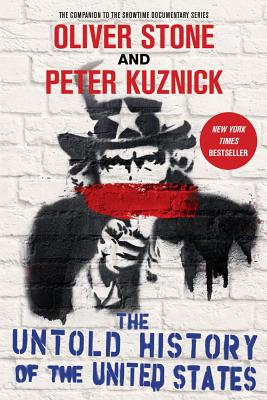 The Untold History of the United States (Hardcover)
Gallery Books, 9781451613513, 784pp.
Publication Date: October 30, 2012
Other Editions of This Title:
Paperback (1/14/2020)
Hardcover (1/15/2019)
Paperback (4/2/2019)
Hardcover (12/9/2014)
Paperback (11/10/2015)
Compact Disc (5/7/2019)
Pre-Recorded Audio Player (6/4/2013)
Compact Disc (12/1/2013)
MP3 CD (6/1/2013)
MP3 CD (12/1/2013)
Compact Disc (6/1/2013)
Prebound (11/10/2015)
Compact Disc (6/4/2013)
MP3 CD (4/8/2014)
Paperback (10/15/2013)
Compact Disc (5/7/2019)
* Individual store prices may vary.
Description
The companion to the Showtime documentary series, director Oliver Stone and historian Peter Kuznick challenge the prevailing orthodoxies of traditional history books in this thoroughly researched and rigorously analyzed look at the dark side of American history.

"At last the world knows America as the savior of the world!"—Woodrow Wilson

The notion of American exceptionalism, dating back to John Winthrop's 1630 sermon aboard the Arbella, still warps Americans' understanding of their nation's role in the world. Most are loathe to admit that the United States has any imperial pretensions. But history tells a different story as filmmaker Oliver Stone and historian Peter Kuznick reveal in this riveting account of the rise and decline of the American empire.

Aided by the latest archival findings and recently declassified documents and building on the research of the world's best scholars, Stone and Kuznick construct an often shocking but meticulously documented "People's History of the American Empire" that offers startling context to the Bush-Cheney policies that put us at war in two Muslim countries and show us why the Obama administration has had such a difficult time cleaving a new path.

Stone and Kuznick will introduce readers to a pantheon of heroes and villains as they show not only how far the United States has drifted from its democratic traditions, but the powerful forces that have struggled to get us back on track.

The authors reveal that:
· The atomic bombings of Hiroshima and Nagasaki were militarily unnecessary and morally indefensible.
· The United States, not the Soviet Union, bore the lion's share of responsibility for perpetuating the Cold War.
· The U.S. love affair with right-wing dictators has gone as far as overthrowing elected leaders, arming and training murderous military officers, and forcing millions of people into poverty.
· U.S.-funded Islamist fundamentalists, who fought against the Soviets in Afghanistan, have blown back to threaten the interests of the U.S. and its allies.
· U.S. presidents, especially in wartime, have frequently trampled on the constitution and international law.
· The United States has brandished nuclear threats repeatedly and come terrifyingly close to nuclear war.

American leaders often believe they are unbound by history, yet Stone and Kuznick argue that we must face our troubling history honestly and forthrightly in order to set a new course for the twenty-first century. Their conclusions will challenge even experts, but there is one question only readers can answer: Is it too late for America to change?
About the Author
Oliver Stone made such iconic films as Platoon, Wall Street, JFK, Born on the Fourth of July, Natural Born Killers, Nixon, Salvador, and W.

Peter Kuznick is professor of history and director of the award-winning Nuclear Studies Institute at American University and is currently serving his fourth term as distinguished lecturer with the Organization of American Historians. He has written extensively about science and politics, nuclear history, and Cold War culture.
Praise For The Untold History of the United States…
"Oliver Stone and Peter Kuznick have done what many would consider impossible. They have written a political history of the United States in the 20th Century that tells us exactly how the United States became an empire through conscious decisions, and how the struggle to maintain that empire will go on despite which political party holds office. It is a brilliant survey of the untold story."
— Lloyd C. Gardner, author of The Road to Tahrir Square

"Oliver Stone and Peter Kuznick provide a critical overview of US foreign policy during the past few decades. There is much here to reflect upon. Such a perspective is indispensable…At stake is whether the United States will choose to be the policeman of a "Pax Americana," which is a recipe for disaster, or partner with other nations on the way to a safer, more just and sustainable future."
— President Mikhail Gorbachev

"A brave revisionist study which shatters many foreign policy myths… the Stone-Kuznick team grapples with the unsavory legacy of American militarism. . . . Make room on your book shelf for this compelling leftist primer."
— Douglas Brinkley, New York Times bestselling author of The Great Deluge

"Howard [Zinn] would have loved this 'people's history' of the American Empire. It's compulsive reading: brilliant, a masterpiece!"
— Daniel Ellsberg, author of Secrets: A Memoir of Vietnam and the Pentagon Papers

"Finally, a book with the guts to challenge the accepted narrative of recent American history… This is the 'Washington didn't really chop down the cherry tree' book for our last hundred years."
— Bill Maher

"Kuznick and Stones' Untold History is the most important historical narrative of this century."
— Martin Sherwin, Pulitzer Prize-winning co-author of American Prometheus

"By casting a spotlight on the shadier aspects of America's past, as well as the humane alternatives, Oliver Stone and Peter Kuznick provide a thought-provoking rebuttal to the nationalist myths that are far too often served up as history. They remind us that, until Americans have the courage to confront reality, they will remain trapped by their illusions."
— Lawrence Wittner, author of One World or None: A History of the World Nuclear Disarmament Movement Through 1953

"Stone and Kuznick provide a boldly critical view of the most painful aspects of American history. Their perspective on nuclear danger is especially illuminating. They make clear how close we have come to the ultimate human absurdity of annihilating ourselves as a species with our own technology. One thinks of the Enlightenment motto, "Dare to know!" The knowledge we gain can be a source of powerful wisdom."
— Robert Jay Lifton, author of Thought Reform and the Psychology of Totalism

"We won't be able to manage America's future if we don't know its past. In their Untold Story, Oliver Stone and Peter Kuznick peel away layers of misleading myth about America in the 20th century. Some will be surprised, others angry. Most will understand their nation much better, especially the young. Then perhaps we can move forward in the new century."
— Jeff Madrick, author of Taking America

It's time for serious people to confront rather than avoid or attempt to denigrate the profound challenges raised by Stone and Kuznick. They are asking (and answering!) all the right questions.
— Gar Alperovitz, author of The Decision to Use the Atomic Bomb

Many books have been written about specific episodes of American intervention and military aggression. And yet the master narrative remains intact: the US is the "indispensable nation," relied upon by people and nations around the world to preserve the peace and defend freedom. The immense contribution of The Untold History of the United States is to shatter the conventional wisdom, challenging readers to re-conceptualise the American role in the world...Everyone, who reads The Untold History will learn something new and be compelled to examine long held assumptions. For students of US history, this is an invaluable work.
— Carolyn Eisenberg, author of Drawing the Line: The American Decision to Divide Germany, 1944-1949

"A fascinating and provocative work. This courageous and clear-minded account of American history and the foundations of the American empire is a milestone in a surprisingly small genre of books, namely, critical history written of and for the people. It should have the widest possible reading."
— Bruce Cumings, author of The Korean War

"Kuznick and Stone tell the untold history of the United States--the often disastrous consequences of American exceptionalism and global domination--with passion and clarity... beautifully illustrated, well-argued, and compellingly written."
— Marilyn Young, author of The Vietnam Wars

"The Untold History of the United States is one of the most important books of our time. Oliver Stone and Peter Kuznick disabuse us of the popular notion that this country has always been a force for good in the world. They document the tragic consequences of U.S. imperialism, the commission of war crimes, and the decimation of civil liberties under the guise of the 'war on terror'. This work should give us pause whenever we are asked to uncritically accept the idea of American exceptionalism. "
— Marjorie Cohn, author of Cowboy Republic: Six Ways the Bush Gang Has Defied the Law
or
Not Currently Available for Direct Purchase