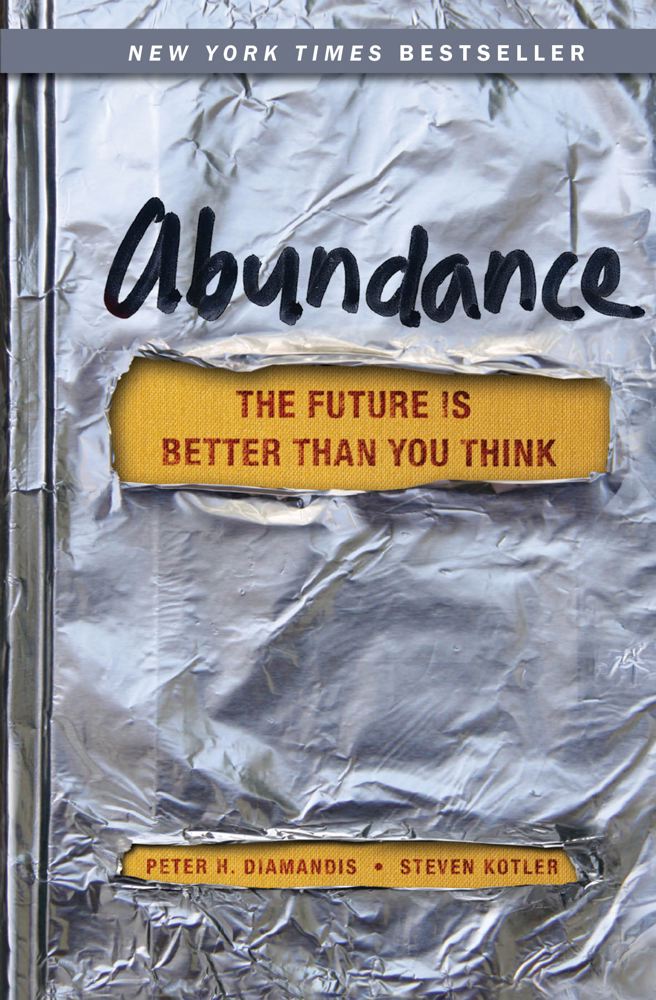 Abundance
The Future Is Better Than You Think (Exponential Technology Series)
Hardcover

* Individual store prices may vary.
Other Editions of This Title:
Digital Audiobook (2/8/2021)
Paperback (9/23/2014)
Paperback, Chinese (7/11/2013)
MP3 CD (3/26/2012)
Compact Disc (3/26/2012)
Compact Disc (3/26/2012)
Description
Providing abundance is humanity's grandest challenge—this is a book about how we rise to meet it.

Providing abundance is humanity's grandest challenge—this is a book about how we rise to meet it.



We will soon be able to meet and exceed the basic needs of every man, woman and child on the planet. Abundance for all is within our grasp. This bold, contrarian view, backed up by exhaustive research, introduces our near-term future, where exponentially growing technologies and three other powerful forces are conspiring to better the lives of billions. An antidote to pessimism by tech entrepreneur turned philanthropist, Peter H. Diamandis and award-winning science writer Steven Kotler.

Since the dawn of humanity, a privileged few have lived in stark contrast to the hardscrabble majority. Conventional wisdom says this gap cannot be closed. But it is closing—fast. The authors document how four forces—exponential technologies, the DIY innovator, the Technophilanthropist, and the Rising Billion—are conspiring to solve our biggest problems. Abundance establishes hard targets for change and lays out a strategic roadmap for governments, industry and entrepreneurs, giving us plenty of reason for optimism.

Examining human need by category—water, food, energy, healthcare, education, freedom—Diamandis and Kotler introduce dozens of innovators making great strides in each area: Larry Page, Steven Hawking, Dean Kamen, Daniel Kahneman, Elon Musk, Bill Joy, Stewart Brand, Jeff Skoll, Ray Kurzweil, Ratan Tata, Craig Venter, among many, many others.
Praise For Abundance: The Future Is Better Than You Think (Exponential Technology Series)…
"At a moment when our world faces multiple crises and is awash in pessimism, Abundance redirects the conversation, spotlighting scientific innovators working to improve people's lives around the world. The result is more than a portrait of brilliant minds - it's a reminder of the infinite possibilities for doing good when we tap into our own empathy and wisdom."—Arianna Huffington, CEO, Huffington Post

"This brilliant must-read book provides the key to the coming era of abundance replacing eons of scarcity, a powerful antidote to today's malaise and pessimism."—Ray Kurzweil, inventor, author and futurist, author of The Singularity is Near

"Now that human beings communicate so easily, I suspect that nothing can stop the inevitable torrent of new technologies, new ideas and new arrangements that will transform the lives of our children. Peter Diamandis and Steven Kotler give us a blinding glimpse of the innovations that are coming our way — and that they are helping to create. This is a vital book."—Matt Ridley, author of The Rational Optimist

"Diamandis and Kotler challenge us all to solve humanity's grand challenges. Innovative small teams are now empowered to accomplish what only governments and large corporations could once achieve. The result is nothing less than the most transformative and thrilling period in human history."––Timothy Ferriss, #1 NY Times bestselling author of The 4-Hour Workweek

"Today, philanthropists, innovators and passionate entrepreneurs are more empowered than ever before to solve humanity's grand challenges. Abundance chronicles many of these stories and the emerging tools driving us towards an age of abundance. This is an audacious and powerful read!"—Jeff Skoll

"Abundance provides proof that the proper combination of technology, people and capital can meet any grand challenge."—Sir Richard Branson, Chairman of the Virgin Group

"Our future depends on optimists like Diamandis...even the most skeptical readers will come away from Abundance feeling less gloomy." --New York Times Book Review

"A manifesto for the future that is grounded in practical solutions addressing the world's most pressing concerns: overpopulation, food, water, energy, education, health care and freedom. " --The Wall Street Journal

"A breezy case for optimism... Abundance: The Future is Better Than You Think...[is] a godsend for those who suffer from Armageddon fatigue." --The Economist

"In Abundance: Why the Future is Better Than You Think, Peter Diamandis and Steven Kotler offer a vision of the future that's truly awesome in both the most traditional and modern understandings of the word; it's as big as it as awe inspiring." –The Futurist

"Abundance is not fantasy. It is a tale, say authors Diamandis and Kotler, of "good news;" a spritely and exciting collection of reasons why, despite the ever-constant refrain that Earth is on the verge of disaster, we must stay positive." --Christian Science Monitor

" Enough with the dystopian fiction and Mayan end-of-the-world predictions! According to tech entrepeneur and philanthropist Peter Diamandis and science writer Steven Kotler, things are getting better, not worse. " --USA Today

"[Abundance is] fascinating and inspirational -- every politician should read it (but sadly that may be too much to hope for!)" --Lord Martin Rees, Astronomer Royal, UK

"Welcome to the feel good future." -Smithsonian

"A nice reminder of how far we've come." --The New York Times Book Review

"Curious what the future will look like? This books talks about what lies ahead, providing practical solutions for concerns like overpopulation, food, water, energy, freedom and health care."-Wall Street Journal
Free Press, 9781451614213, 400pp.
Publication Date: February 21, 2012
About the Author
Peter H. Diamandis is a New York Times bestselling author and the founder of more than fifteen high-tech companies. He is the CEO of the XPRIZE and executive chairman of Singularity University, a Silicon Valley-based institution backed by Google, 3D Systems, and NASA. He is cochairman of Planetary Resources, Inc. and the cofounder of Human Longevity, Inc. Diamandis attended MIT, where he received his degrees in molecular genetics and aerospace engineering, and Harvard Medical School, where he received his MD. In 2014 he was named one of "The World's 50 Greatest Leaders" by Fortune magazine.

Steven Kotler is a New York Times bestselling author, award-winning journalist, and the founder and executive director of the Flow Research Collective. His books include Stealing Fire, Bold, The Rise of Superman, Abundance, A Small Furry Prayer, West of Jesus, and Last Tango in Cyberspace. His work has been nominated for two Pulitzer Prizes, has been translated into more than forty languages, and has appeared in over a hundred publications, including the New York Times Magazine, Atlantic Monthly, Wired, Forbes, and Time.
or
Not Currently Available for Direct Purchase