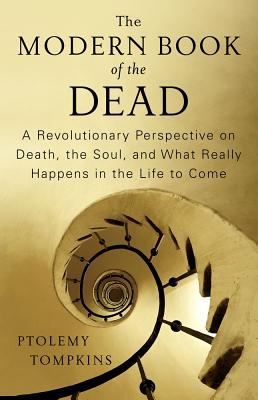 The Modern Book of the Dead: A Revolutionary Perspective on Death, the Soul, and What Really Happens in the Life to Come (Hardcover)
A Revolutionary Perspective on Death, the Soul, and What Really Happens in the Life to Come
Atria Books, 9781451616521, 304pp.
Publication Date: February 14, 2012
* Individual store prices may vary.
or
Not Currently Available for Direct Purchase
Description
A modern, all-encompassing exploration of what happens after we die, combining spirituality with philosophy, history, and science, all of which guide us toward the timeless truth that human consciousness lives on after death. Throughout history, Books of the Dead have provided comfort, hope, and insight into death and dying, uniting readers with those who have passed before them and shedding light on the process of death. In The Modern Book of the Dead, Tompkins draws from the teachings and writings of major religious and philosophical traditions that comment of the afterlife, especially Christianity and Buddhism, but without adhering to one single philosophy. He blends Eastern models of death and rebirth with a more Western emphasis on personal identity and the soul of the individual, offering a comprehensive "map" of the afterlife. Writing in a clear and approachable tone, Tompkins proves himself to be just an average person trying to make sense of something that we all will face. With the advances of modern medicine enabling us to live longer, we have become increasingly distanced from death, and thus more fearful of the inevitable. Tompkins, however, argues that our experiences of growth and change do not stop at the moment of death, but in many ways only begin there. Like its ancient predecessors, The Modern Book of the Dead frames death not as an end but as a beginning, yet it also embraces science and demonstrates how the older books can be brought into line with twenty-first century perspectives. Tomkins's rich, breakthrough approach gives us the first truly contemporary, enlightened look at death and the afterlife.
About the Author
Ptolemy Tompkins has been an in-house editor at Guideposts and Angels on Earth magazines and is the author of four books. His writing has been featured in Beliefnet.com, Harper's, The New York Times, and the Los Angeles Times. He lives in New York.
Praise For The Modern Book of the Dead: A Revolutionary Perspective on Death, the Soul, and What Really Happens in the Life to Come…
"Don't miss this book."

-Eben Alexander, MD, author of Proof of Heaven: A Neurosurgeon's Journey through the Afterlife (2012)


"A fascinating, impassioned hybrid of memoir and divine supposition."




"A brilliant and absorbing exploration of our ideas about death and the afterlife, that brings much thought, insight, and personal reflection to an area of experience we too often avoid examining. Some might consider this morbid - mistakenly, I'd say - but it prepares the reader for the one spiritual adventure none of us will miss, and can even make us look forward to it."



"The Modern Book of the Dead is a treasure trove of insight into the Afterlife, and its consistency over millennia. Ptolemy Tompkins has delivered a remarkable synthesis of this crucially important reality that is fundamental to comprehending our existence."

-Eben Alexander, MD, author of Proof of Heaven: A Neurosurgeon's Journey through the Afterlife (2012)
Advertisement