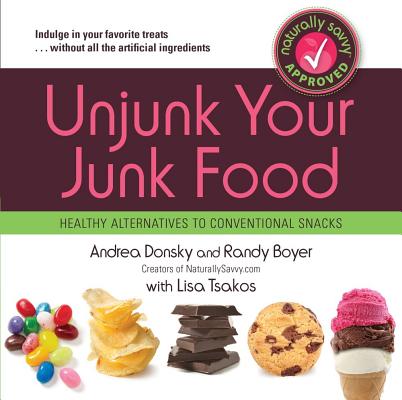 Unjunk Your Junk Food
Healthy Alternatives to Conventional Snacks
Paperback

* Individual store prices may vary.
Description
Snacking is an American way of life. This accessible, full-color guide to the best-tasting natural and organic "junk" is filled with nutrition information and tips for finding healthy snacks.

Join the edible (R)evolution!

You don't have to give up junk food to eat healthy—just make smarter choices. Discover yummy alternatives to your favorite treats. Unjunk Your Junk Food is a quick and easy guide to:

• Healthy choices for the snacks you crave

• Savvy alternatives to conventional brands

• Tips for reading food labels and recognizing false claims

• Nutritious ingredients to look for and dangerous additives to avoid

• A tear-out Worst Ingredients chart, and more

Now you can have your cake and eat it too!
Praise For Unjunk Your Junk Food: Healthy Alternatives to Conventional Snacks…
"So, your diet went well the first week of the new year. Maybe the second. But now, tempting snacks are starting to tempt. Pick up this little book by three "health and wellness advocates" whose website, NaturallySavvy.com, promotes organic living.

Reasons why you crave certain snacks - low blood sugar for cookies, low iron for salt - are among things you'll learn in this highly informative guide." --Newsday


"[Unjunk Your Junk Food] looks great - interesting, informative, easy to read, and best of all, fun! I know many people will use your book as their go-to guide when shopping for groceries. You've certainly made me more aware about the food that my children and I eat and the effects it has on our body and mind." --Maria Shriver


"Unjunk Your Junk Food is a very attractive and informative book. For anyone embarking on the often daunting path of trying to clean up their diets, this book is a really fine place to start." --Alan and Suzanne Arkin



"Ever wonder why you can't just stop at one serving of junk food? Unjunk Your Junk Food will teach you how to break down and understand what those ingredients you can't pronounce do." --Kathy Wakile, The Real Housewives of New Jersey, Entrepreneur, Philanthropist


"It is time to Unjunk Your Junk Food! This handy — and don't-be-fooled-by-its-small-size masterpiece — of healthy alternatives to conventional snacks is packed with need to know "do's" and "don't's". If you like to nosh -- and who doesn't -- it's a must read!" --Bryce Wylde


There are so many things I love about this book!
— Lisa Davis, host of It's Your Health, NPR
Gallery Books, 9781451616569, 256pp.
Publication Date: December 27, 2011
About the Author
Andrea Donsky
, B. COMM, is a Registered Holistic Nutritionist (R.H.N.) and Co-Founder of The Healthy Shopper Inc. Naturally Savvy Media. A natural visionary and successful entrepreneur, Andrea holds a Bachelor of Commerce and is a Registered Holistic Nutritionist (R.H.N.).
Andrea has dedicated her life to sharing her passion for living a naturally and healthy lifestyle with the world, while helping to guide others through the confusing maze of twenty-first century supermarkets and fad diets. Andrea was already a successful retail product marketing manager before she took a leap of faith in 1998 and quit her job to pursue her passion. She enrolled in a holistic nutrition program and began to understand how food affected her body while learning about the benefits of a natural and organic diet.
The following year, she gathered all of her energy and together with Randy Boyer, the two launched their dream career by founding The Healthy Shopper Inc.—a coupon book for natural and organic products. Reaching more than 200,000 people a year, the Healthy Shopper, to this day, remains the only coupon book in Canada for natural and organic products.
Eight years later, lightning struck again and the pair launched
www.NaturallySavvy.com
, a sophisticated media company whose sole purpose is to educate the masses about living the lifestyle she truly loves. Since then, Andrea has established herself as a respected and authoritative voice in all corners of the health and wellness industry. She has appeared as a healthy living expert on news segments across North America which have aired on NBC, ABC, CBS, Fox, Univision, WGN, CTV, and CBC. Her voice has been heard on SiriusXM as a guest on Martha Stewart and Oprah Radio, and as a regular on "The Morning Jolt" with Larry Flick. Her words have appeared in a variety of magazines and newspapers such as
Health
,
Shape
,
Newsday
,
Women's Day
,
Men's Fitness
, the
Chicago Tribune
,
Los Angeles Times
, and online at
The Huffington Post
, the
Examiner
,
Reader's Digest
, MariaShriver.com, Wellness.com, and The Food Network. Andrea is proud to be the kind of mom who feeds her kids fish oil, flaxseeds, and seaweed.
Randy Boyer, B.A., has been a natural health and wellness advocate to the public for over ten years. Blending her enthusiasm for healthy living with a strong marketing background, Randy joined forces with Andrea to create The Healthy Shopper Inc. Combining brand loyalty and a core of supporting retailers, consumers across Canada follow them and look for their coupon book year after year. Following seven years of working in the natural and organic industry, her product knowledge of natural and organic products grew and thus Naturally Savvy was born – a user friendly, informative website educating and promoting a natural and organic lifestyle. A recognized expert in the industry, Randy has made dozens of television and radio appearances promoting her message that eating natural and organic and living a healthy lifestyle is the road to good health including The Michael Dresser Show, The Exchange with David Smith, and Health Radio Network with Barbra Alexander and NBC's KNTV with Laura Garcia-Cannon. Randy was recently invited to be a regular guest on the XM/Sirius radio show The Morning Jolt with Larry Flick.
Lisa Tsakos is a Registered Nutritional Consulting Practitioner (R.N.C.P), a Registered Holistic Nutritionist (R.H.N.), and the Chief Nutrition Expert (C.N.E) for Naturally Savvy. As Naturally Savvy's C.N.E, Lisa is a major contributor and minor partner to the website, overseeing the Nutrition 101 section. Through moderating several forums, Lisa continually communicates with readers, answering their questions and acting as a trusted resource for "all things nutrition." She also contributes monthly articles to Tribune media as well as The Healthy Shopper website and e-newsletter. Lisa teaches nutrition at private schools and colleges including the Canadian School of Natural Nutrition, the Transformational Arts College, and Centennial College, and has been featured on the Discovery Channel, Tribune Media, Toronto Life Fashion Magazine, NOW Magazine and various trade publications. Lisa has taught natural food cooking workshops and authored several books including: Cooking for Nu-Vitality; The Weight Battlefield and contributed to at least 20 text books on the subject of nutrition used by schools across the country. Lisa's Nu-Vitality (Healthy!) Weight Loss Program has guided employees at corporations and organizations across Canada to lose thousands of pounds. Lisa personally lost 50 pounds fifteen years ago through a natural diet (not by fad dieting or using weight loss gimmicks), inspiring her to help others discover the benefits of a healthy diet. She lives with her health conscious husband, a former professional volleyball athlete and coach, and child.
or
Not Currently Available for Direct Purchase