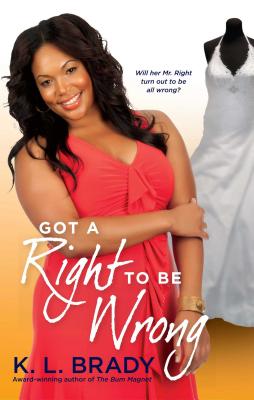 Got a Right to Be Wrong
Paperback

* Individual store prices may vary.
Other Editions of This Title:
Mass Market (4/30/2013)
Description
The sequel to the award-winning book club favorite The Bum Magnet features the return of the smart, quick witted, loveable real estate agent who also has a short fuse and an affinity for Grey Goose vodka.

Sassy and successful real estate agent Charisse Tyson is about to tie the knot with sexy undercover agent and man of her dreams, Kevin, but the wedding has everyone, including Charisse, under a lot of pressure. As Charisse and Kevin march toward matrimony, Kevin's hidden past is revealed, Charisse's deadbeat father resurfaces, and things heat up with Charisse's best guy friend. Suddenly Charisse is faced with many new questions regarding her life decisions, and she must figure out just how right or wrong she was all along.
Praise For Got a Right to Be Wrong…
It's a Comedy of Errors for the hip-hop generation, as misunderstandings and trickery separate lovers meant to be together but sabotaged by well-meaning friends, jealous ex-lovers, and the destructive secrets of their proud and misguided families. Brady (The Bum Magnet) reprises her sassy, headstrong, successful realtor heroine Charisse, now getting ready to tie the knot with savvy G-man Kevin. But first, the couple will have to face down the myriad roadblocks hurled their way: Charisse's trust issues, triggered by a bad marriage, her long-missing father, and brothers she never knew she had; a sneaky lover-in-waiting; Charisse's secretive mom; and Kevin's conniving baby mama and the love child they share. Charisse jumps to one wrong conclusion after another—offering a proclamation that gives this book its title—in the outlandish, comic, and charming tradition of the Bard himself. Brady updates an old theme for a new audience and finds a thoroughly modern tale of grown-up love, the endurance of friendship, and the strains—and comfort—of family.
- Publisher's Weekly

"Brady draws readers in immediately from the prologue and propels them straight through the drama, humor and the various twists and turns that will leave you exhausted but satisfied at the end of the novel. Charisse is not your typical heroine and that may be the strongest part of the story."
4 Star Review
- Romantic Times
Gallery Books, 9781451616576, 304pp.
Publication Date: January 31, 2012
About the Author
K.L. Brady is a Washington, DC native but spent a number of her formative years in the Ohio Valley. She's an alumnus of the University of the District of Columbia and University of Maryland University College, and she lives in the DC area with her son.