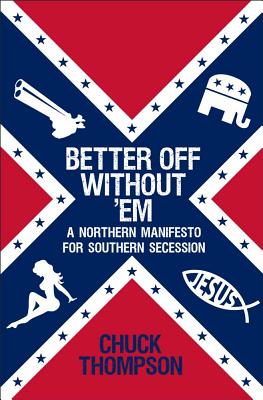 Better Off Without 'Em
A Northern Manifesto for Southern Secession
Hardcover

* Individual store prices may vary.
Other Editions of This Title:
Paperback (7/16/2013)
Description
Dubbed "savagely funny" (The New York Times) and "wickedly entertaining" (San Francisco Chronicle), acclaimed travel writer Chuck Thompson embarks on a controversial road trip to prove that both sides might be better off if the South were to secede once and for all.

Let's talk about secession.

Not exactly the most suitable cocktail party conversation starter anywhere in the country, but take that notion deep into the heart of Dixie and you might find yourself running from the possum-hunting conservatives, trailer-park lifers, and prayer warriors Chuck Thompson encountered during the two years he spent traveling the American South asking the question: Would we be better off without 'em?

The result is a heavily researched, serious inquiry into national divides which is unabashedly controversial, often uproarious, and always thought-provoking. From a church service in Mobile, Alabama, where the gospel entertainer announces "Islam is upon us!" to a store selling Ku Klux Klan memorabilia on a quaint little street in South Carolina—Thompson lifts the green velvet drapes on a South that would seem to belong more to the time of Rhett and Scarlett than the dawn of the twenty-first century.

By crunching numbers, interviewing experts, and roaming the not-so-former Confederacy, Thompson—an openly disgruntled liberal from the Northwest—makes a compelling case for southern secession. What would the new nations look like if Virginia governor Bob McDonnell was elected as the first President of the Confederate States of America? If a southern electorate was left to fend for itself while the North did damage control on an economy decimated by cut-rate southern workers who operate as a rival nation within its own borders? If the BCS championship football game were replaced by a North vs. South Coca Cola/ Starbucks Blood Bowl™? If Florida went to the South and Texas to the North in the most complex land-and-population grab in American history?

Better Off Without 'Em is a deliberately provocative book whose insight, humor, fierce and fearless politics, and sheer nerve will spark a national debate that is perhaps long overdue.
Praise For Better Off Without 'Em: A Northern Manifesto for Southern Secession…
"Hilarious, dirty, and incendiary, [Better Off Without 'Em] is a book that will prompt guffaws in some, an urge to shoot it through the spine in others, and everyone to agree that it will only stoke the election-year bonfire."

"[Thompson] is serious about his argument and has more than enough ammunition."

"[Thompson] is awesomely talented and wickedly funny."

"For critics who lament the homogenization of the United States, Thompson offers several memorable scenes with distinct regional flavor. . . . Underneath all the macho bombast, there are some serious ideas at play. In a chapter on the condition of education in the South, Thompson writes passionately and persuasively about the disastrous long-term effects that de facto segregation and systematic underfunding of public schools will have on the US economy."

"[Thompson's] solution is a kind of no-fault divorce for nation-states: no hard feelings, just two adults who can't quite make the relationship work, shaking hands and walking away."

"[Chuck Thompson] is funny in the mode of P.J. O'Rourke and Joe Queenan."

"A convincing case that the American South is essentially a separate country that negatively affects the rest of the United States. . . . Everyone jokes about secession, and some politicians—like Texas Gov. Rick Perry—have even threatened it. But what if it actually happened, Mr. Thompson wondered? . . . Better Off Without 'Em combines scathing humor, caustic opinion, colorful travel writing, jaw-dropping interviews and solid academic research in an entertaining and thought-provoking book that sticks to the ribs like cheese grits and pecan pie."

"An entertaining and worthwhile read . . . [Thompson] amasses data, and somewhere in between the fire and the brimstone, plans of serious argument are laid down."

"A fun, engaging read— let's call it speculative nonfiction—and would make for a fine night of beer-fueled argument."

"As if Kevin Phillips's American Theocracy were being narrated by Rolling Stone's Matt Taibbi . . . Viciously funny and thoroughly tasteless, it's an easy and cathartic read for anyone fed up with the Confederate influence on the national discourse. But like Taibbi or Bill Maher, Thompson isn't aiming just to entertain; he wants readers to take his underlying argument seriously."

"Portland nonfiction author Chuck Thompson's Better Off Without 'Em: A Northern Manifesto for Southern Secession gets the election season's regional angst off to a tartly observed start."

"Thank you for the copy of Better Off Without 'Em, but I'm afraid it's New York and San Francisco that I think should secede."
— P.J. O'Rourke

"Fry yourself some grits, unfurl that Confederate flag, and read this gem of a book. Chuck Thompson doesn't have a politically correct bone in his Yankee body. He skewers the South mercilessly, and hilariously. And backs up his barbs with facts. Lots of facts. Better Off Without 'Em is sure to set hearts racing, on both sides of the Mason Dixon line."
— Eric Weiner

"Often thoughtful, always irreverent . . . a raucous road trip through the South with a funny, informed, sardonic and opinionated Yankee."

"Hilariously over-the-top . . . Thompson's mix of vitriol, bewilderment, humor, and research holds the seemingly disparate elements together and makes for an entertaining, if absurdly hyperbolic, read. . . . Thought-provoking."

"A surprisingly worthwhile read . . . A confrontational, extreme—and occasionally convincing—argument for cutting the South loose, peppered with hilarious anecdotes."

"Reading and hearing about the hue and cry from thousands for secession since the election, with Texas leading the pack, I highly recommend the book Better Off Without 'Em, A Northern Manifesto For Southern Secession by Chuck Thompson. He presents an intriguing and plausible plan, with a touch of humor, that just may be the only way out of the political poison that has spread across this country and endangers the future for all of us. Plus it's a darn good history lesson."

"A fun yet pointed case for splitting the American South away from the rest of the US, offering fiery charges combined iwth meticulously researched detail into a proposition secretly entertained by many. . . . No matter what side of the line you're on, Better Off Without 'Em makes for a thought-provoking, winning analysis."
Simon & Schuster, 9781451616651, 336pp.
Publication Date: August 14, 2012
About the Author
Chuck Thompson is the supervising editor for CNN.com Travel. His other books include the comic memoirs Smile When You're Lying and To Hellholes and Back, and his writing has appeared in Outside, Esquire, and The New Republic, among other publications.
or
Not Currently Available for Direct Purchase