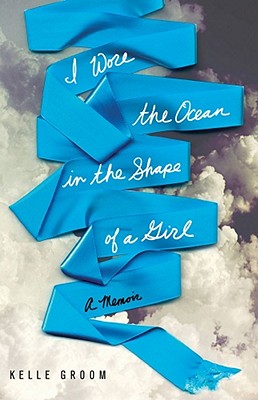 I Wore the Ocean in the Shape of a Girl
A Memoir
Hardcover

* Individual store prices may vary.
Other Editions of This Title:
Paperback (4/3/2012)
MP3 CD (6/30/2011)
Compact Disc (6/30/2011)
Compact Disc (6/30/2011)
MP3 CD (6/30/2011)
Compact Disc (6/30/2011)
Compact Disc (6/30/2011)
Description
At the age of fifteen, Kelle Groom found that alcohol allowed her to connect with people and explore intimacy in ways she'd never been able to experience before. She began drinking before class, often blacked out at bars, and fell into destructive relationships. At nineteen, already an out-of-control alcoholic, she was pregnant. Accepting the heartbreaking fact that she was incapable of taking care of her son herself, she gave him up for adoption to her aunt and uncle. They named him Tommy and took him home with them to Massachusetts. When he was nine months old, the boy was diagnosed with leukemia—but Kelle's parents, wanting the best for her, kept her mostly in the dark about his health. When Tommy died he was only fourteen months old. Having lost him irretrievably, Kelle went into an accelerating downward spiral of self-destruction. She emerged from this free fall only when her desire to stop drinking connected her with those who helped her to get sober.

In stirring, hypnotic prose, I Wore the Ocean in the Shape of a Girl explores the most painful aspects of Kelle's addiction and loss with unflinching honesty and bold determination. Urgent and vital, exquisite and raw, her story is as much about maternal love as it is about survival, as much about acceptance as it is about forgiveness. Kelle's longing for her son remains twenty-five years after his death. It is an ache intensified, as she lost him twice—first to adoption and then to cancer. In this inspiring portrait of redemption, Kelle charts the journey that led her to accept her addiction and grief and to learn how to live in the world.

Through her family's history and the story of her son's cancer, Kelle traces with clarity and breathtaking grace the forces that shape a life, a death, and a literary voice.
Praise For I Wore the Ocean in the Shape of a Girl: A Memoir…
"If any memoir has a pulse running through it, if any work of art contains within it the potential of transcendence, it is in your hands. I Wore the Ocean in the Shape of a Girl begins in a kind of glorious, terrible, ridiculous chaos, but then as we get closer and closer to its heartbreaking center and to the narrator herself, the "heavy things" start falling off – of her, of us – a heaviness we didn't know we'd even been carrying. Kelle Groom has somehow found a container for each bright, hard spark of this life."
—Nick Flynn, author of Another Bullshit Night in Suck City

"Her image-rich prose and unconventional sense of the paragraph surprise and resonate. Dynamic passages, often intentionally unhinged, tug against familiar expectations that paragraphs are units of cohesive thoughts…Groom writes about herself without pretending and about others without blaming, delivering wide-eyed observations even in low-lit, murky places…Closing Groom's book I hear Eudora Welty and Walt Whitman… The ocean is worn, the girl is shaped, visible."
—The New York Times Book Review

"The triumph of Kelle Groom's memoir, I Wore the Ocean in the Shape of a Girl (Free Press), lies in her plangent, poetic prose as she lays bare the onset of her alcoholism at age 15, the child she bore and gave up at 19, and her dead-end jobs, upset parents, blackouts, hookups, and, eventually, slow and steadfast embrace of a sober, creative life."
—Elle Magazine

"[A] series of beautifully compressed narratives....As heartbreaking as this book is, Groom writes with a captivating urgency. Her salvation, a result of her tireless quest for clarity, will leave you cheering."
— More magazine

"After reading I Wore the Ocean, you'll wish that more poets would write their lives in prose — Groom's voice feels vital and awake, uncompromising and refreshingly spare. Groom beautifully summons the smallest moments from her memory."
—NPR.org

"[S]o piercing and true that you live the story as much as read it. Part of the book's emotional wallop is due to how it's organized—in short, dreamy chapters than skip forward and backward in time, letting you piece together the chronology yourself—and part of it is due to Groom's exquisite, lyrical prose… [an] extraordinarily moving book..."
—Oprah.com

"The language of this brooding and obsessive memoir is exquisitely compressed, yet beneath the taut imagery and diction are palpable, powerful surges of emotions. A visceral, darkly lyrical narrative that reads with the immediacy and rawness of an open wound."
—Kirkus Reviews

"[Groom's] writing is a wonderfully compelling mix of simple and lyrical: there are stream-of-consciousness fragments ('Chain-link fence, metal door like on a submarine') and contemplative sentences ('I hoped that by writing about Tommy, I could find him')."
—Publishers Weekly

"Poet Groom's stunning memoir reads more like poetry than prose and leaves the 'brain singing with neurons like a city at night.' . . . . Her astonishing struggle and unique resurrection illuminate the universal human effort to embrace one's self, accepting personal flaws, demons, and methods of survival."
—Booklist

"….Without an ounce of vanity or self-pity, she here describes that death spiral in the gorgeous, poetic language that is the backbone of this unflinching look at a life saved by forgiveness. What I am telling my Friends: Are you a human being? Read this book! If part of what a poet does is alchemy, Groom has got that part of her craft down. And the graceful example set by her aunt and uncle is awe-inspiring."
—Library Journal, Starred Review

"[A] searing yet lyrical memoir."
—Boston Globe

"Kelle Groom's [memoir] is intimate in a generous, revelatory way. . . . the reader is enlightened as Groom slowly releases her burdens. Discover: A dark journey through addiction, enlightened by lyrical prose and hard-earned wisdom."
—Shelf Awareness

"I Wore the Ocean in the Shape of a Girl took my breath, and then my heart, away. That Kelle Groom survived to tell this story of addiction and her descent into hell is a miracle—but so is the deep wide lyrical profundity of the writing—writing as thrilling and moving as the story is redemptive and light-giving. The effect this book had on me is no different from the one I had when I found my first poem, while leafing through the Book of Knowledge in my childhood home. It was by Wordsworth and my heart stopped as I realized without the words to say: that the smallest moments can hold such meaning, can define without definition, can describe without description what it means to be alive. I Wore the Ocean in the Shape of a Girl reminded me of what literature can do."
—Beverly Donofrio, author of Riding in Cars With Boys

"In this glittering fragmented memoir Kelle Groom reveals in brilliant detail how her life changed with the birth of her son, Tom, and how, in the years that followed, he remained, irrevocably, at the centre of everything. These beautiful pages offer a privileged glimpse of a world of secret emotions and thoughts. The reader too emerges transformed."
—Margot Livesey, author of Eva Moves the Furniture and The House on Fortune Street

"In language as precise and sparkling as the tip of a razor against your skin, Kelle Groom offers an unflinching portrait of a mother yearning for the infant son she gave up for adoption and then lost to leukemia. As honest and moving a memoir as I've ever read."
—Will Allison, author of What You Have Left and Long Drive Home
Free Press, 9781451616682, 256pp.
Publication Date: June 7, 2011
About the Author
Kelle Groom is the author of three poetry collections, Five Kingdoms (Anhinga, 2010), Luckily (Anhinga, 2006), and Underwater City (University Press of Florida, 2004). She has been published in The New Yorker, Ploughshares, and Best American Poetry 2010, among others. Her work has received special mention in the Pushcart Prize and Best American Non-Required Reading anthologies.
Book Videos
or
Not Currently Available for Direct Purchase