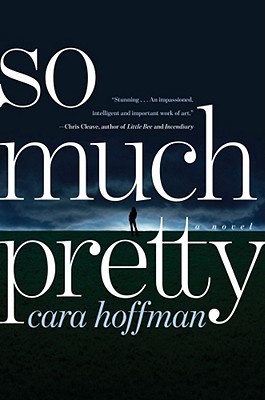 So Much Pretty (Hardcover)
Simon & Schuster, 9781451616750, 304pp.
Publication Date: March 15, 2011
Other Editions of This Title:
Compact Disc (3/15/2011)
Paperback (3/6/2012)
Paperback (2/1/2012)
Hardcover, Large Print (7/6/2011)
Pre-Recorded Audio Player (6/1/2011)
* Individual store prices may vary.
Description
"A mixture of The Lovely Bones and The Girl with the Dragon Tattoo."—Booklist
When she disappeared from her rural hometown, Wendy White was a sweet, family-oriented girl, a late bloomer who'd recently moved out on her own, with her first real boyfriend and a job waiting tables at the local tavern. It happens all the time—a woman goes missing, a family mourns, and the case remains unsolved. Stacy Flynn is a reporter looking for her big break. She moved east from Cleveland, a city known for its violent crime, but that's the last thing she expected to cover in Haeden. This small, upstate New York town counts a dairy farm as its main employer and is home to families who've set down roots and never left—people who don't take kindly to outsiders. Flynn is researching the environmental impact of the dairy, and the way money flows outward like the chemical runoff, eventually poisoning those who live at the edges of its reach.
Five months after she disappeared, Wendy's body is found in a ditch just off one of Haeden's main roads. Suddenly, Flynn has a big story, but no one wants to talk to her. No one seems to think that Wendy's killer could still be among them. A drifter, they say. Someone "not from here."
Fifteen-year-old Alice Piper is an imaginative student with a genius IQ and strong ideals. The precocious, confident girl has stood out in Haeden since the day her eccentric hippie parents moved there from New York City, seeking a better life for their only child. When Alice reads Flynn's passionate article in the Haeden Free Press about violence against women—about the staggering number of women who are killed each day by people they know—she begins to connect the dots of Wendy's disappearance and death, leading her to make a choice: join the rest in turning a blind eye, or risk getting involved. As Flynn and Alice separately observe the locals' failure to acknowledge a murderer in their midst, Alice's fate is forever entwined with Wendy's when a second crime rocks the town to its core.
Stylishly written, closely observed, and bracingly unexpected, So Much Pretty leads the reader into the treacherous psychology of denial, where the details of an event are already known, deeply and intuitively felt, but not yet admitted to, reconciled or revealed.
Praise For So Much Pretty…
"This beautiful, stealthy novel creeps up on the mesmerized reader, subtly drawing new strands into itself until what begins as the suspenseful story of a rural American murder grows into a dark, disquieting and urgently fascinating examination of the violence and concealment practiced by a whole society. . . Hoffman never surrenders the compassion, insightfulness and humor that make her a masterful navigator of the human heart. This is an impassioned, intelligent and important work of art."—Chris Cleave, #1 New York Times bestselling author of Little Bee and Incendiary



"A haunting suspense novel about a murder mystery based on a real-life missing-persons case."—Entertainment Weekly, #3 on "The Must List"



"[A] fearless first novel… For all the passion in this intense narrative, Hoffman writes with a restraint that makes poetry of pain. She also shows a mastery of her craft by developing the story over 17 years and narrating it from multiple perspectives. While each has a different take on the horrific events that no one saw coming, the people who live in this insular place remain willfully blind to their own contributions to the deeper causes that made this tragedy almost inevitable."—New York Times Book Review



"So Much Pretty delivers a skillful, psychologically acute tale of how violence affects a small town . . . To say more about Hoffman's constantly surprising story is to reveal too much, but the payoff is more than worth the slow-building suspense."—Los Angeles Times



"A dark but powerful debut . . . Hoffman maps the atmosphere of paranoia that descends on the formerly tranquil town as she moves deftly between its inhabitants."—The New Yorker (Books Pick)



"An extraordinarily smart and beautifully written page turner. . . . suspenseful and highly charged . . . Hoffman passionately blends the issue of violence against women that lurks unacknowledged at the dark edges of our culture with a narrative that paints a grim picture of any-town America. Hoffman's literary voice is a force and this novel will leave you reeling."—Powells.com



"The way investigative reporter Hoffman navigates the line between what is spoken and unspoken, and portrays a community's desire to address any crisis but the one next door make So Much Pretty a staggering read."—Huffington Post



"Cara Hoffman has written an intriguing, tangled puzzle of a novel that defies categorization. . . . As haunting and disturbing as Alice Sebold's Lovely Bones. . . . So Much Pretty will be equally provocative and unforgettable for teen readers, especially those who love solving a good puzzle."—School Library Journal



"Hoffman takes on the poverty, drug abuse, environmental disasters and violence against women that are endemic to a small town in upstate New York. And she does it brilliantly, in stark and poetic prose, expressing a variety of viewpoints on the murder around which the story turns. And she does it in a way that lodges in the corner of your mind and just won't leave. . . . Alice Piper just may be the blonder, less-punk version of Lisbeth Salander, that girl of the dragon tattoo. . . . Everything counts in Hoffman's toned work, as even the tiniest plot point becomes important to the unfolding narrative. Pay attention to So Much Pretty. It's mesmerizing."—New Orleans Times-Picayune



"A spectacular debut: This beautifully constructed mystery, with its engaging characters and intriguing premise, has everything a reader wants."—The Globe and Mail (Canada)
The story's prologue is an ominous introduction. How does this dark overture—focused on searching out something that isn't easily found— frame the story?
Describe Claire and Gene Piper's relationship. How did having Alice affect them, especially in comparison to their doctor friends? Do you consider them to be happy?
We know from the start that Alice Piper will end up in some kind of trouble, though we don't learn what it is until later. How does knowing (and not knowing) affect your view of her as the story unfolds?
Stacy Flynn says she sees a vast emptiness in Haeden. What drew her there besides just a big story? Was she looking for emptiness or a blank canvas?
The idea of things not being what they appear to be is a constant theme throughout the novel, such as when Gene Piper muses that "people would continue to use words like 'farm',' forest', and 'town' long after the words no longer fit the reality of the landscape." (21) He thinks "Haeden was being collectively dreamed by its inhabitants." What does he mean? Does this apply just to Haeden, or is there a greater significance to the idea?
Michelle Mann tells her friend, "It is the duty of every intelligent person to pay attention to the obvious. (4)" In what ways do the Piper idealism and the townspeople's fixed ideas cause them to miss things that are right in front of them? What are the things they miss?
Flynn is suspicious that Alex Dino, the police chief, knows more about Wendy White's death than he is admitting. Is this Flynn's desire for intrigue, or just a suspicion? What does the answer turn out to be?
Wendy White didn't want to leave Haeden or go to college. Was money the only reason she stayed while her friends left? What else kept her there?
After White's death, Flynn describes Haeden's reaction: "The silence feels like calm. But it's a point beyond rage." (59) What is Flynn saying here? Is there truth behind it?
How do Flynn's attitude and outlook change after living in Haeden and dealing with its residents? In what ways does she remain the same?
The novel is a pastiche of different parts of the characters: letters, audio files, and Alice's school papers. Why does the author include these? In what ways do they add to the story for you? What do these pieces say about Alice as she grows older?
The story is full of contradictions: Gene not approving of his friend Constant's pharmaceutical career, though the money supports his family; the police investigating many angles except for White's boyfriend; the family with the oldest ties to the community poisoning the land and acting as a subsidiary of a large corporation. What do you think these contradictions say about Haeden and its residents?
When Theo moves away, why does he think Alice won't be okay without him? How does he think using their secret play world would protect them?
Alice describes the butterflies as "camouflaged as one thing—so they could one day be another". (162) What larger symbolism does this have in connection to the story?
Gene and Claire wanted to live off the grid; how does this affect them as parents? Was the decision fair to Alice? Did they give her too much space, or not enough?
Discuss the author's use of pacing and how it affects the story's tension. How does the story move as the tension builds?
Do you agree with Alice's final actions? Although legally wrong, was she morally correct?
or
Not Currently Available for Direct Purchase