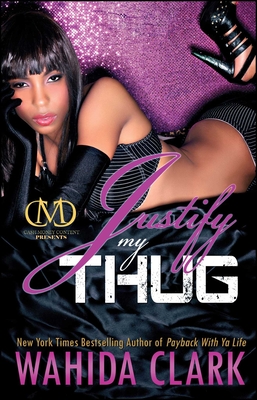 Justify My Thug (Paperback)
Cash Money Content, 9781451617092, 273pp.
Publication Date: April 26, 2011
Description
The continuation of a bestselling, much loved series, bringing new drama and action. Old fans will devour this new installment and new fans will discover Wahida Clark's work for the first time. It's sexy, dangerous, and intriguing. Justify My Thug continues the scintillating drama of Wahida Clark's bestselling Thug series. Following the action of Thug Lovin', the story rejoins the saga's favorite couple, Tasha and Trae, as they try to overcome their troubles and make their marriage work. Meanwhile, Jaz is facing drama of her own. In the torrid world of sex, drugs, and crime, Wahida Clark continues her definitive Hip-Hop soap opera that fans have come to love.
About the Author
Wahida Clark was born and raised in Trenton, New Jersey. She is no stranger to the hard work and sacrifices that breed success. This Trenton native owned and operated L.M. Clark Printers & Publishers Inc., a printing and publishing company in Trenton. She decided to write fiction while incarcerated at a women's federal prison camp in Lexington, Kentucky. She has been crowned the Queen of Thug Love Fiction by Nikki Turner, the Queen of Hip Hop Fiction. Wahida's style of writing is the 'template' for urban literature. When you read her novels, they are so real you are convinced of one of three things: you know the characters, you want to know the characters, or you a character. Her Essence Best Selling Novels include: Thugs and the Women Who Love Them and Every Thug Needs a Lady, Payback Is A Mutha and her latest blockbuster is the highly anticipated Thug Matrimony. All published by Kensington/Dafina Books. In June Wahida was released from the federal prison camp in Alderson, West Virginia.
Book Videos
Advertisement