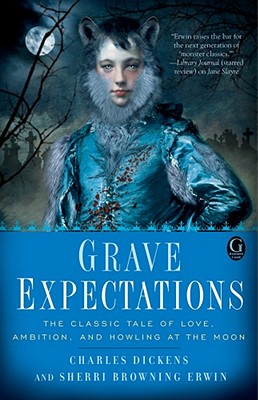 Grave Expectations (Paperback)
Gallery Books, 9781451617245, 400pp.
Publication Date: August 30, 2011
* Individual store prices may vary.
Description
Heaven knows, we need never be ashamed of our wolfish cravings. . . .

Bristly, sensitive, and meat-hungry Pip is a robust young whelp, an orphan born under a full moon. Between hunting escaped convicts alongside zombified soldiers, trying not to become one of the hunted himself, and hiding his hairy hands from the supernaturally beautiful and haughty Estella, whose devilish moods keep him chomping at the bit, Pip is sure he will die penniless or a convict like the rest of his commonly uncommon kind.

But then a mysterious benefactor sends him to London for the finest werewolf education money can buy. In the company of other furry young gentlemen, Pip tempers his violent transformations and devours the secrets of his dark world. When he discovers that his beloved Estella is a slayer of supernatural creatures, trained by the corpse-like vampire Miss Havisham, Pip's desire for her grows stronger than his midnight hunger for rare fresh beef. But can he risk his hide for a truth that will make Estella his forever—or will she drive one last silver stake through his heart?
About the Author
A graduate of Mount Holyoke College, Sherri lives in Western Massachusetts with her nearly-perfect husband, and their charming actor son, amazing violinist daughter, a crafty corgi (Pembroke Welsh), and a very special pug. She has written historical romance for Dell under the name Sherri Browning and contemporary romance for Kensington under the name Sherri Erwin.
Praise For Grave Expectations…
"Erwin's previous literary mashup, Jane Slayre, embodies the flawless union of supernatural fiction and the best of classic literature. She continues in this captivating and fascinating tradition, here taking on Dickens's Great Expectations. There are no glossy Hollywood creatures of the night within these pages but monsters that seem to have crawled from the darkest corners of Dickens's fertile imagination. The orphaned Pip is an unlikely werewolf, ever pining for the aloof slayer Estella, and Miss Havisham's hermetic existence amplifies her tortured suffering as a brokenhearted vampire. The twists and turns of the plot follow familiar paths into uncharted territory, leaving us reassured and spellbound all at once.
Verdict: The original Dickens is eerie and unsettling, and Erwin rises to the challenge, creating another masterpiece by making the strange even stranger. Highly recommended; astounding great fun! — Library Journal