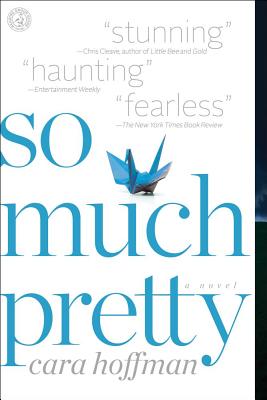 So Much Pretty
A Novel
Paperback

* Individual store prices may vary.
Other Editions of This Title:
Hardcover (3/15/2011)
Paperback (2/1/2012)
Hardcover, Large Print (7/6/2011)
MP3 CD (3/15/2011)
Compact Disc (3/15/2011)
Description
"So Much Pretty is a fearless first novel," announced The New York Times Book Review, "for all the passion in this intense narrative, Hoffman writes with a restraint that makes poetry of pain."

Set in a rural community steeped in silence and denial, So Much Pretty explores all parents' greatest fear, that their child will be hurt. But it also examines a second, equally troubling question: What if my child hurts someone else? The disappearance and murder of nineteen-year-old Wendy White is detailed through the eyes of journalist Stacy Flynn and a host of other richly drawn characters, each with their own secrets and convictions. After Wendy's body is found, Flynn's intense crusade to expose a killer draws the attention of a precocious local girl, Alice Piper, whose story intertwines with Wendy's in a spellbinding and unexpected climax.
Praise For So Much Pretty: A Novel…
"This beautiful, stealthy novel creeps up on the mesmerized reader, subtly drawing new strands into itself until what begins as the suspenseful story of a rural American murder grows into a dark, disquieting and urgently fascinating examination of the violence and concealment practiced by a whole society. . . Hoffman never surrenders the compassion, insightfulness and humor that make her a masterful navigator of the human heart. This is an impassioned, intelligent and important work of art."—Chris Cleave, #1 New York Times bestselling author of Little Bee and Incendiary

"A haunting suspense novel about a murder mystery based on a real-life missing-persons case."—Entertainment Weekly, #3 on "The Must List"

"[A] fearless first novel… For all the passion in this intense narrative, Hoffman writes with a restraint that makes poetry of pain. She also shows a mastery of her craft by developing the story over 17 years and narrating it from multiple perspectives. While each has a different take on the horrific events that no one saw coming, the people who live in this insular place remain willfully blind to their own contributions to the deeper causes that made this tragedy almost inevitable."—New York Times Book Review

"So Much Pretty delivers a skillful, psychologically acute tale of how violence affects a small town . . . To say more about Hoffman's constantly surprising story is to reveal too much, but the payoff is more than worth the slow-building suspense."—Los Angeles Times

"A dark but powerful debut . . . Hoffman maps the atmosphere of paranoia that descends on the formerly tranquil town as she moves deftly between its inhabitants."—The New Yorker (Books Pick)

"An extraordinarily smart and beautifully written page turner. . . . suspenseful and highly charged . . . Hoffman passionately blends the issue of violence against women that lurks unacknowledged at the dark edges of our culture with a narrative that paints a grim picture of any-town America. Hoffman's literary voice is a force and this novel will leave you reeling."—Powells.com

"The way investigative reporter Hoffman navigates the line between what is spoken and unspoken, and portrays a community's desire to address any crisis but the one next door make So Much Pretty a staggering read."—Huffington Post

"Cara Hoffman has written an intriguing, tangled puzzle of a novel that defies categorization. . . . As haunting and disturbing as Alice Sebold's Lovely Bones. . . . So Much Pretty will be equally provocative and unforgettable for teen readers, especially those who love solving a good puzzle."—School Library Journal

"Hoffman takes on the poverty, drug abuse, environmental disasters and violence against women that are endemic to a small town in upstate New York. And she does it brilliantly, in stark and poetic prose, expressing a variety of viewpoints on the murder around which the story turns. And she does it in a way that lodges in the corner of your mind and just won't leave. . . . Alice Piper just may be the blonder, less-punk version of Lisbeth Salander, that girl of the dragon tattoo. . . . Everything counts in Hoffman's toned work, as even the tiniest plot point becomes important to the unfolding narrative. Pay attention to So Much Pretty. It's mesmerizing."—New Orleans Times-Picayune

"A spectacular debut: This beautifully constructed mystery, with its engaging characters and intriguing premise, has everything a reader wants."—The Globe and Mail (Canada)

"A mixture of The Lovely Bones and The Girl with the Dragon Tattoo . . . Hoffman's narrative oscillates between various characters, carefully building suspense, depth, and new insight with every chapter. Let's hope we will be seeing more of this talented new writer."—Booklist

"So Much Pretty is a haunting, gloomy novel that defies genre — it is one part crime thriller, one part ambitious novel, one part prose poem. . . . [The novel] raises questions about denial, violence against women and when a citizen should speak up, even if it puts another at risk."—NPR.org

"Perspective is a funny thing. It can make a small farm community in upstate New York seem isolating and suffocating for one person, a liberating paradise for another. In Cara Hoffman's debut novel, So Much Pretty, this jarring disconnect is one of the story's most intriguing undercurrents. . . . the novel effectively frames a compelling murder mystery with provocative, troubling issues, exploring adolescent violence, the victimization of women, revenge, and societal pressure to favor the good of the community over the rights of the individual. . . . Hoffman ambitiously mines fertile, controversial ground and asks a lot of tough, unanswerable questions; the most heartrending is simply, 'Why?'"—The Boston Globe

"In this remarkable debut, Hoffman addresses serious injustices in present-day America. . . . This searing novel will linger long in the reader's memory."—Publishers Weekly (starred review)

"The theme of So Much Pretty is innocence lost and idealism gone wrong. . . . In the rundown little town of Haeden, things are never what they seem, as the tone of the novel grows more sinister and a young woman disappears. . . . The pace quickens as Hoffman brings the story to its dark and chilling conclusion. VERDICT: This gripping novel asks readers to judge whether a horrible crime can ever justify a terrible act of revenge. It will engage individuals and book groups interested in debating this tough topic."—Library Journal

"Both haunting and moving . . . It's impossible not to be changed after reading this book."—Truth-out.org

"Captivating . . . Hoffman's careful weaving of each storyline is seamless. . . . The eyewitness accounts, and police interviews provide the most compelling material, as Hoffman creates a magnificent buildup to the conclusion. The story slowly evolves, making the reader anxious, and posing the question, does an act of vengeance equal justice?"—Manhattan Literature Examiner (Examiner.com)

"Very good and very hard to put down . . . If we're forcing comparisons, I'd add . . . Daniel Woodrell's 2006 novel Winter's Bone for the hardscrabble grit of Smalltown, USA. . . . So Much Pretty looks searingly at the questions of justice and revenge. Many readers will find some of the answers shocking."—January Magazine

"In this polyphonic wonder of a book, Cara Hoffman will keep you reading into the wee hours of the night. So Much Pretty is a riveting and disturbing novel about the accommodations we make for violence and the human need for justice. Hoffman gets every detail right, and she seems to miss nothing. So Much Pretty is the impressive debut of a fierce novelist."—Dana Spiotta, National Book Award-nominated author of Stone Arabia

"So Much Pretty unravels a narrative that's rich with suspense and moral complexity. Delicately balancing two story lines, Cara Hoffman dramatizes a death and a disappearance. Along the way, we get caught up in her portraits of those who belong, those who don't, and the irreversible consequences of lives coming together. This story of violence begetting violence is a fine debut."—Lee Martin, author of The Bright Forever, a finalist for the Pulitzer Prize

"So Much Pretty is an incredible, important book . . . I think everyone should read it."—J. Courtney Sullivan, New York Times bestselling author of Commencement and Maine

"A passionately angry, poetic, intelligent and shocking book. Cara Hoffman not only discovers the heart of darkness in small town Haeden, but brilliantly dissects it."—Rosamund Lupton, New York Times bestselling author of Sister

"So Much Pretty is certain to be talked about—not merely because it is a profound meditation on both public and private violence in small-town America, but for its captivating storytelling which draws you in on a visceral level and leaves you feeling haunted, in the best of ways."—Philipp Meyer, author of American Rust

"So Much Pretty is everything I love in a novel—dark, fascinating, beautifully written, impossible to put down. It marks the beginning of what promises to be an indelible literary career for Cara Hoffman."—Lauren Grodstein, author of A Friend of the Family and Reproduction is the Flaw of Love

"So Much Pretty is a compelling whodunit, an unnerving portrait of just what the back of nowhere looks like, and an arresting meditation on our culture's ongoing acceptance of violence against women. It's powered by both a despairing tenderness and an unflinching rage, each of which, as the novel makes heartbreakingly clear, are more than justified."—Jim Shepard, author of You Think That's Bad and Like You'd Understand, Anyway
Simon & Schuster, 9781451617283, 320pp.
Publication Date: March 6, 2012
About the Author
Cara Hoffman is the author of the critically acclaimed novels So Much Pretty, Be Safe I Love You, and now, Running. She lives in New York City.
or
Not Currently Available for Direct Purchase