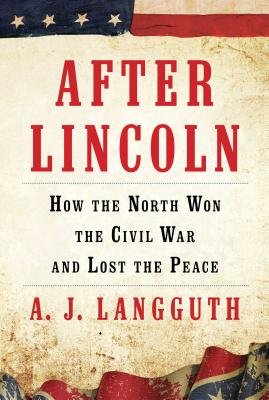 After Lincoln
How the North Won the Civil War and Lost the Peace
Hardcover

* Individual store prices may vary.
Other Editions of This Title:
Digital Audiobook (9/15/2014)
Compact Disc (9/16/2014)
Paperback (9/22/2015)
Compact Disc (9/16/2014)
MP3 CD (9/16/2014)
MP3 CD (9/16/2014)
Compact Disc (9/16/2014)
Description
A brilliant evocation of the post-Civil War era by the acclaimed author of Patriots and Union 1812. After Lincoln tells the story of the Reconstruction, which set back black Americans and isolated the South for a century.

With Lincoln's assassination, his "team of rivals," in Doris Kearns Goodwin's phrase, was left adrift. President Andrew Johnson, a former slave owner from Tennessee, was challenged by Northern Congressmen, Radical Republicans led by Thaddeus Stephens and Charles Sumner, who wanted to punish the defeated South. When Johnson's policies placated the rebels at the expense of the black freed men, radicals in the House impeached him for trying to fire Secretary of War Edwin Stanton. Johnson was saved from removal by one vote in the Senate trial, presided over by Salmon Chase. Even William Seward, Lincoln's closest ally in his cabinet, seemed to waver.

By the 1868 election, united Republicans nominated Ulysses Grant, Lincoln's winning Union general. The night of his victory, Grant lamented to his wife, "I'm afraid I'm elected." His attempts to reconcile Southerners with the Union and to quash the rising Ku Klux Klan were undercut by post-war greed and corruption during his two terms.

Reconstruction died unofficially in 1887 when Republican Rutherford Hayes joined with the Democrats in a deal that removed the last federal troops from South Carolina and Louisiana. In 1964, President Lyndon Johnson signed a bill with protections first proposed in 1872 by the Radical Senator from Massachusetts, Charles Sumner.
Praise For After Lincoln: How the North Won the Civil War and Lost the Peace…
"A brilliant evocation of the post-Civil War era by the acclaimed author of Patriots and Union 1812. After Lincoln tells the story of the Reconstruction, which set back black Americans and isolated the South for a century."

"Langguth takes a warts-and-all approach in profiling the major figures of the Reconstruction. …[His] well-placed and humanizing personal details about the strident men orchestrating Reconstruction and Johnson's impeachment add depth and immediacy to the significant struggles of reuniting North and South, while clearly showing the harsh results of their actions in a post-Lincoln United States."

"For nearly 50 years, A. J. Langguth has brightened the fields of global and American history with books offering brisk prose, careful research, and original analysis. At last he has turned his attention to post-Civil War Reconstruction, and the result is a lively, gripping tale in which lofty ideals collide with narrow minds to produce lost opportunities. Langguth manages to elevate frustration to the realm of high drama, producing a page-turner that reminds us afresh of how Lincoln's plans for a new America could not be achieved without his leadership."
— Harold Holzer, author of Lincoln at Cooper Union

"Thomas Carlyle famously popularized the idea that world history "is but the biography of great men.'' A. J. Langguth brilliantly applies that dictum to America's fateful Reconstruction period. In rendering vivid and insightful portraits of the powerful figures who dominated that drama, Langguth creates a kind of literary booster rocket that propels his readers into a pivotal period of governmental intrigue, power politics, moral intensity, and constitutional crisis."
— Robert W. Merry, author of Where They Stand

"A. J. Langguth brings Reconstruction and its attendant issues to vivid life through a cast of all-stars ranging from Charles Sumner to Andrew Johnson to Grant and Greeley—all conspiring toward the tragic rendezvous with Jim Crow. This history lesson is a stirring narrative, a pleasure throughout, leaving the reader nourished and enlightened."
— Diane McWhorter, author of Carry Me Home, winner of the Pulitzer Prize

"The Civil War tore the American republic in two. After Lincoln tells the story of the men whose task it was to stitch the parts back together. A. J. Langguth's reckoning of Reconstruction is itself a handsome piece of needlework, tight and vivid. Here are keenly limned profiles in courage and resolve. Here, too, is a rogue's gallery of grudge and self-interest. The total tapestry highlights the shining strengths and hidebound flaws that continue to define our national identity."
— John Taliaferro, author of All the Great Prizes: The Life of John Hay, from Lincoln to Roosevelt

"A cogent, well-researched, well-told history of that important period. Langguth shows rather than explains, and the result is a rich history of an understudied period of American history."

"Magnificent. . . . Langguth skillfully illuminates the roles of key figures and offers enlightening commentary on events."

"[After Lincoln] will appeal to both casual and scholarly readers of history as well as those who enjoyed Eric Foner's Reconstruction and similar titles."

"A solid new look at this tumultuous period when the Civil War was won, but the winners could not agree on what to do with victory."

"A comprehensive account of the colossal failures of the aftermath of the Civil War and what turned out to be one big constitutional crisis also known as Reconstruction."

"[Langguth was] an amazingly lucid writer and a talented biographer, and his books on history are uniformly vivid, cogent, and compelling. . . . [After Lincoln is] a riveting read."

"Langguth's book is a highly readable, fast-paced volume that conveys a mostly accurate overview of this shameful era in American history. It does so in a way that transcends and expands the commonly understood story."

"Langguth uses a series of cleanly written biographical sketches as a jumping off point for his explanation of the forces that produced not only the troubling period following the Civil War, but also events that occurred well into the 20th century. . . . This uniquely structured approach to the study of the Reconstruction years may spark new interest in a period that continues to influence thought and behavior in our own time."

"Brilliant."
Simon & Schuster, 9781451617320, 464pp.
Publication Date: September 16, 2014
About the Author
A. J. Langguth (1933–2014) was the author of eight books of nonfiction and three novels. After Lincoln marks his fourth book in a series that began in 1988 with Patriots: The Men Who Started the American Revolution. He served as a Saigon bureau chief for the New York Times, after covering the Civil Rights movement for the newspaper. Langguth taught for three decades at the University of Southern California and retired in 2003 as emeritus professor in the Annenberg School for Communication and Journalism.
or
Not Currently Available for Direct Purchase