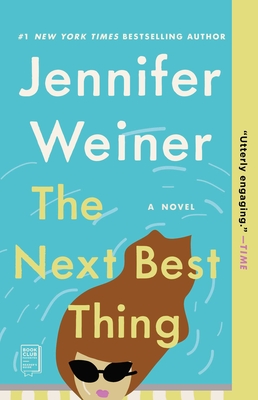 The Next Best Thing (Paperback)
A Novel
Washington Square Press, 9781451617764, 448pp.
Publication Date: April 30, 2013
Other Editions of This Title:
CD-Audio (7/3/2012)
Hardcover (7/3/2012)
Hardcover, Large Print (8/1/2012)
Paperback (9/26/2013)
* Individual store prices may vary.
Description
Blockbuster #1 New York Times bestselling author Jennifer Weiner returns with an irresistible story about a young woman trying to make it in Hollywood…

At three years old, Ruth Saunders miraculously survives the car crash that takes her parents' lives on the icy Massachusetts Turnpike. Her eccentric grandmother, who comes out of Florida retirement to care for young Ruth, nurtures her through years of surgeries, feeding her home-cooked meals, dispensing irreverent wisdom, and telling Ruth she's beautiful, even though her scars will stay with her forever.

After college, Ruth pursues her dream of writing to Hollywood, heading west with her grandmother in tow, hoping to make it big in the world of TV. After years of failure and a badly broken heart, Ruth gets The Call—her show has been green-lit.

But Ruth's happy ending is only the beginning, as she struggles with how television gets made: terrified (and terrifying) executives and actresses with their eyes on bigger prizes than Ruthie's show. Add in an unrequited crush on the man who has been her mentor. Add to that her grandmother's impending nuptials, and Ruth's big break might just break her.

A rollicking ride on the Hollywood roller coaster, The Next Best Thing is a heartfelt story about a young woman searching for her own happily-ever-after in the land where dreams come true.
About the Author
Jennifer Weiner is the #1 New York Times bestselling author of seventeen books, including Mrs. Everything, the children's book The Littlest Bigfoot, and an essay collection, Hungry Heart: Adventures in Life, Love, and Writing. A graduate of Princeton University and contributor to the New York Times Opinion section, Jennifer lives with her family in Philadelphia. Visit her online at JenniferWeiner.com.
Praise For The Next Best Thing: A Novel…
"Weiner is coming off a year in Hollywood, and she puts the experience to excellent use in this utterly engaging story of a showrunner who, after six years of slogging, finally gets a series on the air, only to discover that her troubles are only beginning—meddling studio execs, egomaniacal actors and one crushable but unobtainable boss."
— Time

"Spares no bon mot in exposing Hollywood's sexism, ageism and incurable penchant for extravagant silliness."
— Kirkus

"Full of warm and interesting characters as well as a wealth of insider industry detail (Weiner was a cocreator of an ABC Family sitcom), this is a must-read for Weiner's many fans and anyone who enjoys smart, funny fiction."
— Library Journal

"An entertaining story about the dream-crushing compromises on the road from page to screen."
— People

"A knockout. Perfect comic timing meets effortless dialogue and an engaging plot…. Enjoy your place on top of the lit world, Jennifer Weiner. You've more than made it."
— The Miami Herald

"Jennifer Weiner is funny and dead-on when it comes to building a satisfying summer read."
— New York Daily News

"Ruth is a multidimensional heroine, and Weiner gives her real heart and soul. Readers will root for her to get everything she ever wanted—not to settle for the next best thing. This is contemporary women's fiction at its finest."
— Booklist (starred review)

"Weiner's snappy new novel showcases her humor and style."
— Washington Post

"A fascinating glimpse into the television industry…Weiner's strong sense of comedy comes through in her characters' witty banter and Ruth's writing. You will cheer her on in her quest to find success and love."
— Fort Worth Star-Telegram

"Weiner is a chick-lit writer with chops—and she puts them to expert use in this funny, feel-good tale."
— Better Homes & Gardens

"A juicy fictional account of life behind the scenes for a female TV showrunner."
— New York Post

"Jennifer Weiner proves once again that her bestseller status is no accident by delivering another intriguing page-turner. She gives us sassy, sardonic Ruth to root for as well as plenty of zingers aimed at Hollywood's tweaked values. Readers are likely to enjoy a fascinating peek into the politics of television culture, coupled with a lively plot and a satisfying love story."
— Bookreporter.com