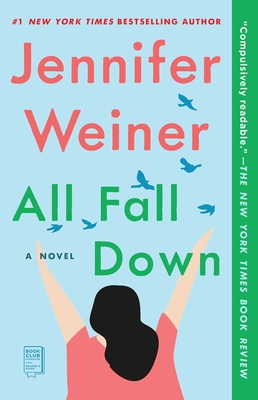 All Fall Down (Paperback)
A Novel
Washington Square Press, 9781451617795, 400pp.
Publication Date: April 7, 2015
* Individual store prices may vary.
Description
From a #1 New York Times bestselling author comes her "best book yet" (Philadelphia Inquirer), a "compulsively readable" novel that shows "there's no doubt Weiner knows how to deliver a certain kind of story, and well" (The New York Times Book Review).

Allison Weiss got her happy ending—a handsome husband, an adorable daughter, a job she loves, and the big house in the suburbs. But while waiting in the pediatrician's office, she opens a magazine to a quiz about addiction and starts to wonder…Is a Percocet at the end of the day really different from a glass of wine? Is it such a bad thing to pop a Vicodin after a brutal Jump & Pump class…or if your husband ignores you? She tells herself that the pills help her make it through her days…but what if her increasing drug use, a habit that's becoming expensive and hard to hide, is turning into her biggest problem of all?

Hailed as "a witty, realistic criticism on the modern age" (Boston Herald), this remarkable story of a woman's fall into addiction and struggle to find her way back up again is Jennifer Weiner's most masterful, moving, and celebrated work yet.
About the Author
Jennifer Weiner is the #1 New York Times bestselling author of over twenty books, including Good in Bed, The Littlest Bigfoot, and her memoir Hungry Heart: Adventures in Life, Love, and Writing. A graduate of Princeton University and contributor to the New York Times Opinion section, Jennifer lives with her family in Philadelphia. Visit her online at JenniferWeiner.com.
Praise For All Fall Down: A Novel…
"Weiner has taken a complicated, nuanced, and fraught subject and given us a narrative both entertaining and enlightening."


"All Fall Down is Weiner's best book yet. Her portrayal of rehab is sharp, sad, and mordantly funny… Weiner's account of Allison's hard-won turnaround is pitch-perfect. Allison is a memorable character wisecracking her way through despair. Her rock bottom, when it comes, is well-drawn and convincing."

"Compulsively readable. Weiner's skill is in the specifics. There's no doubt she knows how to deliver a certain kind of story, and well."

"All Fall Down is a witty, realistic criticism on the modern age and how difficult it can be to balance family, career and self, and how quickly everything can spiral out of control. Allison Weiss is a great reminder that people have weaknesses and that superheroes don't exist. Weiner fans will be happy to find this as one of her best works. For those who aren't familiar with her, All Fall Down is a great place to start."

"Jennifer Weiner's books should be labeled a controlled substance. She creates relatable heroines with everyday worries, such as losing weight or finding a mate. Add her clever pop-culture references, girlfriend conversations over goblets of wine and her trademark self-deprecating humor and you have sure-to-please novels that hook you in and never let go. Weiner's storytelling talents are estimable. Just like Allison pops a Vicodin (or two or four) to get through the morning, you will read one more chapter, and oh, come on, what would one more hurt? I deserve this pill, er, page. And you are gone."

"Reading one of Jennifer Weiner's contemporary novels of manners is a bit like biting into an apple. The experience is full of flavor, more crisp than juicy, and refreshingly tart."

"Best known for her sense of humor, Weiner's raw new novel proves she is equally as fluent in poignancy. A searing, no-holds-barred look at an ordinary woman whose life spirals out of control."
— Jodi Picoult

"Weiner, who is a master at creating realistic characters, is at her best here, handling a delicate situation with witty dialogue and true-to-life scenes. Readers will be nodding their heads in sympathy as Allison struggles to balance being a mother, a daughter, and a wife while desperately just wanting to be herself. Weiner is one of the reigning queens of contemporary women's fiction, and her latest is sure to hit the best-seller lists. The "hot-topic" quality of the story line will only boost readership even further."

"An absolutely heartbreaking read that will leave readers haunted. Great for book clubs or for anyone trying to understand a loved one's addiction."

"Weiner's sly portrayal of family, entitlement and recovery culture is a romp – with an edge."

"Dark humor and a surprise twist."

"The everymom heroine in this novel becomes a hard-core pill addict–and it's impossible to look away."