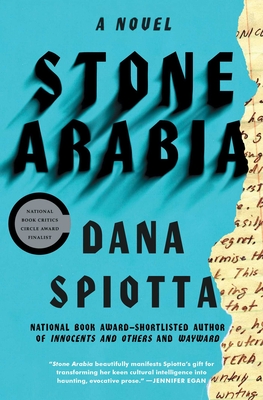 Stone Arabia
A Novel
Paperback

* Individual store prices may vary.
Other Editions of This Title:
Digital Audiobook (7/11/2011)
Compact Disc (7/12/2011)
Compact Disc (7/12/2011)
Hardcover (7/12/2011)
Description
From the National Book Award nominated author of Innocents and Others and Wayward, "a smart, subtle, moving story about the complicated business of knowing the people you love" (Book Forum).

In the sibling relationship, "there are no first impressions, no seductions, no getting to know each other," says Denise Kranis. For Denise and her brother, Nik, now in their forties, no relationship is more significant. They grew up in Los Angeles in the late seventies and early eighties. Nik was always the artist, always wrote music, always had a band. Now he makes his art in private, obsessively documenting the work but never testing it in the world. Denise remains Nik's most passionate and acute audience; she is also the crucial support for Nik and for their aging mother, whose dementia seems to threaten her own memory. When Denise's daughter, Ada, decides to make a film about Nik, everyone's vulnerabilities escalate.

In Stone Arabia, Dana Spiotta "explores the inner workings of celebrity, family, and other modern-day mythologies" (Vogue).
Praise For Stone Arabia: A Novel…
"Dana Spiotta's Stone Arabia is a dreamlike meditation on fame and success, technology and the imagination. The novel beautifully manifests Ms. Spiotta's gift for transforming her keen cultural intelligence into haunting, evocative prose."—Jennifer Egan, author of the Pulitzer Prize-winning A Visit from the Goon Squad

"Added to the brilliant glitter of Ms. Spiotta's earlier work...is something deeper and sadder: not just alienation, but a hard-won awareness of mortality and passing time... both a clever meditation on the feedback loop between life and art, and a moving portrait of a brother and sister, whose wild youth on the margins of the rock scene has given way to the disillusionments and vexations of middle age."—Michiko Kakutani, The New York Times

"Is there a more electrifying novelist working than Dana Spiotta?...[Stone Arabia] makes for a sharp character study: A portrait of the artist as middle-aged never-was. Yet Spiotta's genius is to recognize that Nik's journey is representative not just for his sister or his mother but for every one of us."—David Ulin, LA Times

"I read Stone Arabia avidly and with awe. The language of it, the whole Gnostic hipness of it is absolutely riveting. It comes together in the most artful, surprising, insistent, satisfying way. Dana Spiotta is a major, unnervingly intelligent writer."—Joy Williams, author of The Quick and the Dead

"Fascinating...resonant...what's most remarkable about Stone Arabia is the way Spiotta explores such broad, endemic social ills in the small, peculiar lives of these sad siblings. Her reflections on the precarious nature of modern life are witty until they're really unsettling."—Ron Charles, Washington Post

"Outstanding...Male American writers have talked about the incursion of the real into territory previously held by the novelist's capacity for invention; but who before Spiotta has written about reality's threat not to imagination but to memory itself?...An essential American writer."—Jonathan Dee, Harper's Magazine

"Transfixing...It's as though Nabokov had written a rock novel."—Ken Tucker, Entertainment Weekly

"Evocative, mysterious, incongruously poetic…gritty, intelligent, mordent, and deeply sad...Spiotta has created, in Stone Arabia, a work of visceral honesty and real beauty."—Kate Christensen, The New York Times Book Review

"Dana Spiotta's stunning, virtuoso novel Stone Arabia plays out the A and B sides of a sibling bond..."—Elissa Schappell, Vanity Fair

"A smart, subtle, moving story about the complicated business of knowing the people you love...a wild, sorrowful, rambling, deeply subjective, incandescently beautiful document."—Matthew Sharpe, Bookforum

"Stone Arabia is a rock n' roll novel like no other. Where desire for legacy tangles with fantasy. And identity and memory are in and out of control. A loser's game of conceit, deceit, passion, love and the raw mystery of superstar desire."—Thurston Moore

"Stone Arabia possesses the edged beauty and charged prose of Dana Spiotta's earlier work, but in this novel about siblings, music, teen desire and adult decay, Spiotta reaches ever deeper, tracking her characters' sweet, dangerous American dreaming with glorious precision. Here is a wonderful novel by one of our major writers."--Sam Lipsyte, author of The Ask

"The book maps a post-punk milieu where the sense of completeness punk offered... never goes away. Spiotta can capture whole lives in the most ordinary transaction, and make it cut like X's 'Los Angeles' or the Avengers' 'Car Crash.'"—Greil Marcus, The Believer

Spiotta is an epic and big-hearted novelist, one of my very favorite living writers – when I read her, I always fall in love again with America and American culture. She's written about the 1960s underground, and Los Angeles, and, in a recent New Yorker story, the cult of 1970s telephone hackers. Here she takes on the American obsession with fame, and manages to say something new about that – and about American families. Spiotta is a prime example of the adage (which I might just now be making up) that to write a great novel requires a great heart.
— George Saunders, author of Tenth of December
Scribner, 9781451617979, 256pp.
Publication Date: July 10, 2012
About the Author
Dana Spiotta is the author of Innocents and Others; Stone Arabia, A National Books Critics Circle Award finalist; and Eat the Document, a finalist for the National Book Award. Spiotta is a recipient of a Guggenheim Fellowship and the Rome Prize for Literature. Her most recent novel is Wayward. She lives in Syracuse, New York.
or
Not Currently Available for Direct Purchase