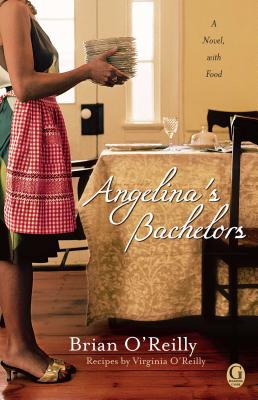 Angelina's Bachelors (Paperback)
A Novel with Food
Gallery Books, 9781451620566, 384pp.
Publication Date: August 9, 2011
* Individual store prices may vary.
Description
Sometimes the shortest distance between two people is the length of a kitchen table. . . . Far too young to be a widow, Angelina D'Angelo suddenly finds herself facing a life without her beloved husband, Frank. Late one night shortly after the funeral, she makes her way down to the kitchen and pours all of her grief and anger into the only outlet she has left--her passion for cooking. In a frenzy of concentration and swift precision, she builds layer upon layer of thick, rich lasagna, braids loaves of yeasty bread, roasts plump herb-rubbed chicken; she makes so much food that she winds up delivering the spoils to the neighbors in her tight-knit Italian community in South Philadelphia. Retiree Basil Cupertino, who has just moved in with his kindly sister across the street, is positively smitten with Angelina's food. In a stroke of good fortune, Basil offers Angelina (not only husbandless but unemployed) a job cooking for him--two meals a day, six days a week, in exchange for a handsome salary. Soon, word of her irresistible culinary prowess spreads and she finds herself cooking for seven bachelors--and in the process discovers the magical power of food to heal, to bring people together . . . and maybe even to provide a second chance at love. Filled to the brim with homemade warmth, Angelina's Bachelors is a sweet tale of overcoming grief, redefining family, and following your heart--through food.
Praise For Angelina's Bachelors: A Novel with Food…
"An utterly delightful debut novel from cookbook author and TV cooking-show producer O'Reilly.
When Angelina's husband suddenly dies of a heart attack, she is devastated. When she loses her job a few days later, she's in real trouble. To escape her worries, she dives into the thing that has always brought her comfort—cooking. As a young woman, she had planned on culinary school, but her mother's, and then father's, terminal illnesses rerouted her dreams. Still, she's a world-class amateur and treats her close-knit South Philly neighborhood to the results of her recent grief. One fan is Basil Cupertino, neighbor Dottie's retired brother, who's recently moved in. Basil—escaping his sister's almost deadly cooking—makes Angelina a proposition: He will pay her handsomely for breakfast and dinner six days a week. Trying to hold poverty and depression at bay, Angelina agrees. Word spreads through the neighborhood, and soon Basil and Dottie's handsome nephew Guy (escaping the seminary) joins in, as does young Johnny from across the street, the discerning Mr. Pettibone, the elderly Don Eddie and his driver Big Phil, and Jerry, who's known Angelina forever. Her bachelors are treated to exquisite fare, and also company—the motley crew make a companionable dinner club in Angelina's home. One night, feeling tired and faint, Angelina gets bittersweet news: After years of trying, she is four months pregnant. The thought of raising a child alone is terrifying, but the bachelors help out, and soon Angelina's grief is replaced with the somber joy that her husband will live on. There are some mishaps along the way, including the city trying to shut her down, but Angelina triumphs when her long-lost dream of owning a restaurant becomes a reality. Filled with more than 20 (fairly complicated) recipes for Angelina's gourmet fare, the food is only half of the novel's winning ingredient—O'Reilly's keen ear for the neighborhood swells lends a charming, timeless quality to the tale.
Light comedy and good food make a winning combination." —Kirkus Reviews, starred review



"In this confection, young widow Angelina D'Angelo finds emotional and financial sustenance after her husband's sudden death by cooking for seven bachelors in her South Philly neighborhood. The characters are Capraesque, from an ex-seminarian questioning his calling to a watch-chain-wearing Mr. Pettibone.…The food's another story: described most deliciously and leaving you hungry for more. Luckily this debut from O'Reilly (creator of Food Network's Dinner Impossible) includes his wife Virginia's appealing recipes." —People



"The unique storyline and the addition of recipes in every chapter make this book a double treat. O'Reilly is equally skilled at devising colorful descriptions for the food as well as the emotions. In one scene, where the character is having a heart attack, I swore I could feel every physical pull of the chest muscles. This was a brilliant, and delicious, read." 4 and ½ stars —RT Book Reviews



"The story was moving, touching, and heart-breaking. The characters are full of insight and inspiration, each in their own way. The bachelors all have something to offer, and even when tension arises in the book, it happens in a way that shows the immense amount of respect that they have for Angelina and her family. Angelina herself is a strong, intelligent, driven character, who is immensely relatable. I see that the author is working on a second novel, and I definitely plan on keeping an eye out for it." —Min Jung, Fresh



"This book is not leaving my house and deserves a place of honor among my cookbooks! The story is interwoven with wonderful recipes that help tell Angelina's story and will have your mouth watering just reading them." —BookHounds



"Set in the colorful Italian enclave that is South Philadelphia, this account of the joy cooking can bring to both the server and the served, is a delightful and uplifting story, albeit not one to be read on an empty stomach! ... This is a wonderful story featuring an utterly appealing protagonist, surrounded by a charming cast of characters. The warmth of Angelina's neighbors shines through, and the vitality of her South Philadelphia surroundings makes the setting very much a character in its own right." 4 stars —For the Love of Books



"A lovely story and FABULOUS Italian recipes. How could I not like a book where the first chapter is titled, 'Dreaming in Dark Chocolate.'" —Great Thoughts



"It was a very fun and uplifting read. If I did not know better, I'd swear that I was related to most of the characters in the book!"—Mary Ann Esposito, cookbook author and host of Ciao Italia



"…a delightful, well written book full of characters everyone will love." —Broken Teepee



"This novel is a perfect read for any season anywhere." 4 stars —Live To Read