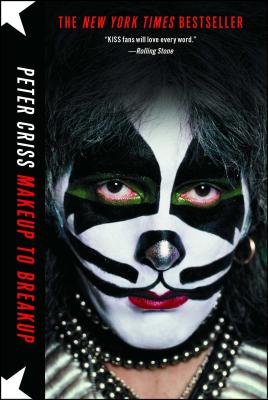 Makeup to Breakup (Paperback)
My Life In and Out of Kiss
Scribner, 9781451620832, 384pp.
Publication Date: September 3, 2013
Other Editions of This Title:
Hardcover (10/23/2012)
* Individual store prices may vary.
Description
Founding drummer Peter "Catman" Criss's New York Times bestselling memoir, "the best—and most honest—account of KISS craziness during the band's heyday in the 1970s" (Publishers Weekly), now in paperback—"KISS fans will love every word" (Rolling Stone).

Legendary founding KISS drummer Peter "Catman" Criss has lived an incredible life in music, from the streets of Brooklyn to the social clubs of New York City to the ultimate heights of rock 'n' roll success and excess. KISS formed in 1973 and broke new ground with their elaborate makeup, live theatrics, and powerful sound. The band emerged as one of the most iconic hard rock acts in music history. Peter was the heartbeat of the group. From an elevated perch on his pyrotechnic drum riser, he had a unique vantage point on the greatest rock show of all time, with the KISS Army looking back at him night after night.

Peter Criscuola had come a long way from the homemade drum set he pounded on nonstop as a kid growing up in Brooklyn. He endured lean years, street violence, and the roller-coaster music scene of the sixties, but he always knew he'd make it. Now Peter tells of his eye-opening journey from the pledge to his ma that he'd one day play Madison Square Garden to doing just that. He also faced the perils of stardom and his own mortality, including drug abuse, treatment in 1982, near suicides, two broken marriages, and a hard-won battle with breast cancer. Makeup to Breakup is the heartfelt account of one of music's most iconic figures, and the importance of faith and family. Rock 'n' roll has been chronicled many times, but never quite like this. "A must-read for all past and present KISS fans and fans of no-holds-barred rock 'n' roll tell-alls."
About the Author
Peter Criss co-founded KISS in 1973 along with Gene Simmons, Paul Stanley, and Ace Frehley. He left the band in 1979, embarking on a solo career. In 1995, he reunited with KISS, resulting in a phenomenally successful world tour before he left the band again in 2004. Criss appeared in the HBO series Oz in 2002, and he continues to write and record music. His most recent solo album, 2007's One for All, reached #36 on the Billboard Top Independent Album list.

Larry "Ratso" Sloman is best known as Howard Stern's collaborator on what were then the two fastest selling books in publishing history, Private Parts and Miss America. Sloman's recent collaborations include Mysterious Stranger, with magician David Blaine, and Scar Tissue, the memoir of Red Hot Chili Peppers lead singer Anthony Kiedis—both books were New York Times bestsellers.
Praise For Makeup to Breakup: My Life In and Out of Kiss…
"[A]n entertaining autobiography….[Criss] keeps the focus on the rock and roll, which results in the best—and most honest—account of Kiss craziness during the band's heyday in the 1970s."
— Publishers Weekly

"A must read for all past andpresent KISS fans and fans of no-holds-barred rock 'n' roll tell-alls."
— Library Journal

"KISS fans will love every word."
— Rolling Stone

"Makeup To Breakup" is the best KISS book to come from a band member and much of that is due to the emotional undercurrent omnipresent in Peter's story. You feel his excitement, you feel his pain and it's so easy to read it's almost cinematic….As it stands, it's easily a four star effort. Well done, Catman.
— legendaryrockstarinterviews.com

"Amazing."
— Grantland

"Criss' book is wonderfully sleazy and graphic even for a rock-star memoir…A nasty fun read."
— The A.V. Club