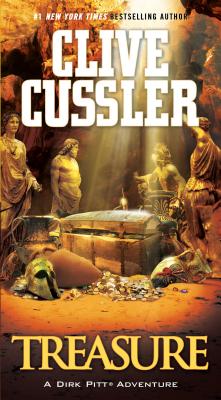 Treasure (Mass Market)
Pocket Books, 9781451621013, 688pp.
Publication Date: April 26, 2011
* Individual store prices may vary.
Description
Clive Cussler, author of sixteen consecutive New York Times bestseller brings us beloved character Dirk Pitt, who discovers a trail leading straight to priceless treasures. But it also thrusts him into conflict that could tip the world's balance of power the wrong way...

Charts of lost gold...breathtaking art and rare volumes...maps of hidden oil and mineral deposits that could change the world's balance of power. Now Dirk Pitt discovers the secret trail of the treasures of Alexandria—a trail that plunges him into a brutal conspiracy for total domination of the globe. Zealots threaten to unseat the governments of Egypt and Mexico, exposing America to invasion and economic collapse. Suddenly, from East to West, anarchists reach their deadly tentacles into the heart of the United States. And Dirk Pitt, the hard-hitting hero of Clive Cussler's smash bestsellers Sahara and Inca Gold, is up against the most feared assassin known to man. An international band of terrorists is making its play for world power on the high seas—and Pitt is the only man alive who can stop them!
About the Author
Clive Cussler is the author or coauthor of over eighty previous books in five bestselling series, including Dirk Pitt®, NUMA® Files, Oregon® Files, Isaac Bell, and Sam and Remi Fargo. His nonfiction works include Built for Adventure: The Classic Automobiles of Clive Cussler and Dirk Pitt, and Built to Thrill: More Classic Automobiles from Clive Cussler and Dirk Pitt, plus The Sea Hunters and The Sea Hunters II; these describe the true adventures of the real NUMA, which, led by Cussler, searches for lost ships of historic significance. With his crew of volunteers, Cussler has discovered more than sixty ships, including the long-lost Confederate ship Hunley. He lives in Arizona.
Praise For Treasure…
Publishers Weekly
"Dazzling exploits... A novel that features the greatest treasure hunt of all time...."



The Washington Post
"Cruising speed in TREASURE is pedal-to-the- metal fast forward.... Cussler moves the players around the global chessboard with a compelling clarity that keeps you captivated.... His shoot- outs are first rate.... And the conclusion is gangbusters."



Chicago Tribune
"Action-packed.... Cussler has developed and patented a vibrant, rollicking narrative style that seldom shows signs of relenting...."



Detroit Free Press
"TREASURE will raise goosebumps on readers. ...Spine-tingling... suspenseful!"



Associated Press
"There's 'treasure' to be found in Chive Cussler's iatest novel, and it's not the discovery of the golden casket of Alexander the Great.... The true treasure is Dirk Pitt."



South Bend Tribune
"A first-rate story told by a first-class writer."



Los Angeles Times Book Review
"Slick, searing and shocking.... We're off and running in a race to see which superpower uncovers the treasure's hiding place first. You name it, you've got it in TREASURE.... [A} slam-bang rouser."



New York Daily News
"An ingenious roller-coaster of a story.... And Pitt, an Indiana Jones with 007 tastes, has never been better. This one will cost readers precious sleep. Guaranteed."



Chattanooga News-Free Press
"An action-filled feast of enviable proportions.... High suspense and engrossing drama.... Cussler has the ability to keep the reader flipping pages well past his regular bedtime."



Denver Post
"A four-star page turner...."