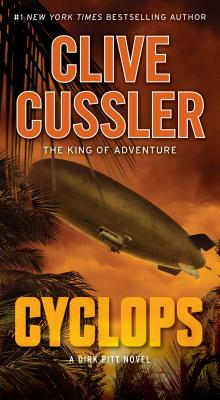 Cyclops (Mass Market)
Pocket Books, 9781451621020, 624pp.
Publication Date: April 26, 2011
* Individual store prices may vary.
Description
Clive Cussler's bestselling Cyclops is another swashbuckling NUMA Files adventure! When a financier turned treasure hunter vanishes mysteriously, only Dirk Pitt can prevent an international incident that threatens to start a war.

A wealthy American financier disappears on a treasure hunt in an antique blimp. From Cuban waters, the blimp drifts toward Florida with a crew of dead men—Soviet cosmonauts. Dirk Pitt discovers a shocking scheme: a covert group of US industrialists has put a colony on the moon, a secret base they will defend at any cost. Threatened in space, the Russians are about to strike a savage blow in Cuba—and only NUMA's Dirk Pitt can stop them. From a Cuban torture chamber to the cold ocean depths, Pitt is racing to defuse an international conspiracy that threatens to shatter the earth!
About the Author
Clive Cussler is the author or coauthor of over eighty previous books in five bestselling series, including Dirk Pitt®, NUMA® Files, Oregon® Files, Isaac Bell, and Sam and Remi Fargo. His nonfiction works include Built for Adventure: The Classic Automobiles of Clive Cussler and Dirk Pitt, and Built to Thrill: More Classic Automobiles from Clive Cussler and Dirk Pitt, plus The Sea Hunters and The Sea Hunters II; these describe the true adventures of the real NUMA, which, led by Cussler, searches for lost ships of historic significance. With his crew of volunteers, Cussler has discovered more than sixty ships, including the long-lost Confederate ship Hunley. He lives in Arizona.