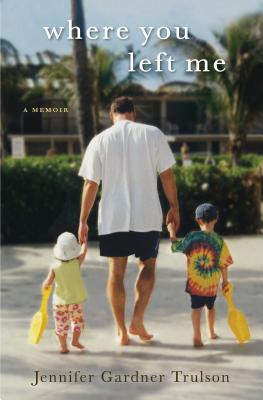 Where You Left Me
Hardcover

* Individual store prices may vary.
Description
An extraordinarily powerful account of hardship and healing by a woman whose husband, a top executive at Cantor Fitzgerald, was killed in the attacks on the World Trade Center, and her unexpected journey to find love again.

Lucky—that's how Jennifer would describe herself. She had a successful law career, met the love of her life in Doug, married him, had an apartment in New York City, a house in the Hamptons, two beautiful children, and was still madly in love after nearly seven years of marriage. Jennifer was living the kind of idyllic life that clichés are made of.

Until Doug was killed in the attacks on the World Trade Center, and she became a widow at age thirty-five—a "9/11 widow," no less, a member of a select group bound by sorrow, of which she wanted no part. Though completely devastated, Jennifer still considered herself blessed. Doug had loved her enough to last her a lifetime, and after his sudden death, she was done with the idea of romantic love—fully resigned to being a widowed single mother . . . until a chance encounter with a gregarious stranger changed everything. Without a clue how to handle this unexpected turn of events, Jennifer faced the question asked by anyone who has ever lost a loved one: Is it really possible to feel joy again, let alone love?

With unvarnished emotion and clear-eyed sardonic humor, Jennifer tells an ordinary woman's extraordinary tale of unimaginable loss, resilience, friendship, love, and healing—which is also New York City's narrative in the wake of September 11. Where You Left Me is an unlikely love story, a quintessentially New York story—at once Jennifer's tribute to the city that gave her everything and proof that second chances are possible.
Praise For Where You Left Me…
"With grim humor and sharp observations, Where You Left Me provides trenchant insights into one woman's resilience." —Kirkus Reviews

"In this hard-hitting memoir, a wife and mother stricken by tragedy after losing her husband at the World Trade Center gradually regains her ability to love. A former lawyer married to Douglas Gardner, a financial broker, and living with their two small children on Central Park West in Manhattan, Trulson was shuttling her five-year-old son to his first day of school on the morning of September 11. Her husband was already in his office at Cantor Fitzgerald on the 105th floor of the North Tower, where he died in the attacks. (His voice was identified on a 911 tape later sent to Trulson by the mayor's office, but she never listened to it.) The brokerage firm lost 658 employees that day, the hardest hit of any single company. The closest friends who supported Trulson in her grief were her husband's professional colleagues, who dedicated a sports center at Douglas's alma mater, Haverford College. Trulson's period of "bottomless fury and despair" was exacerbated by the ensuing media circus as she made the rounds of memorial speeches. Ten months later, Trulson became involved with another man, which jars the reader, but, in the end, her narrative achieves a balance between grief and life-affirming determination." —Publishers Weekly

"Decades from now, when people want to know how life went on after the September 11th attacks, I hope they'll turn to this deeply moving, bluntly honest, elegantly written memoir. In Jennifer Gardner Trulson's grief, and in her account of the love that followed, all of us can see the possibilities in our own lives." —Jeffrey Zaslow, coauthor, The Last Lecture
Gallery Books, 9781451621426, 256pp.
Publication Date: August 30, 2011
About the Author
Jennifer Gardner Trulson is the founder of the Douglas B. Gardner Foundation, a non-profit organization dedicated to helping at-risk children in New York. She graduated from Tufts University and received a J.D. from Harvard. She lives with her husband and two children in Manhattan.
or
Not Currently Available for Direct Purchase