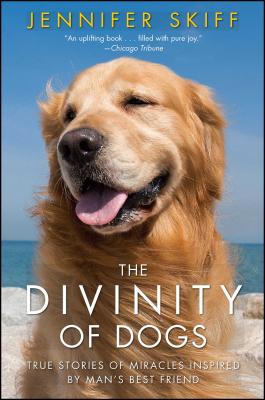 The Divinity of Dogs
True Stories of Miracles Inspired by Man's Best Friend
Paperback

* Individual store prices may vary.
Other Editions of This Title:
Digital Audiobook (5/26/2013)
MP3 CD (5/27/2013)
Compact Disc (5/27/2013)
Hardcover (10/23/2012)
MP3 CD (5/27/2013)
Compact Disc (5/27/2013)
Compact Disc (5/27/2013)
Description
From the bestselling author of God Stories, this "mysterious and faith-inspiring" (Publishers Weekly) book shares the uplifting stories of people who have encountered the divine through their dogs.

The Divinity of Dogs is about the moments we learn something profound about life from an experience with a dog. In this inspiring collection of true dog stories, you'll hear dramatic firsthand accounts from people whose lives have been transformed by a dog's love. From everyday blessings to lifealtering miracles, these stories confirm what many of us have always known: dogs are the ultimate gift, sent here to help us on our journey.

You'll meet Mazie, the Lab who was rescued from a shelter only to return the favor by rescuing her new family; Luna, the Retriever who pulled her person to safety after she collapsed in a field; Little Bit, the Chihuahua who detected cancer in her owner's breast; Emma, the Rottweiler who stopped a troubled man from taking his life; Bo, the Boxer who helped comfort a mother after the loss of her son; and other amazing, heroic dogs you'll never forget.

Filled with heartwarming anecdotes, adorable dog photos, and the author's moving personal story, The Divinity of Dogs reminds us that we're not alone and will always have joy in our lives as long as we have dogs by our sides.
Praise For The Divinity of Dogs: True Stories of Miracles Inspired by Man's Best Friend…
"Reader advisory: Must be read with tissues! You don't have to be a pet lover to fall in love with these stories. The Divinity of Dogs captures the unconditional love and loyalty of dogs and delivers it with one big wet kiss." —Carole Tomko, President of MyDiscovery

"The Divinity of Dogs is a fascinating read - bringing to life the very special, sometimes incredible, aspects of dogs, with whom we have the privilege to share our lives." —Clarissa Baldwin, Chief Executive Officer of Dogs Trust - A Dog Is For Life

"Every dog I've had the privilege of knowing has imparted some special lesson, insight or transcendent gift to me. It's what they do. The Divinity of Dogs captures the essence of dogs and their many gifts to humankind. Wonderful stories." —Francis Battista, Co-founder of Best Friends Animal Society

"This wonderful book is a treasure trove of fascinating stories that will entertain, inspire, enlighten, and amaze you. Soul-enriching." —Lewis Regenstein, President of the Interfaith Council for the Protection of Animals and Nature

"I loved this book. The Divinity of Dogs captures the beautiful non-verbal messages between people and their pets. It's a powerful page-turner!" —Debi Boies, co-founder of Pilots N Paws

"Do yourself a favor, read this book, adopt a dog and join the rest of us who know the secret of a happy life." —Karen Rhodes, President, Dogs' Refuge Home

"Jennifer Skiff's miraculous book is filled with happy dog faces and inspiring stories that touch the canine-human bond."
— Blue Heron Journal

"It can be easy to lose sight of the humanity we all share when so much turmoil exists over resources and money and power. But with something as easy as a book filled with love stories about dogs, it can be much easier to remember the kind of people we should all strive to be -- the kind who listen to our dogs a little more and the rest of the noise a little less."
— Jenny Block

"A perfect read for dog lovers and those wishing to adopt. An uplifting collection of stories about people who have had other-worldly experiences through their relationships with dogs."
— Shelf Awareness

"A fabulous collection of personal accounts of how dogs have helped people. Ranging from near miracles to simply providing love and companionship, these accounts are all heartwarming… a fabulous holiday gift for a dog loving friend or as a party exchange gift at your local dog club."
— Examiner.com

"This is an uplifting book, perfect for this time of year. Many of these true stories are heartwarming and filled with pure joy - exploring the kind of innocent and absolute joy dogs offer and inspire,"
— Chicago Tribune

"...tells true stories of love, miracles and personal transformations involving dogs."
— Sun Journal (Lewiston-Auburn, ME)

"One of the most inspiring collections of dog stories assembled."
— Iron Mountain Daily News (Michigan) 

"This book should come with it's own box of tissues, because, trust me, you won't get through it without needing several. Some stories make you smile through your tears, some bring a tear because of the obvious bond between human and dog, but all of them will touch you in some way."
— Post Journal (Jamestown-NY)

"Tissue alert, but in a good way. This is an uplifting book, perfect for this time of year. All these inspiring 'touched by a dog' true stories are heartwarming, and filled with pure joy – the kind of innocent and absolute joy which dogs offer and inspire."
— USA Weekend

"packed full of inspiring, heartwarming, feel good to your bones stories about dogs and their people, and will definitely warm your heart and give you paws to just how much dogs help, love, comfort, uplift, guide, amaze, inspire and change people's lives."
— Johann the Dog
Atria Books, 9781451621594, 336pp.
Publication Date: August 27, 2013
About the Author
Jennifer Skiff is an award-winning television producer, journalist, and author of God Stories. An advocate for animals, she is a Trustee of the Dogs' Refuge Home in Australia. She lives in Maine and Australia.