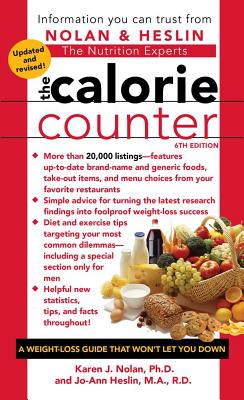 The Calorie Counter (Mass Market Paperbound)
Pocket Books, 9781451621631, 717pp.
Publication Date: December 26, 2012
* Individual store prices may vary.
Description
Track calories, drop pounds, and keep the weight off by using the completely revised and updated The Calorie Counter, 6th Edition--the only calorie counter and weight-loss guide written by experts in nutrition and science. Diet trends may come and go, but one thing is certain--calories count The Calorie Counter, 6th Edition, is the only book you will ever need to lose weight and keep it off. This handy guide includes: up-to-date calorie counts for more than 20,000 foods, including thousands of brand-name and generic items, more than 900 take-out options, and menu choices from 110-plus national and regional restaurant chains; solutions for real-life dieting dilemmas; advice for avoiding dieting myths and land mines that can sabotage your success; easy mealtime tips that put you in charge of your eating habits; simple tricks for burning more calories daily without a formal exercise program; weight-loss tips specifically for men; and much, much more.
About the Author
Jo-Ann Heslin, a registered dietitian (R.D.) and certified dietitian/nutritionist (C.D.N.), and Karen J. Nolan (Ph.D.) know that their readers are more interested in what to order for lunch than in understanding how their metabolism works. They translate nutrition science into practical, easy-to-use advice that will encourage and support you toward a healthier lifestyle. They have worked as advisers and consultants to business and industry and as partners in NRH Nutrition Consultants, Inc. Jo-Ann has served on the editorial boards of Prevention, American Baby, Childbirth Education, Environmental Nutrition Newsletter, and the Journal of Nutrition for the Elderly. For more information on Karen J. Nolan and Jo-Ann Heslin, plus articles and advice, please visit TheNutritionExperts.com.