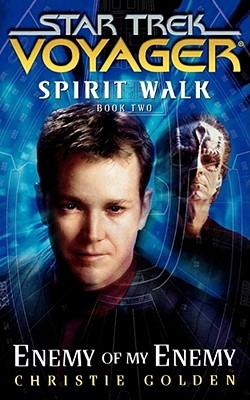 Star Trek
Voyager: Spirit Walk #2: Enemy of My Enemy
Paperback

* Individual store prices may vary.
Description
The eagerly awaited continuation of OLD WOUNDS!

Captain Chakotay and his sister, Sekaya, are being held captive beneath the surface of Loran II by a Changeling -- an outcast Founder masquerading as Chakotay's second-in-command, Andrew Ellis. To Chakotay's horror, the Changeling gives the two prisoners over to the infamous Cardassian scientist Crell Moset, who plans to use Chakotay's Sky Spirit-enhanced DNA to create a super species that will bring him the fame and acceptance he craves.

Leaving Chakotay and Sekaya to their fate, the Changeling assumes Chakotay's image and infiltrates the Starship Voyager™, putting the entire crew at risk. Dr. Jarem Kaz and Lieutenant Harry Kim, increasingly suspicious of their captain's odd behavior, turn to Admiral Janeway and Lieutenant Commander Tom Paris for help. As Paris races to save Voyager from catastrophe, the real Chakotay must undertake a "Spirit Walk" that could set him and his sister free -- or lead to their ultimate destruction....
Gallery Books, 9781451623338, 304pp.
Publication Date: December 1, 2010
About the Author
New York Times bestselling and award-winning author Christie Golden has written more than forty novels and several short stories in the fields of science fiction, fantasy, and horror. Among her many projects are over a dozen Star Trek novels and several original fantasy novels. An avid player of World of Warcraft, she has written two manga short stories and several novels in that world. Golden lives in Tennessee. She welcomes visitors to her website: ChristieGolden.com.