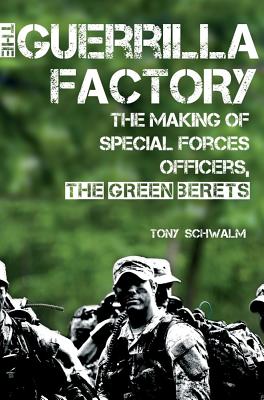 The Guerrilla Factory (Hardcover)
The Making of Special Forces Officers, the Green Berets
Free Press, 9781451623604, 304pp.
Publication Date: November 13, 2012
Other Editions of This Title:
Digital Audiobook (5/26/2013)
Compact Disc (5/27/2013)
Paperback (12/10/2013)
Pre-Recorded Audio Player (5/1/2013)
MP3 CD (5/27/2013)
Compact Disc (5/27/2013)
* Individual store prices may vary.
Description
For the first time, an insider takes readers deep into the grueling training that every Army officer must endure to become one of America's elite Green Berets.

THE NAVY HAS THE SEALS, and the Army has the Green Berets. They are masters of asymmetrical warfare, trained to immerse themselves in hostile territory, sleeping near their enemies and building relationships with people who may want to kill them. Retired lieutenant colonel Tony Schwalm knows this group well, because he is one of them and he trained them. In The Guerrilla Factory, he provides an unbelievably gripping inside look into the grueling training that every Army officer must endure to become one of America's elite Green Berets.

The Special Forces Qualification Course, also known as the Q Course, is infamous in U.S. Army lore. It transforms conventional soldiers, through blood, sweat, and tears, into unconventional guerrillas. As a young soldier, Schwalm earned his own Green Beret there. Later, he was the commander of Special Forces officer training at Fort Bragg, evaluating and redesigning the crucible in which leaders face brutal tests of physical strength, stamina, and wits. The Guerrilla Factory is the engaging and compelling story of Schwalm's experience there as a student (from selection to graduation) and his time as the commander of training at Fort Bragg. It is a story of young soldiers striving to become the elite of the elite—of their trials, physical and emotional, and of their triumphs and losses.

In this dramatic account of the challenges faced by these young soldiers, Schwalm describes how men are forced to demonstrate ingenuity under intensely adverse conditions as they are pushed to the point of hallucination, walk until their feet are bloody, and fight off packs of angry dogs with nothing but a rubber rifle. Soldiers today face an entirely different kind of warfare and must be schooled to deal with unusual circumstances. They must have intricate knowledge of how to gather information in a dangerous, unstable atmosphere, and they need to be able to adapt quickly to differences in their surroundings. Schwalm's book takes readers deep into this world, showing exactly how soldiers acquire the necessary skills.

Revealing details never before shared outside military circles, Schwalm provides a rare and rousing look inside the courageous hearts and souls of soldiers who put their lives on the line for duty, honor, and our country.
About the Author
Tony Schwalm is a retired lieutenant colonel with the US Army Special Forces (aka the Green Berets). A veteran of multiple combat deployments around the world, he is currently assigned to the Combined Joint Special Operations Task Force—Afghanistan as a Department of the Army Civilian leading a group of social scientists supporting special operation forces in that war-torn country.
Praise For The Guerrilla Factory: The Making of Special Forces Officers, the Green Berets…
"Even in an age of high-tech warfare, America will always need dedicated warrior-diplomats who can both confront our enemies and work with allies in an effort to create peace. Tony Schwalm has written a gritty, muscular, compelling account of what it takes to join the ranks of America's elite warrior-diplomats, the Green Berets. This is not just a memoir by a top soldier, leader, and scholar—it is a fine tale of courage, compassion, and selflessness from one of our country's finest." —Eric Greitens, New York Times bestselling author of The Heart and The Fist: The Education of a Humanitarian, the Making of a Navy SEAL

"In The Guerilla Factory, Tony Schwalm offers a gripping insider's story of how America's elite warriors are made. From the terror of capture to the art of building an insurgent army, Schwalm's personal account takes you deep into the shadowy world of the Special Forces to reveal how Green Berets are picked, trained, and deployed in exotic places where the usual rules of warfare don't apply--where success is shrouded in secrecy and failure can mean death."
— Jonathan W. Jordan

"The Guerrilla Factory isn't just an account of how Green Berets are made. It's a highly personal, compellingly written and thought-provoking story of one man's journey from conventional soldier to unconventional warrior. Tony Schwalm's book is a page turner and an eye opener." —Douglas Waller, New York Times betselling author of Wild Bill Donovan: The Spymaster Who Created the OSS and Modern American Espionage

"A crackling good read. Tony pulls in the reader by telling story after story. No theories here; instead, the book brings the reader into a world of hard work and never-ending treks. No wonder the Green Beret teams are known worldwide. They get the job done, and the author shows why. You're exhilarated at the end of this fast-paced narrative." —Bing West, bestselling author of The Village

"This valuable book is full of great insights from a veteran Special Forces warrior on what it takes to make the cut in the Green Berets. It takes you inside the world of our elite SF warriors—and outside the gate on real-world ops." —Jack Coughlin, coauthor of Shooter: The Autobiography of the Top-Ranked Marine Sniper

"In this wonderfully written, candid personal account, Tony Schwalm reveals what makes Special Forces soldiers tick. Green Berets like to say that their most important weapon is between their ears. The Guerrilla Factory shows how they are selected and trained to get inside the heads of both friends and enemies. Schwalm also takes us downrange to hotspots in Haiti, Afghanistan and the Middle East." —Linda Robinson, author of Masters of Chaos: The Secret History of the Special Forces

"A retired U.S. Army Special Forces officer provides a behind-the-scenes look at the physical, psychological and emotional toll one pays to join the ranks of America's most elite fighting force. . . . An eye-opening, unconventional war story in which the war itself resides in the training." —Kirkus Reviews
or
Not Currently Available for Direct Purchase