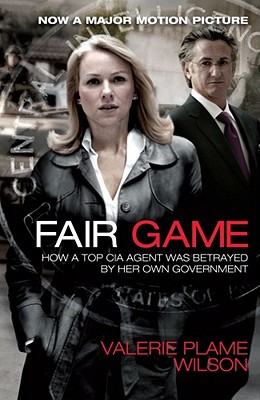 Fair Game: How a Top CIA Agent Was Betrayed by Her Own Government (Paperback)
How a Top CIA Agent Was Betrayed by Her Own Government
Simon & Schuster, 9781451623871, 432pp.
Publication Date: October 26, 2010
* Individual store prices may vary.
or
Not Currently Available for Direct Purchase
Description
FROM THE EXECUTIVE PRODUCER OF THE BOURNE FILMS COMES THE MAJOR MOTION PICTURE STARRING SEAN PENN AND NAOMI WATTS
Based on Fair Game, Valerie Plame Wilson's historic and unvarnished account of the personal and international consequences of speaking truth to power.
Praise For Fair Game: How a Top CIA Agent Was Betrayed by Her Own Government…
"Among the risks faced by men and women who volunteer to serve in our intelligence services are those which derive from American politics. This story shows us how strong the desire to serve can be and how treacherous the risks are in the minefields of Washington. Valerie Wilson volunteered at the height of the cold war. She expected to be betrayed by our enemies, not us." -- Bob Kerrey, Former U.S. Senator and Vice Chairman, Senate Select Committee on Intelligence



"Plame spent a courageous and honorable career on the front lines of terrorism only to come home and meet the ultimate betrayal, her own country -- unethical politicians and unscrupulous journalists. Plame's story is a modern odyssey, a cautionary tale that should make Americans think twice before sacrificing their patriots." -- Lobert Baer, Former CIA Case Officer and the author of See No Evil and Sleeping With The Devil



"Plame had a front-row seat on both the politicization of pre-war intelligence and White House efforts to stem post-invasion criticism....[She] can be viewed as a canary in the proverbial coal mine, and her book reads like a grim testament to the noxious atmosphere of our current politics." -- The Boston Globe



"Fair Game -- which takes its title from Karl Rove's phrase about the legitimacy of blowing Ms. Wilson's professional camouflage -- describes how intense stress wrought havoc on the Wilsons' marriage, not to mention Ms. Wilson's state of mind....[And] she powerfully evokes the disbelief, fury and uncharacteristic terror that came with being outed. " -- The New York Times



"...Plame's own account of her life reveals her as a patriotic true believer in the CIA and its mission. " -- Los Angeles Times
Advertisement