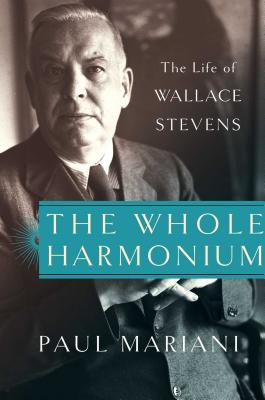 The Whole Harmonium
The Life of Wallace Stevens
Hardcover

* Individual store prices may vary.
Other Editions of This Title:
Paperback (4/4/2017)
Description
A perceptive, enlightening biography of one the most important American poets of the twentieth century—Wallace Stevens—as seen through his lifelong quest to find and describe the sublime in the human experience.

Wallace Stevens lived a richly imaginative life that found expression in his poetry. His philosophical questioning, spiritual depth, and brilliantly inventive use of language would be profound influences on poets as diverse as William Carlos Williams, Hart Crane, Elizabeth Bishop, and John Ashbery. The Whole Harmonium presents Stevens within the living context of his times, as well as the creator of a poetry which has had a profound and lasting impact on the modern imagination itself.

Stevens established his career as an executive even as he wrote his poetry, becoming a vice president with an insurance company in Hartford, Connecticut. His first and most influential book, Harmonium, was not published until he was forty-four years old. In these poems, Stevens drew on his interest in and understanding of modernism. Over time he became acquainted with the most accomplished of his contemporaries, Robert Frost and William Carlos Williams among them, but his personal style remained unique. He endured an increasingly unhappy marriage, losing himself by writing poetry in his study. Yet he had a witty, comic, and Dionysian side to his personality, including long fishing (and drinking) trips to Florida with his pals and a fascination with the sun-drenched tropics.

People generally know two things about Wallace Stevens: that he is a "difficult" poet and that he was an insurance executive for most of his life. Stevens may be challenging to understand, but he is also greatly rewarding to read. Now, sixty years after Stevens's death, biographer and poet Paul Mariani shows how over the course of his life, Stevens sought out the ineffable and spiritual in human existence in his search for the sublime.
Praise For The Whole Harmonium: The Life of Wallace Stevens…
"Incandescent. . . . A redefining biography of a major poet whose reputationcontinues to ascend."

"Paul Mariani's excellent new book, The Whole Harmonium, is a thrilling story of a mind. . . . He has a prehensile feel for the roots and branches of literary modernism, exemplary taste in what he chooses to quote, and a real gift for exegesis, unpacking poems in language that is nearly as eloquent as the poet's, and as clear as faithfulness allows. . . . Superb."
— Peter Schjeldahl

"Those of us who consider Wallace Stevens among the gods of modern poetry — the equal of Yeats, Eliot, and Frost — have waited impatiently for decades for a good biography of this elusive, compelling figure. Paul Mariani has performed a small miracle here, drawing together the life and work in seamless harmony, digging into the interior life of the man who defines the word 'imagination' for our time. The great enterprise of Stevens, whose language was always his own, like nothing else in this world, has been ably served by this biography. It's a moving and deeply informative book, one that brings us close to the flame itself, that mind on fire."
— Jay Parini, author of Robert Frost: A Life and Empire of Self: A Life of Gore Vidal

"In this his amazing sixth major biography, Paul Mariani illustrates again his mastery of the form. Writing with breezy fluency, the sympathy of a fellow poet, and with the confident authority of a superb teacher, Mariani has captured the life of Wallace Stevens as no one has before."
— Ron Hansen, author of A Wild Surge of Guilty Passion: A Novel

"A consensus has grown around the proposition that Wallace Stevens is the modern American poet who has had the greatest and most lasting influence on the generations of poets that have followed. . . . The Whole Harmonium, Paul Mariani's excellent biography, is a welcome addition to the Stevens shelf."
— David Lehman, editor, The Oxford Book of American Poetry, and series editor, The Best American Poetry

"This life of Wallace Stevens cements poet and biographer Mariani's role as the James Boswell of our age. It is beautifully written; a compelling vision of one of the 20th-century's greatest and most enigmatic literary figures. . . . Mariani weaves skillfully many strands, creating a biography that is both deliciously readable and profoundly knowledgeable. . . . This is the Stevens biography for which poetry lovers have been waiting. . . . Brilliant."

"What makes Mariani such a consummate biographer is his narrative skills combined with his ability to lucidly explicate complex poetry—a talent that comes from Mariani's own achievements as a lyric poet. Most special about Stevens is the vitality of his imagination, his genius to enrich the ordinary, 'the quotidian,' with metaphorical structures that enhance reality."
— Robert Pack, author of Wallace Stevens: An Approach to His Poetry and Thought

"This book is [Mariani's] best, and it performs a valuable service. . . . Understanding Stevens seems to have been a lifelong work for Mariani, who was wise to wait until late in life to write this book."
— Dan Chiasson

"Mariani speculates on Stevens's sometimes difficult, contrary nature and on hislifelong search for meaning and the sublime. . . . [A] finely wrought analysis."

"Mariani ably balances a straightforward chronicle of events from his subject's life with an analysis of the poet's often difficult, inventive work. While the two can seem quite separate at times, Mariani manages to make connections that give a deeper understanding of the man and the poet. . . . Though it is hard to convey a life of the mind, Mariani's biography does justice to this cerebral, metaphysical poet and his enduring body of work."
— Robert Weibezahl
Simon & Schuster, 9781451624373, 496pp.
Publication Date: April 5, 2016
About the Author
Paul Mariani is the University Professor of English at Boston College. He is the author of eighteen books, including seven volumes of poetry and biographies of Robert Lowell, John Berryman, Hart Crane, Gerard Manley Hopkins, and William Carlos Williams, which was a National Book Award finalist. His life of Hart Crane, The Broken Tower, was made into a feature-length film directed by and starring James Franco. He lives in western Massachusetts.
or
Not Currently Available for Direct Purchase