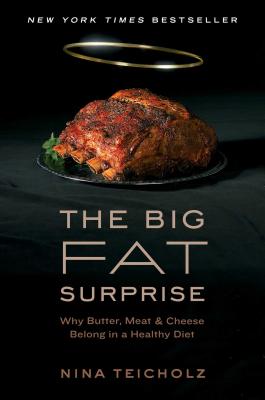 The Big Fat Surprise
Why Butter, Meat and Cheese Belong in a Healthy Diet
Hardcover

* Individual store prices may vary.
Other Editions of This Title:
Digital Audiobook (5/12/2014)
Paperback (1/6/2015)
Compact Disc (5/13/2014)
MP3 CD (5/13/2014)
Compact Disc (5/13/2014)
Description
A New York Times bestseller
Named one of The Economist's Books of the Year 2014
Named one of The Wall Street Journal's Top Ten Best Nonfiction Books of 2014
Kirkus Reviews Best Nonfiction Books of 2014
Forbes's Most Memorable Healthcare Book of 2014
Named a Best Food Book of 2014 by Mother Jones
Named one of Library Journal's Best Books of 2014

In The Big Fat Surprise, investigative journalist Nina Teicholz reveals the unthinkable: that everything we thought we knew about dietary fat is wrong. She documents how the low-fat nutrition advice of the past sixty years has amounted to a vast uncontrolled experiment on the entire population, with disastrous consequences for our health.

For decades, we have been told that the best possible diet involves cutting back on fat, especially saturated fat, and that if we are not getting healthier or thinner it must be because we are not trying hard enough. But what if the low-fat diet is itself the problem? What if the very foods we've been denying ourselves—the creamy cheeses, the sizzling steaks—are themselves the key to reversing the epidemics of obesity, diabetes, and heart disease?

In this captivating, vibrant, and convincing narrative, based on a nine-year-long investigation, Teicholz shows how the misinformation about saturated fats took hold in the scientific community and the public imagination, and how recent findings have overturned these beliefs. She explains why the Mediterranean Diet is not the healthiest, and how we might be replacing trans fats with something even worse. This startling history demonstrates how nutrition science has gotten it so wrong: how overzealous researchers, through a combination of ego, bias, and premature institutional consensus, have allowed dangerous misrepresentations to become dietary dogma.

With eye-opening scientific rigor, The Big Fat Surprise upends the conventional wisdom about all fats with the groundbreaking claim that more, not less, dietary fat—including saturated fat—is what leads to better health and wellness. Science shows that we have been needlessly avoiding meat, cheese, whole milk, and eggs for decades and that we can now, guilt-free, welcome these delicious foods back into our lives.
Praise For The Big Fat Surprise: Why Butter, Meat and Cheese Belong in a Healthy Diet…
NEW YORK TIMES BESTSELLER


"[Teicholz] has a gift for translating complex data into an engaging forensic narrative... [The Big Fat Surprise] is a lacerating indictment of Big Public Health... More than a book about food and health or even hubris; it is a tragedy for our information age. From the very beginning, we had the statistical means to understand why things did not add up; we had a boatload of Cassandras, a chorus of warnings; but they were ignored, castigated, suppressed. We had our big fat villain, and we still do."

"Ms Teicholz's book is a gripping read for anyone who has ever tried to eat healthily.... This is not an obvious page-turner. But it is.... The vilification of fat, argues Ms Teicholz, does not stand up to closer examination. She pokes holes in famous pieces of research—the Framingham heart study, the Seven Countries study, the Los Angeles Veterans Trial, to name a few—describing methodological problems or overlooked results, until the foundations of this nutritional advice look increasingly shaky."

Teicholz's book shows that not only are foods rich in saturated fat not harmful to our hearts, but they actually are good for us.… Read Teicholz's excellent book and tell me you aren't convinced she's right.

"A devastating new book.... [The Big Fat Surprise] shows that the low-fat craze was based on flimsy evidence. Nina Teicholz, an experienced journalist who spent eight years tracking down all the evidence for and against the advice to eat low-fat diets, finds that it was based on flimsy evidence, supported by an intolerant consensus backed by vested interests and amplified by a docile press."

The Big Fat Surprise should become mandatory reading in every science class.... Teicholz describes the human story of how bad science became federal policy, especially concerning the question of heart disease."

"Teicholz has a knack for discovering long-lost research…. The Big Fat Surprise—well written and hard to put down—should help Americans wake up—certainly a few, and hopefully a great many—before it is too late."
— Sally Fallon Morell, President

"Bottom line: Teicholz's book is well worth reading. It is an eye-opening dissection of some of the long-held nutrition myths we have accepted as fact."

"Impeccably researched and expertly written, the prose glides while the citations are more than 100 pages in length. Through nearly a decade of research for the book, Teicholz consulted experts in the fields of research and epidemiology, clinicians and physicians, politicians and journalists, authors and food industry leaders. The Big Fat Surprise is a cross between a Who's Who of the food policy world and Edward Gibbon's extensive work The History of the Decline and Fall of the Roman Empire: it offers a complete record of the nutrition paradigm shift, from the birth of the diet-heart hypothesis, to the fabrication of the Mediterranean Diet, to the study of the Atkins Diet in action. Teicholz leaves no stone unturned..."

"Solid, well-reported science… Like a bloodhound, Teicholz tracks the process by which a hypothesis morphs into truth without the benefit of supporting data."

"This fascinating book raises important issues as Americans battle obesity, diabetes, and cardiovascular disease….Thought provoking and well worth purchasing."

"Nina Teicholz reveals the disturbing underpinnings of the profoundly misguided dietary recommendations that have permeated modern society, culminating in our overall health decline. But The Big Fat Surprise is refreshingly empowering. This wonderfully researched text provides the reader with total validation for welcoming healthful fats back to the table, paving the way for weight loss, health and longevity."
— David Perlmutter, MD, author of the #1 New York Times bestseller Grain Brain

"A page-turner story of science gone wrong: what Gary Taubes did in Good Calories, Bad Calories for debunking the connection between fat consumption and obesity, Nina Teicholz now does in Big Fat Surprise for the purported connection between fat and heart disease. Misstep by misstep, blunder by blunder, Ms. Teicholz recounts the statistical cherry-picking, political finagling, and pseudoscientific bullying that brought us to yet another of the biggest mistakes in health and nutrition, the low-fat and low-saturated fat myth for heart health."
— William Davis, MD, author of the #1 New York Times bestseller Wheat Belly

"At last the whole truth about the luscious foods our bodies really need!"
— Christiane Northrup, M.D., ob/gyn physician and author of the New York Times bestseller Women's Bodies, Women's Wisdom

"This meticulously researched book thoroughly dismantles the current dietary dogma that fat--particularly saturated fat--is bad for us. Teicholz brings to life the key personalities in the field and uncovers how nutritional science has gotten it so wrong. There aren't enough superlatives to describe this journalistic tour de force. I read it twice: once for the information and again just for the writing."
— Michael R. Eades, M.D., author of the New York Times bestseller Protein Power

"The Big Fat Surprise delivers on its title, exposing the shocking news that much of what "everybody knows" about a healthy diet is in fact all wrong. This book documents how misunderstanding, misconduct and bad science caused generations to be misled about nutrition. Anyone interested in either food or health will want to read to this book."
— Nathan Myhrvold, author of Modernist Cuisine

"As an epidemiologist, I am awestruck. Nina Teicholz has critically reviewed virtually the entire literature, a prodigiously difficult task, and she has interviewed most of the leading protagonists. The result is outstanding: readable and informative, with forthright text written in plain English that can easily be understood by the general reader."
— Samuel Shapiro, retired, formerly at the Boston University School of Medicine
Simon & Schuster, 9781451624427, 496pp.
Publication Date: May 13, 2014
About the Author
Nina Teicholz is an investigative science journalist and author as well as an advocate for evidence-based nutrition policy. Her work has appeared in The New York Times, The Wall Street Journal, The Independent, The Atlantic, and The New Yorker, among other places. She grew up in Berkeley, California, and now lives in New York.
or
Not Currently Available for Direct Purchase