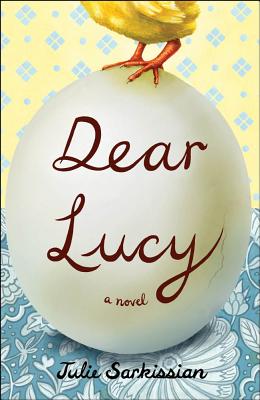 Dear Lucy
A Novel
Hardcover

* Individual store prices may vary.
Other Editions of This Title:
Paperback (4/22/2014)
Description
An enchanting narrator propels this unique first novel that will appeal to fans of Room and The Curious Incident of the Dog in the Night-time.

I go down the stairs quiet like I am something without any weight. I open the door in the dark and the cold sucks my skin towards it. It is the morning but there is no sun yet, just white light around the edges. It is the time to get the eggs. Time for my best thing. The eggs they shine with their white and I do not need the light to find them. The foxes need no light either. I am a little like the fox, he is a little like me.

Lucy is a young woman with an uncommon voice and an unusual way of looking at the world. She doesn't understand why her mother has sent her to live with old Mister and Missus on their farm, but she knows she must never leave or her mother won't be able to find her again.

Also living at the farm is a pregnant teenager named Samantha who tells conflicting stories about her past and quickly becomes Lucy's only friend. When Samantha gives birth and her baby disappears, Lucy arms herself with Samantha's diary—as well as a pet chicken named Jennifer—and embarks on a dangerous and exhilarating journey to reunite mother and child. With Dear Lucy, Julie Sarkissian has created an unforgettable new heroine of contemporary fiction whose original voice, exuberance, and bravery linger long after the final page.
Praise For Dear Lucy: A Novel…
"Dear Lucy introduces a young writer with a most original voice and a tenderly eccentric vision. Julie Sarkissian has created a boldly lyrical, suspenseful, and mysterious fictional world in this striking debut novel."
— Joyce Carol Oates

"[A] captivating debut . . . a distinct voice that will hold up to the inevitable comparisons to Room and The Curious Incident of the Dog in the Night-Time."

"A childlike female narrator—strange but full of naïve wonder . . . comes of age in a timeless story of motherhood, family, and loss in rural America. . . . Heightened realism that mingles easily with flights of occasional fantasy."

"A quirky but captivating debut."

"Sarkissian is a fine prose stylist, and the three voices in the novel are distinct. Her writing manages to be poetic without ever veering off into preciousness."

"Every once and a while a new voice comes along that is so beautifully different from anything you've read before that it is hard to even dream up where it came from. Such is the voice of Lucy the title character in Julie Sarkissian's debut novel, Dear Lucy . . . Written in poetic prose, the novel's language sweeps you up from the first pages . . . Mysterious and haunting."

An ambitious debut expresses different versions of maternal need through three female voices . . . a struggle for comprehension, memory and expression, lit with shafts of insight and fantasy.

"Sarkissian's bold debut novel features a unique protagonist . . . [her] dazzling stream of consciousness is heightened with elements of fantasy—she is accompanied and guided by a talking pet chicken—while Sarkissian tenderly depicts her characters' frailties, fears, and desires."

"An ambitious, complex novel offering themes about the fragility of life, love and being loved."

"Julie Sarkissian has written the most original and stunning debut novel I have read in a long time. Dear Lucy is one of those rare delights that you cannot put down, and once you do, you can't forget."
— Ann Hood

"Dear Lucy is about keeping promises against huge odds. This gorgeous novel does exactly that: the opening pages promise transcendent writing, remarkable characters, and a slowly unfolding mystery. But what happened and why is only part of what keeps you reading . . . Both whimsical and profound, Dear Lucy wins your heart on the very first page and delivers it back, fuller and slightly cracked, on the last."
— Charlotte Rogan

"In Dear Lucy, Julie Sarkissian has accomplished what many veteran novelists never achieve: a startlingly original work that is also profound and wise in the vagaries of the heart. What an amazing debut."
— Ron Rash

"Julie Sarkissian has written a rare and precious novel - moving, captivating, and expertly written in a voice unlike any other. Dear Lucy is full of characters who are heartbreakingly human; full of hope, desperation, love and joy. You'll want to linger over the poetry of each and every sentence, but the foreboding mystery looming on the horizon will keep you turning the pages of this hauntingly beautiful book."
— Haley Tanner

"Hypnotic and mesmerizing. This is gothic noir that is full of heart and pathos. Lucy's lyric voice comes barreling off the page, and you will be utterly transfixed by the twists and turns of her journey. Sarkissian is a brilliant young writer who has written one of the most memorable debut novels in recent years."
— Gabe Hudson

"A story told in voices, all of which have compelling power."
Simon & Schuster, 9781451625721, 352pp.
Publication Date: April 23, 2013
About the Author
Julie Sarkissian is a graduate of Princeton University, where she won the Francis Leon Paige Award for creative writing, and holds an MFA in Creative Writing from The New School. She lives in New York City.
or
Not Currently Available for Direct Purchase