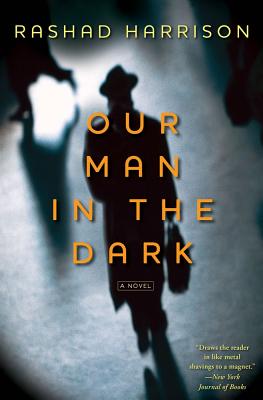 Our Man in the Dark (Hardcover)
Atria Books, 9781451625752, 320pp.
Publication Date: November 15, 2011
* Individual store prices may vary.
or
Not Currently Available for Direct Purchase
Description
A stunning debut historical noir novel about a worker in the civil rights movement who became an informant for the FBI during the months leading up to the assassination of Dr. Martin Luther King, Jr. Feeling underappreciated and overlooked, John Estem, a bookkeeper for Dr. King's Southern Christian Leadership Conference (SCLC), steals ten thousand dollars from the organization. Originally planning to use the money to seed a new civil rights initiative in Chicago, he squanders the stolen funds. To the bookkeeper's dismay, the FBI has been keeping close tabs on Dr. King and his fellow activists--including Estem--for years. FBI agents tell Estem that it is his duty, as an American and as a civil rights supporter, to protect the SCLC from communist infiltration. The FBI offers Estem a stipend, but in case he has any thoughts about refusing the assignment, they also warn him that they know about the stolen money. Playing informant empowers Estem, but he soon learns that his job is not simply to relay information on the organization. Once the FBI discovers evidence of King's sexual infidelities, they set out to confirm the facts to undermine King's credibility as a moral leader and bring down the movement. This timely novel comes in light of recent revelations that government informants had infiltrated numerous black movement organizations. With historical facts at the core of Our Man in the Dark, Harrison uses real life as a great inspiration for his drama-filled art.
Praise For Our Man in the Dark…
"Draws the reader in like metal shavings to a magnet." —New York Journal of Books



"An entertaining work of historical fiction with a touch of the noir; readers who enjoyed Don Delilo's Libra will appreciate." —LIBRARY JOURNAL, REVIEW (9/23)



"The dark conclusion descends into powerful moral ambivalence about love, loyalty and family." — KIRKUS REVIEWS, REVIEW (10/15)



"Harrison's debut mystery offers a fascinating setting for his intriguing mix of fact and fiction."— BOOKLIST, REVIEW (10/1)



"Absolutely great. I truly enjoyed every bit of it. The plot, the boldness of the intent, and the wonderful, wonderful writing. The characters were so true and real and new to the page. I'll never forget any of them. I'm a big fan of this book and of this writer!"— Pearl Cleage, author of Just Wanna Testify



"Our Man in the Dark is smart, snappy and fascinating. As the child of civil rights activists, I applaud Rashad Harrison's wonderfully written debut and his examination of how an ordinary man ended up on the wrong side of history." --Tananarive Due, author of My Soul to Take and Freedom in the Family: A Mother-Daughter Memoir of the Fight for Civil Rights



"Our Man in the Dark is an amazing story, amazingly told. Intrigue and sadness, race and Government, Dr. King and the FBI, foibles and loyalties -- this is an ambitious novel that wraps its powerful arms around what it means to be an American. Bold, rhapsodic, and daring, Rashad Harrison has written a morally-engaged masterpiece."
–Darin Strauss author of Chang & Eng, The Real McCoy, and the National Book Critics Circle Award winning memoir Half a Life



"Rashad Harrison is one of the finest young writers I've come across. Our Man in the Dark, is gripping, filled with historical detail that puts the reader smack in the middle of the dark days of the fight for civil rights in the '60s. His memorable characters, most of them morally challenged, pop off the page and his tale of intrigue and betrayal will keep you reading, always wanting more."
— Charles Salzberg, New York Times Book Review and Esquire contributor, and author of Swann's Last Song



"What a great voice [Rashad Harrison] is employing here…utterly assured, smart, witty, and incisive…the writing is strong and clear and dead on. What an invention John Estem is as a character….Most impressive is Estem's deadpan, quietly understated narrative voice throughout…a cool, low tone that is extremely compelling…. He unfurls one revelation after another—about himself, King, the SCLC—as if his store of them is boundless, each more outrageous (and natural sounding) than the last. What an amazing story…and what an incredible amount of inventive energy [Harrison] is displaying. It's brave and brilliant to bring Dr. King into the story as both icon and man—especially the latter—and to do it with such verve and ease."
— Nicholas Christopher, author of The Bestiary, Veronica, and Somewhere in the Night



"[Harrison] is an excellent writer. His prose is...strong and assured and elegant and also quite beautiful when it needs to be. His stories are mysterious and powerful."
–Jonathan Ames, author of The Extra Man, and creator of the HBO series Bored to Death
Advertisement