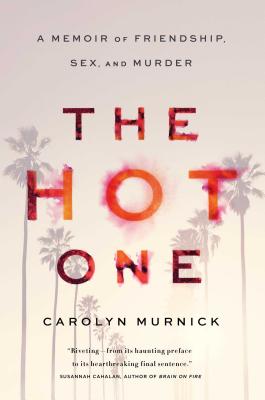 The Hot One (Hardcover)
A Memoir of Friendship, Sex, and Murder
Simon & Schuster, 9781451625813, 256pp.
Publication Date: August 1, 2017
Other Editions of This Title:
Paperback (8/14/2018)
Compact Disc (1/2/2018)
Compact Disc (1/2/2018)
* Individual store prices may vary.
Description
Recommended by NPR, Elle, Cosmopolitan, Entertainment Weekly, New York Magazine, New York Post, and Bustle

A gripping memoir of friendship with a tragic twist—two childhood best friends diverge as young adults, one woman is brutally murdered and the other is determined to uncover the truth about her wild and seductive friend.

As girls growing up in rural New Jersey in the late 1980s, Ashley and Carolyn had everything in common: two outsiders who loved spending afternoons exploring the woods. Only when the girls attended different high schools did they begin to grow apart. While Carolyn struggled to fit in, Ashley quickly became a hot girl: popular, extroverted, and sexually precocious.

After high school, Carolyn entered college in New York City and Ashley ended up in Los Angeles, where she quit school to work as a stripper and an escort, dating actors and older men, and experimenting with drugs. The last time Ashley visited New York, Carolyn was shocked by how the two friends had grown apart. One year later, Ashley was stabbed to death at age twenty-two in her Hollywood home.

The man who may have murdered Ashley—an alleged serial killer—now faces trial in Los Angeles. Carolyn Murnick traveled across the country to cover the case and learn more about her magnetic and tragic friend. Part coming-of-age story, part true-crime mystery, The Hot One is a behind-the-scenes look at the drama of a trial and the poignancy of searching for the truth about a friend's truly horrifying murder.
About the Author
Carolyn Murnick is an online editor at New York magazine. She received an Emerging Writer Fellowship from the Aspen Institute in 2014. Her personal essays have appeared in two anthologies: Before & After: Stories from New York and Lost & Found: Stories from New York. She lives in Brooklyn and The Hot One is her first book.
Praise For The Hot One: A Memoir of Friendship, Sex, and Murder…
"Both an introspective look at young female friendship and a riveting true-crime tale."
– Entertainment Weekly

"Murnick is an engaging writer and her story of the seamy side of young Hollywood sucks you in like a link to TMZ."
– USA Today

"Riveting...A thoughtful examination of how we grow up and apart."
– Cosmopolitan

"Darkly beautiful...Poetic and riveting."
– Interview

"While the specific story is tragic and interesting in its own right, the central themes — of friendship, and of how you can share a childhood with someone, then come to hardly know them at all — will resonate with many."
– The New York Post

"A rueful exploration of how two New Jersey girls, such close friends in fifth grade that they felt they were nearly the same person, found themselves on very different paths."
– Slate

"An elegy to female friendship and the ways it shapes us, even as we grow older and grow apart."
—Refinery29

"Thoughtful and thorough, both in exploring the dynamics of female friendships and reporting from chilling courtroom hearings."
– The Cut

"A true crime page-turner and also a really lovely meditation on friendships between women and the way they change."
– Slate's DoubleX Gabfest

"Murnick's memoir will shock and fascinate."
– Booklist

"Original and engaging."
– Kirkus

"This fusion of memoir and procedural should be welcomed by readers of autobiography as well as true crime."
– Library Journal

"Carolyn Murnick's insights into the freighted complexities of youth, beauty, and sexuality, and how these forces collide within long, close female friendships, turn an already affecting murder mystery into a story for our time. Never morbid or sentimental, always honest, The Hot One is a wholly original memoir that explores and unpacks the often vexing reality of what it means to be a young woman in the 21st century."
—Kate Bolick, bestselling author of SPINSTER: Making a Life of One's Own

"A journalist's investigation into her childhood friend's murder—a riveting subject on its own—is so much more in writer Carolyn Murnick's hands. Murnick exposes the sticky complexity of female friendship and identity. She questions what our debts are to the dead and forces us to look at ourselves. Three pages in and I knew that I wouldn't get anything else done. I inhaled The Hot One in 24 hours, riveted from its haunting preface to its heartbreaking final sentence."
—Susannah Cahalan, bestselling author of BRAIN ON FIRE: My Month of Madness

"Carolyn Murnick's The Hot One is as suspenseful as it is heartfelt and honest— an affecting, revealing investigation into the mysteries at the heart of young friendship."
—Robert Kolker, author of LOST GIRLS: An Unsolved American Mystery
Coverage from NPR
or
Not Currently Available for Direct Purchase